2017 NYS Certified Seed Potato Crop Directory
Last Modified: October 31, 2017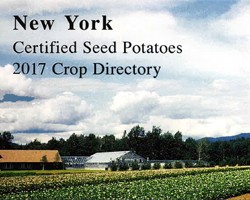 The 2017 NYS Certified Seed Potato Crop Directory is now available. There is a wealth of information on NYS potato seed certification, as well as on the varieties grown for certification in 2017. The varieties include standards for processing and tablestock, newer varieties and numbered lines, and specialty/heirloom varieties. Brief summaries of the varieties' maturity, appearance, yield potential, and major disease susceptibility are included. Contact info for the growers with seed supplies of each variety is included. There is also a listing of the inspectors from the NYS Department of Agriculture and Markets in Albany and Syracuse.
The NYS Certified Seed Potato Program is part of the New York Seed Improvement Project at Cornell. You can email the program or call 607-255-9869.
New York Certified Seed Potatoes 2017 Crop Directory (pdf; 195KB)


Upcoming Events
Soil Health for Vegetable Growers Workshop

November 1, 2023
Essex, NY
Join us for presentations, discussions, and hands-on demonstrations focusing on soil health concepts and best management practices for vegetable growers. Topics include tarping, maintaining soil health in high tunnels, cover cropping, reduced tillage, compost microbiology, and more.
1.75 DEC pesticide recertification credits available in categories 1A, 10, and 23.
Announcements
Podcasts