2009 Elba Muck Soil Nutrient Survey Summary
Christy Hoepting, Extension Vegetable Specialist
Cornell Vegetable Program
Last Modified: January 11, 2013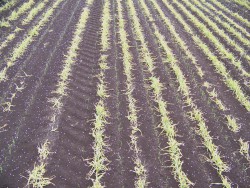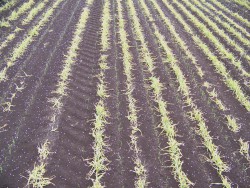 This is a three-part newsletter article series that describes the general nutrient status of the Elba muck land, based on a survey conducted in spring of 2009. In response to a finding that the Elba muck land was a major source of pollution into its water shed, the Oak Orchard, delivering excessive amounts of phosphorus and nitrogen, free soil nutrient tests were conducted for Elba muck land growers in hopes that they would apply nutrients according to the needs of their soils. In total, soil samples were taken from 21 fields or blocks which were approximately 10, 25, 50 or 100 acres in size, and often consisted of several fields. Two to 20 sub-samples were taken per field/block for a total of 160 sub-samples. Samples were analyzed by the Cornell Nutrient Analysis Laboratory (CNAL).
All of these soil test results were summarized by Christy Hoepting, Onion Specialist, Cornell Cooperative Extension Vegetable Program (CCE-VP). In addition to phosphorus and nitrogen, all information from the soil tests including organic matter, pH, potassium and micronutrients, were reviewed and opportunities for improved nutrient management for onion production suggested. It is hoped that this will mark the beginning of collaborative efforts among onion growers, CCE-VP, SWCDs and EPA to reduce nutrient loading into the Oak Orchard and other water sheds, but also to improve onion yield and profitability by optimizing nutrient management.
Part I: Organic Matter and pH (pdf; 179KB)
Part II: Phosphorous, Potassium and Nitrogen (pdf; 195KB)
Part III: Calcium, Magnesium and Micronutrients (pdf; 209KB)


Upcoming Events
October Last Monday Grant Webinar for Fruit and Vegetable Growers
October 28, 2019
4:00 pm
Are you curious about what grants are available to help your farm business?
To help disseminate information on grants on a consistent basis, ENYCH is offering a "current grants" webinar on the last Monday of every month at 4:00pm
Each month's webinar focuses on 1 grant. The October webinar topic is TBD but might feature Ag Labor Housing Grants.
Produce Safety Alliance FSMA Grower Training Course
October 30, 2019
8am - 5pm
Canajoharie, NY
A grower training course developed by the Produce Safety Alliance (PSA) that meets the regulatory requirements of the Food Safety Modernization Act (FSMA) Produce Safety Rule. At least one person per farm producing more than $25,000 worth of fruits and vegetables must attend this course once. Participants will receive a certificate of course completion by the Association of Food and Drug Officials.
Tarping for Reduced Tillage Workshop
November 2 - November 19, 2019

Are you a vegetable farmer already using tarps? Or are you wondering if and how tarps could work best on your farm?

The Cornell Small Farms Program is excited to announce a series of workshops on tarping for reduced tillage in small-scale vegetable systems, to be held in Maine and New York this fall. The Reduced Tillage (RT) project of the Cornell Small Farms Program supports farmers in adopting scale-appropriate RT practices that can lead to healthy, productive soils and greater profitability. Through the evaluation of novel tools and methods using systems-based field research and on-farm trials, the project helps farmers learn about the approaches that can work for their farm. This work is accomplished in collaboration with the University of Maine, and with support from Northeast SARE.

Announcements
Podcasts