2009 Elba Muck Soil Nutrient Survey Summary
Christy Hoepting, Extension Vegetable Specialist
Cornell Vegetable Program
Last Modified: January 11, 2013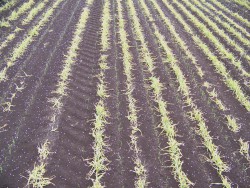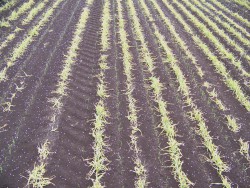 This is a three-part newsletter article series that describes the general nutrient status of the Elba muck land, based on a survey conducted in spring of 2009. In response to a finding that the Elba muck land was a major source of pollution into its water shed, the Oak Orchard, delivering excessive amounts of phosphorus and nitrogen, free soil nutrient tests were conducted for Elba muck land growers in hopes that they would apply nutrients according to the needs of their soils. In total, soil samples were taken from 21 fields or blocks which were approximately 10, 25, 50 or 100 acres in size, and often consisted of several fields. Two to 20 sub-samples were taken per field/block for a total of 160 sub-samples. Samples were analyzed by the Cornell Nutrient Analysis Laboratory (CNAL).

All of these soil test results were summarized by Christy Hoepting, Onion Specialist, Cornell Cooperative Extension Vegetable Program (CCE-VP). In addition to phosphorus and nitrogen, all information from the soil tests including organic matter, pH, potassium and micronutrients, were reviewed and opportunities for improved nutrient management for onion production suggested. It is hoped that this will mark the beginning of collaborative efforts among onion growers, CCE-VP, SWCDs and EPA to reduce nutrient loading into the Oak Orchard and other water sheds, but also to improve onion yield and profitability by optimizing nutrient management.
Part I: Organic Matter and pH (pdf; 179KB)
Part II: Phosphorous, Potassium and Nitrogen (pdf; 195KB)
Part III: Calcium, Magnesium and Micronutrients (pdf; 209KB)


Upcoming Events
High Tech Precision Orchard Spraying
July 20, 2020
Join us the afternoon of July 20th to learn what's new in orchard precision spraying technology. We'll be joined by Dr. Jason Deveau, Dr. Heping Zhu, and Steve Booher. After their presentations, we will open up the meeting for all three presenters to field questions and comments.
Announcements
Podcasts