2009 Elba Muck Soil Nutrient Survey Summary
Christy Hoepting, Extension Vegetable Specialist
Cornell Vegetable Program
Last Modified: January 11, 2013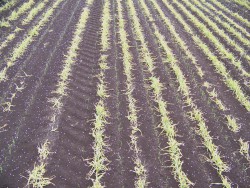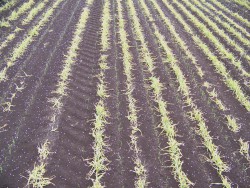 This is a three-part newsletter article series that describes the general nutrient status of the Elba muck land, based on a survey conducted in spring of 2009. In response to a finding that the Elba muck land was a major source of pollution into its water shed, the Oak Orchard, delivering excessive amounts of phosphorus and nitrogen, free soil nutrient tests were conducted for Elba muck land growers in hopes that they would apply nutrients according to the needs of their soils. In total, soil samples were taken from 21 fields or blocks which were approximately 10, 25, 50 or 100 acres in size, and often consisted of several fields. Two to 20 sub-samples were taken per field/block for a total of 160 sub-samples. Samples were analyzed by the Cornell Nutrient Analysis Laboratory (CNAL).
All of these soil test results were summarized by Christy Hoepting, Onion Specialist, Cornell Cooperative Extension Vegetable Program (CCE-VP). In addition to phosphorus and nitrogen, all information from the soil tests including organic matter, pH, potassium and micronutrients, were reviewed and opportunities for improved nutrient management for onion production suggested. It is hoped that this will mark the beginning of collaborative efforts among onion growers, CCE-VP, SWCDs and EPA to reduce nutrient loading into the Oak Orchard and other water sheds, but also to improve onion yield and profitability by optimizing nutrient management.
Part I: Organic Matter and pH (pdf; 179KB)
Part II: Phosphorous, Potassium and Nitrogen (pdf; 195KB)
Part III: Calcium, Magnesium and Micronutrients (pdf; 209KB)


Upcoming Events
Tarping for Reduced Tillage Workshop
November 2 - November 19, 2019

Are you a vegetable farmer already using tarps? Or are you wondering if and how tarps could work best on your farm?

The Cornell Small Farms Program is excited to announce a series of workshops on tarping for reduced tillage in small-scale vegetable systems, to be held in Maine and New York this fall. The Reduced Tillage (RT) project of the Cornell Small Farms Program supports farmers in adopting scale-appropriate RT practices that can lead to healthy, productive soils and greater profitability. Through the evaluation of novel tools and methods using systems-based field research and on-farm trials, the project helps farmers learn about the approaches that can work for their farm. This work is accomplished in collaboration with the University of Maine, and with support from Northeast SARE.

Winter Greens High Tunnel Tour
November 13, 2019
9:30am - 4:00pm
Willsboro, NY
Join us for a tour of overwintered high tunnel greens. Our first stop will be the Willsboro Research Farm, where we will visit our spinach nitrogen fertility experiment, discuss research results, and view a sous vide hot water seed treatment demonstration. Following an early lunch, we will carpool across the lake via the ferry to the Intervale Community Farm in Burlington, Vermont. The Intervale has been providing organic vegetables to the greater Burlington area for 30 years and has a 600 member CSA. Farm manager Andy Jones will discuss their evolving winter greens production practices, including variety selection, soil fertility, irrigation, and food safety practices. After touring their high tunnels and new wash/pack shed, we will return to Willsboro.
Learn About Using the H-2A Program on Small Farms
November 18, 2019
1:30pm - 4:00pm
Schenectady, NY
Are you worried about labor next season on your farm?
Are you wondering if the H-2A program will make sense on your farm?
The H-2A program allows US employers who meet specific regulatory requirements to bring foreign nationals to the US to fill temporary agricultural jobs. Join us to learn about how to use the H-2A program on small farms. Learn from US DOL H-2A staff and a CSA vegetable farmer, with experience using H-2A, about what it takes to use the program.
Announcements
Podcasts