Role of Adjuvants in Bacterial Diseases of Onions
Christy Hoepting, Extension Vegetable Specialist
Cornell Vegetable Program
February 26, 2013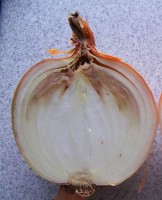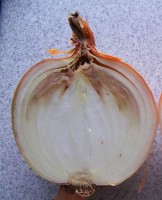 Bacterial diseases of onions have become an increasing threat to the sustainability of the New York onion industry with losses of 40% or more occurring in some lots in some years. Recently, a New York onion grower suggested that the penetrating surfactants that Cornell entomologists strongly recommend to improve efficacy of insecticides for onion thrips control might be allowing for easy entry of bacterial pathogens into the leaves, thus increasing incidence of bacterial bulb decay. In this study we applied adjuvants LI700, MSO, Kinetic, Dyne-Amic and HiWett in combination with bacterial pathogens of onions to onion plants to see if higher levels of bacterial bulb decay resulted with adjuvants compared to water plus bacteria. Preliminary results indicated that a single application of adjuvant plus bacterial had no effect on bacterial bulb decay. The effect of multiple applications of adjuvants on bacterial bulb decay warrants further research.
ORDP Final Report 2012 (pdf; 235KB)


Upcoming Events
High Tech Precision Orchard Spraying
July 20, 2020
Join us the afternoon of July 20th to learn what's new in orchard precision spraying technology. We'll be joined by Dr. Jason Deveau, Dr. Heping Zhu, and Steve Booher. After their presentations, we will open up the meeting for all three presenters to field questions and comments.
Announcements
Podcasts