Role of Adjuvants in Bacterial Diseases of Onions
Christy Hoepting, Extension Vegetable Specialist
Cornell Vegetable Program
February 26, 2013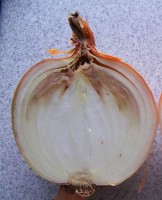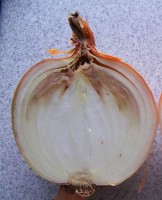 Bacterial diseases of onions have become an increasing threat to the sustainability of the New York onion industry with losses of 40% or more occurring in some lots in some years. Recently, a New York onion grower suggested that the penetrating surfactants that Cornell entomologists strongly recommend to improve efficacy of insecticides for onion thrips control might be allowing for easy entry of bacterial pathogens into the leaves, thus increasing incidence of bacterial bulb decay. In this study we applied adjuvants LI700, MSO, Kinetic, Dyne-Amic and HiWett in combination with bacterial pathogens of onions to onion plants to see if higher levels of bacterial bulb decay resulted with adjuvants compared to water plus bacteria. Preliminary results indicated that a single application of adjuvant plus bacterial had no effect on bacterial bulb decay. The effect of multiple applications of adjuvants on bacterial bulb decay warrants further research.
ORDP Final Report 2012 (pdf; 235KB)


Upcoming Events
Ag Manager Webinar Series: Ag Tax Topics - Sales Tax and Property Tax Issues for Ag in NYS
August 27, 2019
12:30 - 12:50pm
Join Liz Higgins from the CCE ENYCHP every other Tuesday at 12:30pm throughout the summer as she discusses pertinent business topics for busy farm managers.
Willsboro Farm High Tunnel Twilight Meeting
August 27, 2019
5:00pm - 7:00pm
Willsboro, NY
Join vegetable specialists Elisabeth Hodgdon, Jud Reid, and farm manager Mike Davis for a high tunnel and field tour at Cornell's Willsboro Research Farm, where they will share research results for the following projects:
Striped cucumber beetle management suing netting and row cover
Varietal differences in cucumber susceptibility to striped cucumber beetle
Ground cherry and goldenberry production in field and high tunnel environments
Overwintered high tunnel spinach nitrogen fertility
Announcements
Podcasts