Evaluation of Cabbage for Onion Thrips Tolerance
Christy Hoepting, Extension Vegetable Specialist
Cornell Vegetable Program
January 26, 2010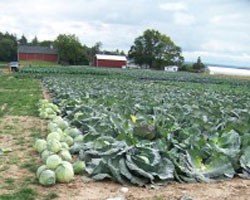 The objective of this study was to evaluate summer cabbage varieties for relative tolerance and susceptibility to onion thrips.

Nineteen summer cabbage varieties were evaluated from five seed companies. Cheers, Bravo and Rinda were used as industry standards.

During our trial, we observed that early maturing varieties were more susceptible to onion thrips damage and the damage increased from when varieties were at their optimum maturity to when they were at their upper limit of maturity or slightly past maturity. There was no relationship among head size and onion thrips damage.
Read full report (pdf; 1890KB)


Upcoming Events
High Tech Precision Orchard Spraying
July 20, 2020
Join us the afternoon of July 20th to learn what's new in orchard precision spraying technology. We'll be joined by Dr. Jason Deveau, Dr. Heping Zhu, and Steve Booher. After their presentations, we will open up the meeting for all three presenters to field questions and comments.
Announcements
Podcasts