2006 Kraut Cabbage Variety Evaluation
Christy Hoepting, Extension Vegetable Specialist
Cornell Vegetable Program
May 8, 2012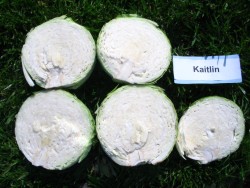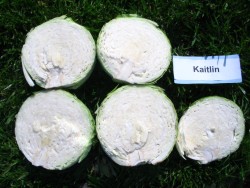 2006 Kraut Cabbage Variety Evaluation. Eighteen kraut cabbage varieties from four seed companies were evaluated for maturity, yield, plant and head characteristics and insect, disease and disorders tolerance. The final research report as well as a virtual viewing of each variety at each harvest may be viewed. Average head size and estimated marketable yield is presented in a scaled diagram. Varieties evaluated include: from Bejo: 2635, Fresco (early standard), 2658, Rotunda, Kaitlin (mid standard), 2646, Mandy, Score, Hinova and 2660; Reeds Seeds: B5-152, Superkraut 86, B5-150, Bobcat, Moreton; Seminis: Tobia, Ambrosia; Vilmorin and Puccini.
Final Report (pdf; 212KB)


Upcoming Events
High Tech Precision Orchard Spraying
July 20, 2020
Join us the afternoon of July 20th to learn what's new in orchard precision spraying technology. We'll be joined by Dr. Jason Deveau, Dr. Heping Zhu, and Steve Booher. After their presentations, we will open up the meeting for all three presenters to field questions and comments.
Announcements
Podcasts