2007-2008 Storage Cabbage Variety Trial
Christy Hoepting, Extension Vegetable Specialist
Cornell Vegetable Program
May 8, 2012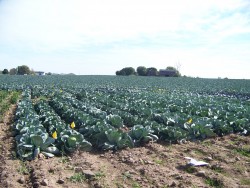 Read the full report and view photos by clicking on the following links.
The final report highlights the whole trial and gives evalautions of each variety.
The photo file summarizes the varieties that rated very good to perfect (based on a five star rating with 3 stars being average, 4 being very good and 5 being perfect). Varieties that were not held for storage and the observational varieties were not included in the star rating.
2007-2008 Storage Cabbage Variety Trial: Final Report (pdf; 239KB)


Upcoming Events
High Tech Precision Orchard Spraying
July 20, 2020
Join us the afternoon of July 20th to learn what's new in orchard precision spraying technology. We'll be joined by Dr. Jason Deveau, Dr. Heping Zhu, and Steve Booher. After their presentations, we will open up the meeting for all three presenters to field questions and comments.
Announcements
Podcasts