2007-2008 Storage Cabbage Variety Trial
Christy Hoepting, Extension Vegetable Specialist
Cornell Vegetable Program
May 8, 2012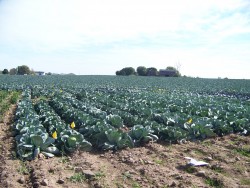 Read the full report and view photos by clicking on the following links.
The final report highlights the whole trial and gives evalautions of each variety.
The photo file summarizes the varieties that rated very good to perfect (based on a five star rating with 3 stars being average, 4 being very good and 5 being perfect). Varieties that were not held for storage and the observational varieties were not included in the star rating.
2007-2008 Storage Cabbage Variety Trial: Final Report (pdf; 239KB)


Upcoming Events
Ag Manager Webinar Series: Ag Tax Topics - Sales Tax and Property Tax Issues for Ag in NYS
August 27, 2019
12:30 - 12:50pm
Join Liz Higgins from the CCE ENYCHP every other Tuesday at 12:30pm throughout the summer as she discusses pertinent business topics for busy farm managers.
Willsboro Farm High Tunnel Twilight Meeting
August 27, 2019
5:00pm - 7:00pm
Willsboro, NY
Join vegetable specialists Elisabeth Hodgdon, Jud Reid, and farm manager Mike Davis for a high tunnel and field tour at Cornell's Willsboro Research Farm, where they will share research results for the following projects:
Striped cucumber beetle management suing netting and row cover
Varietal differences in cucumber susceptibility to striped cucumber beetle
Ground cherry and goldenberry production in field and high tunnel environments
Overwintered high tunnel spinach nitrogen fertility
Announcements
Podcasts