Driscoll's New Berry Varieties at Baldor Bite
Elizabeth Higgins, Business Management Specialist
Eastern New York Commercial Horticulture
May 11, 2018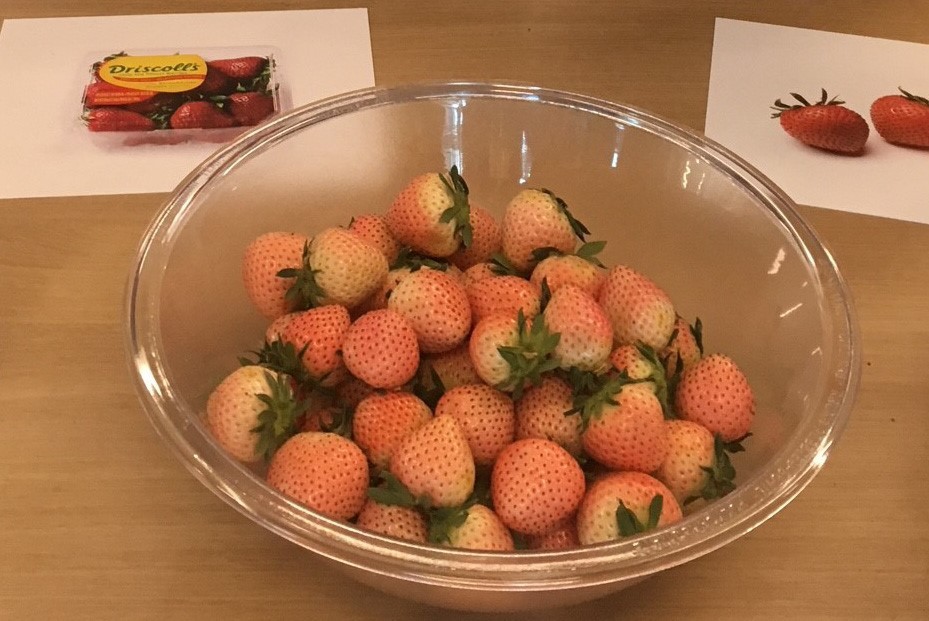 On May 2nd I had an opportunity to participate in a discussion with chefs, buyers and berry breeders from Driscoll's berries at Baldor BITE in NYC. Rick Harrison, VP of Global Variety Development at Driscoll's, and his team of Strawberry, Raspberry, Blueberry and Blackberry Breeders discussed their process for developing new berry varieties and considerations for creating the berry of the future. They led a discussion on the berry characteristics important to chefs, brokers and retailers and we tasted new Driscoll berry varieties that are under consideration for commercialization.
The breeders discussed the need to balance flavor, appearance, productivity and shelf-life in creating a new berry. In order to have berries year-round in the US, Driscolls produces berries on farms in South America, Mexico, across the US and in Canada (they also grow berries in Europe). Their plant breeding facilities are located in each different growing region. The breeders need to balance many traits, and shelf-life is very important for their business. If shelf life could be less important, that would allow more berries to be considered that are stronger in other traits like flavor. To reduce the distance traveled and time in transit, Driscolls is considering growing more berries in the northeastern US, hoping that they would have more options to select berries for flavor as they would be closer to their markets. The discussion with the buyers was interesting because several retail buyers reiterated how important shelf life was to them but a food broker, who sold to restaurants, said that he really appreciated being able to get more flavorful varieties. It was clear that Driscolls was considering 2 different markets in its breeding program - the traditional grocery store market and a more targeted market that would pay a premium for flavor and uniqueness.
Driscolls is constantly looking to improve its berries and, depending on the type of berry, a variety may only be in active production for 3 years before it is replaced with a better performing variety. One other interesting fact was that in Europe, Driscolls identifies the berry by variety on the package, but in the US it does not. I discussed this with some of the breeders and this was, in part, because in US markets they change varieties often during the growing season, as the growing location changes and there was a perception that constantly changing variety names would confuse consumers. Several of us noted that the apple industry takes the opposite approach. They are considering, for their targeted, premium markets creating "limited release" variety-identified varieties like the blush strawberry in the sidebar.
What is the life expectancy of a Driscolls berry variety?
Approximate # of varieties they grow at a time
Life expectancy of a variety before it is replaced with a new variety
Strawberries
12-15
3.5 years
Blueberries
2-3
5-10 years
Blackberries and Raspberries
5-10
3 years
Lessons that can be applied:
Always keep looking for better, varieties. Figure out what your weak links are in your production system and try to find a variety that is better. Are your yields too low, do your berries not hold up well for your markets, how is the flavor or texture?
Consider your market when you select your variety. The flavor/shelf life balance was a clear area of trade-off in different markets. Yield vs flavor could be another tradeoff. Can you get a higher price for more perishable, flavorful berries, or are your customers more price and appearance/condition of the berry focused?
Consider your pricing and marketing. Do you have a limited season berry that is unusually good and could command a premium price? Are your customers aware of it?
This article is from the April 11, 2018 CCE ENYCHP Berry News, Click Here for the FULL NEWSLETTER


Upcoming Events
October Last Monday Grant Webinar for Fruit and Vegetable Growers
October 28, 2019
4:00 pm
Are you curious about what grants are available to help your farm business?
To help disseminate information on grants on a consistent basis, ENYCH is offering a "current grants" webinar on the last Monday of every month at 4:00pm
Each month's webinar focuses on 1 grant. The October webinar topic is TBD but might feature Ag Labor Housing Grants.
Produce Safety Alliance FSMA Grower Training Course
October 30, 2019
8am - 5pm
Canajoharie, NY
A grower training course developed by the Produce Safety Alliance (PSA) that meets the regulatory requirements of the Food Safety Modernization Act (FSMA) Produce Safety Rule. At least one person per farm producing more than $25,000 worth of fruits and vegetables must attend this course once. Participants will receive a certificate of course completion by the Association of Food and Drug Officials.
Tarping for Reduced Tillage Workshop
November 2 - November 19, 2019

Are you a vegetable farmer already using tarps? Or are you wondering if and how tarps could work best on your farm?

The Cornell Small Farms Program is excited to announce a series of workshops on tarping for reduced tillage in small-scale vegetable systems, to be held in Maine and New York this fall. The Reduced Tillage (RT) project of the Cornell Small Farms Program supports farmers in adopting scale-appropriate RT practices that can lead to healthy, productive soils and greater profitability. Through the evaluation of novel tools and methods using systems-based field research and on-farm trials, the project helps farmers learn about the approaches that can work for their farm. This work is accomplished in collaboration with the University of Maine, and with support from Northeast SARE.

Announcements
Podcasts