Hail Netting: Is It Right for Your Farm?
Elizabeth Higgins, Business Management Specialist
Eastern New York Commercial Horticulture
June 11, 2018
Increasingly tree fruit growers in NYS are looking at hail netting as a tool for reducing the impact of hail in their orchards. Hail netting is already widespread in Australia, Europe and is increasing in popularity in Washington State. Netting is used in those places, not only to protect the fruit from hail, but also from sun damage, and insect/pest damage and to increase the quality of the fruit crop. While hail netting seems to have promise, the growing conditions for tree fruit in New York are not the same as Australia, Europe and Washington. The Cornell Cooperative Extension Lake Ontario Fruit Team has recently received a grant to study hail netting in New York and its impact on pests and disease, yields, and quality of the fruit and to better understand the costs and labor needs for managing a hail netting system in a New York orchard.
Growers considering hail netting (or any other investment to protect their crop) need to consider the following questions:
How likely is the situation I want to avoid and how much harm would the situation cause to my farm business if it occurred? (risk assessment)
How much would it cost to protect myself (not just in money, but also lost opportunities) and how effective are the protection strategies? (cost benefit)
Are there other alternative investments that would result in an improved overall situation for the same or lower investment? Make sure that you are prioritizing the "weak link" in your business.
For example, an asteroid hitting your farm could be devastating but it is also highly unlikely, and your options to protect yourself are few and costly. Asteroid protection is probably a low priority investment in most farming operations. Money is better spent on pest control, irrigation and improved horticultural practices. So, what do we know about hail netting now?
In research conducted in Australia[1], apple price was found to be the most influential factor determining the profitability of hail net. According to researchers "to offset high establishment costs, orchard productivity under hail netting must be maximized through the production of high yields of premium quality fruit and efficiency in tree management". However, studies did indicate that if the price of hail netting was low enough, it would be cost effective in a wider range of orchards. They also did consider benefits to hail netting such as improved apple quality (even when there is no hail), improved spray efficiency, and reduced pressure of pests and diseases.
Unfortunately, data on frequency and probability of hail affecting a specific location is not accurate and good models are not available. It turns out that hail is really hard to model because the conditions that would create hail in the atmosphere, do not necessarily result in hail on the ground. Recent research on hail in the context of global warming indicate that in the future (in the Eastern United States), hail events are likely to decrease but the hail that does fall will be more damaging[2].
Hail is certainly damaging to tree fruit growers. From 2015-2017, 993 acres of apples in the LOFT region received insurance payments for hail damage. The reimbursed loss was $4,139,880. This loss does not include: loss of market share, uninsured acres, multi-year impacts on production, the financial burden in the lag in receiving insurance payment.
If you are considering hail netting, and can't wait for the LOFT research to be completed, I have developed a quick spreadsheet that you can use to calculate the net present value of installing hail netting on your farm. You can include 1-3 hail events in the 10 year period and change the percent of fruit that goes to processing. The spreadsheet is located at this link: https://tinyurl.com/yc7jogot. The spreadsheet does not include multi-year effects, other benefits of hail netting, and labor costs only include manufacturer's estimates for application and removal at the beginning and end of the season. Once the LOFT project is completed, this tool will be refined with more accurate data and a sensitivity analysis. If you have any questions about this spreadsheet please contact me at emh56@cornell.edu.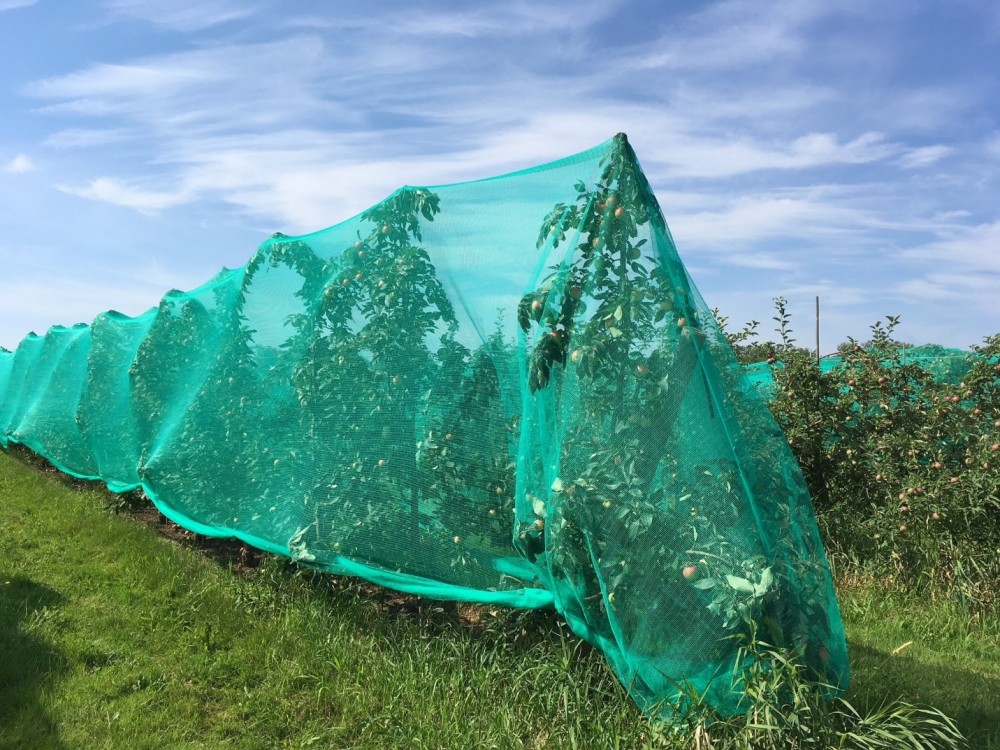 Figure 1: Hail Netting in Clinton County, NY (photo credit: Elizabeth Higgins, ENYCH)
[1] Whittaker and Middleton. "Profitability of Hail Netting in Apple Orchards". Contributed paper for the 43rd annual conference of the Australian Agricultural and Resource Economic Society at Christchurch, 20-22 January 1999 and Middleton and McWalters. "Hail Netting of Apple Orchards - Australian Experience". Presentation at 45th Annual IDFTA Conference February 16-20, 2002, Lekowna, British Columbia, Canada
[2] Brimelow et al. "The changing hail threat over North America in response to anthropogenic climate change". Nature Climate Change 7, 516-522 (2017).


Upcoming Events
2021 Spring Turn-Out Grazier Meeting
April 29, 2021
2021 Spring Turn-Out Grazier Meeting: Adapting livestock, Pasture Forbs, Spending Money. Presented by Cornell Cooperative Extension Educators: Ashely Pierce, Dayton Maxwell, and Aaron Gabriel.
Announcements
Podcasts