Supplemental Coverage Options for Apples
Elizabeth Higgins, Business Management Specialist
Eastern New York Commercial Horticulture
September 12, 2018
Apple growers in New York are starting to see a new crop insurance option in some counties, Supplemental Coverage Option (SCO). I had a couple of questions about it in Ulster County last fall. Now that we are nearing time to sign up for crop insurance again, let's dig in a little deeper - what is SCO and why might you consider it?

The supplemental coverage option (SCO) is an endorsement that you can add to your underlying apple crop insurance policy (APH). It provides additional coverage that is based on an event's regional impacts to yield. Your primary apple policy pays if you suffer an insurable loss on your farm based on your policy coverage and your losses. SCO pays if the regional yield, calculated as the weighted average of policyholder yields reported to RMA in a region, falls below 86% of the expected regional yield due to an insurable event, regardless of what happens to yields on your farm. Insurable events typically include natural disasters or weather, such as flood or drought or pest infestation, that lead to lower yields or quality even when good management practices are used.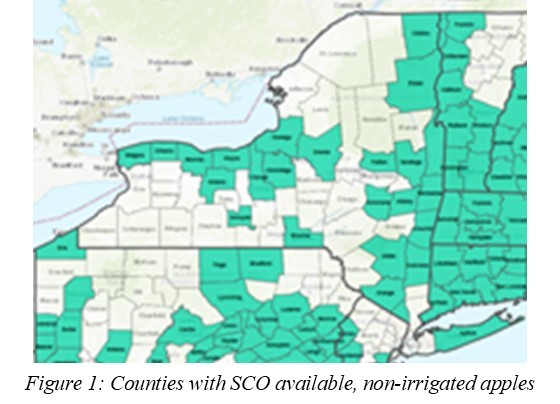 As an example, if a hail storm hits most of the farms in your region, but the damage on your farm was not high enough to trigger an indemnity payment, you would not receive an insurance payment. BUT if you had purchased the SCO endorsement, and the hail damage in your region resulted in regional yields below 86% of the area expected yield, you would receive an insurance payment, even though you personally did not have an insurance-triggering loss. In a nutshell, as you can see in Table 1, it is possible, with an SCO policy, to suffer an individual loss, but not receive an SCO payment or vice-versa.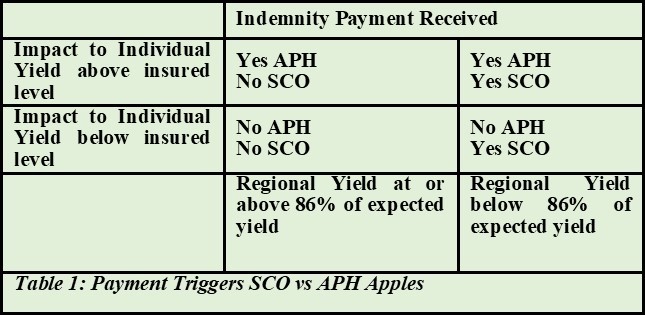 So how do you know if SCO makes sense for your farm? In general, the degree to which your yields and yield risk match those of the SCO area is a key consideration when deciding whether to purchase an SCO endorsement. The greater the difference between your farm's yield volatility and the SCO area's yield volatility, the less likely an SCO payment will be triggered when you experience a yield loss. The size or homogeneity of the region could also have an impact. A smaller region is more likely to have an event that would result in a regional yield or revenue impact than a very large region. The size of the SCO region can vary from single county to multi county. For example, Ulster County, NY's region for fresh market, irrigated apples is just Ulster County but Washington County NY's region is 18 counties in New York, Massachusetts and Vermont.
How much does SCO coverage cost? If you have purchased less underlying insurance coverage, the SCO coverage would cost more but provide more protection. If you have purchased more coverage then the SCO coverage costs less but provides less additional protection. Figure 2 shows how the two programs work together. Also, like APH insurance, SCO coverage is subsidized by the federal government, so farmers only pay 35% of the actuarial cost of the coverage.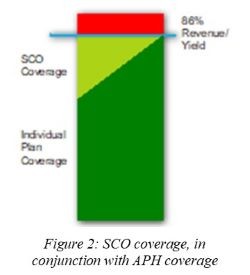 Let's look at some scenarios that show how adding the SCO endorsement could impact a grower in 2 regions in Eastern New York, Ulster and Washington Counties (assume the farms have the same historic yields):
2018 Ulster Irrigated Fresh Market Apples, 100 acres
Approved Yield: 658 bu/ac
Projected price $13.30/bu
Expected Area Yield 769.1 for SCO - region only includes Ulster County. 86% threshold is 661.4 bu/ac

2018 Washington Irrigated Fresh Market Apples, 100 acres
Approved Yield 658 bu/ac
Price $13.30/bu
Expected Area Yield 785.4 - includes 18 counties in NY, MA and VT[1]. 86% threshold is 675.4 bu/ac

Scenario 1: A very significant and widespread frost event results in a 51% reduction in yield on the farm, so all levels of APH insurance pay. The regional average yield after this event also declines by 51%. In this example, where the regional yields also had the same level of decline as the farm yield, you can see that having higher SCO coverage and lower APH coverage provided a higher payment.

Scenario 2: A less significant frost results in a 20% reduction in yield on your farm and regionally. You do not have enough of a loss to receive APH payments at any level of coverage, but you do receive a benefit from SCO for the difference between 86% and 80% yields. In this example, where there is widespread damage, but the level of damage on the individual farm is not high enough to result in a crop insurance payment, the SCO endorsement resulted in indemnities but not APH at any level.

Scenario 3: A hailstorm affects your farm, resulting in a 35% reduction in yield. The level of damage regionally was not enough to cause regional yields to fall below 86% of expected yield, so there is no SCO payment. In this example, you can see that for more localized events, indemnities are more likely to be triggered at higher levels of APH coverage. These types of events are also what may make SCO endorsements less likely to pay out in counties where the region is very large.

So, should you consider adding the SCO endorsement? Like any farm management decision, it depends.
SCO would provide more protection for your farm business if insurable events that are likely to impact your farm are as likely or are more likely to also affect other producers in your region.
Due to the higher coverage level than APH, SCO may help you increase the number of scenarios under which you would be likely to receive a benefit.
Using SCO with lower levels of APH may decrease your premium, but in exchange you are less likely to receive an indemnity for insurable events that occur on your farm but not in your region.
A key consideration is whether you have enough coverage to get your business back on its feet after an insurable event, at an annual cost that is affordable to your business.
Cornell University delivers crop insurance education in New York State in partnership with the USDA, Risk Management Agency. This material is funded in partnership by USDA, Risk Management Agency, under award number RM17RMETS524020
[1] Berkshire, MA; Franklin, MA; Albany, NY; Clinton, NY; Columbia, NY; Essex, NY; Fulton, NY; Rensselaer, NY; Saratoga, NY; Ulster, NY; Washington, NY; Addison, VT; Bennington, VT; Chittenden, VT; Grand Isle, VT; Rutland, VT; Windham, VT; Windsor, VT.


Upcoming Events
Farm Financial Management Tuesdays - Planning for a Change or Exiting Your Farm Business
November 30, 2021 : Assessing the Financial Ramifications of and Options for Significant Change to Your Farm Business
The inflationary economy is upon us! The huge influx of money into the US economy following the COVID-19 pandemic has manufactured high prices and in turn increased operating costs for farm business thus forcing many businesses into net operating loss situations. Other farms are facing high labor costs or chronic labor shortages. Some farms have taken on debt loads that make these increased costs unaffordable. Depending on the stage in the business lifecycle, it may make sense to change enterprises or exit the farming business entirely.
Join CCE ENYCH Ag Business Educator, Elizabeth Higgins, and CAAHP Ag Business Educator, Dayton Maxwell, for a one-hour program to learn about the financial aspects of changing or exiting a farm business.
December 7, 2021 : The Family and Emotional Component; Shifting Business Direction and Life After Farming
As farm business enterprises are changed or disbanded, the emotional stress can be tremendous, especially when individuals and family members maintain diminished assurance relative to future security.
Join Gabriel Gurley and Brenda O'Brien of New York FarmNet for a one-hour program focused on successfully navigating the emotional turmoil of a family farm business transition.
December 14, 2021 : New Venture Creation; Shifting Business Direction and Life After Farming
Change creates opportunity and new opportunities are certain when farm businesses change or end.
Join Gabriel Gurley of New York FarmNet for a one-hour overview of identifying ways and means to capitalize on new opportunities resulting from farm business transitions.
Remote Produce Safety Alliance Grower Training Course - Dec 2021
December 8 - December 9, 2021
A grower training course developed by the Produce Safety Alliance (PSA) that meets the regulatory requirements of the Food Safety Modernization Act (FSMA) for farms subject to the Produce Safety Rule. All farms are welcome to attend to learn about recommended food safety practices for growing, handling, and storing fresh produce. Course registration fee includes a course manual and certificate of course completion by the Association of Food and Drug Officials (AFDO).

Tax Management for Beginning and Small Farm Businesses
January 18, 2022
Tax Management for Beginning and Small Farm Businesses.
A one-night virtual meeting for beginning and part-time farmers that provides useful tax information enabling participants to be make better tax decisions for their business. Federal and state income taxes will be covered. Tax regulations specific to NYS will be covered as well.
Announcements
Podcasts