Relative Performance of Onion Fungicides
Christy Hoepting, Extension Vegetable Specialist
Cornell Vegetable Program
Last Modified: March 17, 2014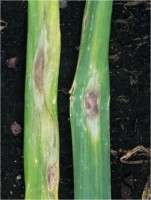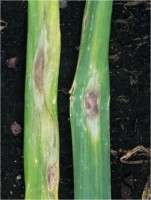 Botrytis leaf blight (BLB) and purple blotch (PB) are two of the most common and important leaf diseases of onions in New York. BLB is favored by cool and wet conditions, optimum: 59-65 degrees F + 12 hours leaf wetness, infection greatly reduced above 81 degrees F. PB is favored by warmer and humid conditions, optimum: 77 degrees F + 90% RH, minimum 55 degrees F; maximum 97 degrees F. Several fungicides are labeled in New York for control of both of these diseases.

To determine which fungicides were best for controlling BLB and PB in New York, head to head comparisons of the different fungicides were evaluated in four on-farm small plot trials, in Elba (2006), Sodus in (2007), Pembroke (2008) and Linwood (2008). Seven to eight weekly fungicide sprays were made per season starting in mid- to late-June using a back pack sprayer. Quantitative evaluations were made including number of BLB and PB lesions per plant, % leaf dieback, plant health ratings, yield and grade.
Performance of Onion Fungicides: Table Summary (pdf; 64KB)


Upcoming Events
High Tech Precision Orchard Spraying
July 20, 2020
Join us the afternoon of July 20th to learn what's new in orchard precision spraying technology. We'll be joined by Dr. Jason Deveau, Dr. Heping Zhu, and Steve Booher. After their presentations, we will open up the meeting for all three presenters to field questions and comments.
Announcements
Podcasts