Seed Treatments for Onion Maggot Control in Onions
May 24, 2012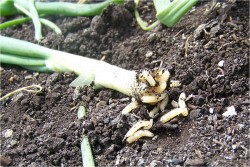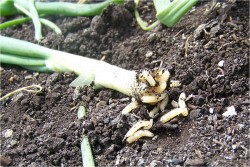 New York onion growers FINALLY have not one, but TWO new seed treatment options for control of onion maggot. Sepresto® was first introduced for the 2011 growing season, but is available only on Nunhem's onion varieties. Also available for the 2012 growing season on all onion varieties is Farmore® FI500. Both of these insecticide seed treatments are only available in packages that also include fungicides. Altogether, NY onion growers now have FIVE insecticides (counting diazinon), labeled for onion maggot control. Of these, 3 are seed treatments; decisions for which one to use must be made when seed orders are placed. In making these decisions, it is important to know the relative efficacy of the insecticides, what diseases the fungicides in the seed treatment packages control and how to extend the useful life of these precious new insecticides. The information that follows addresses these questions and should assist you in making a decision on how to control maggots as well as early season seedling diseases.
Seed Treatments for Onion Maggot Control in Onions (pdf; 169KB)


Upcoming Events
Berry Production Twilight Meeting

July 8, 2021
Peru, NY
Rulf's Orchard, 531 Bear Swamp Road, Peru, NY
Many berry topics will be discussed including growing Juneberries (Amelanchier, not strawberries), using entomopathogenic nematodes to control strawberry root pests, low tunnel production in June bearing strawberries, SWD monitoring and management. 2.5 DEC pesticide recertification credits available in categories 1A, 10, 22, and 23. Contact Elisabeth Hodgdon (eh528@cornell.edu or 518-650-5323) or Laura McDermott (lgm4@cornell.edu or 518-746-2562) with questions.
Announcements
Podcasts