Collaborative Marketing for Small Farms
October 18, 2012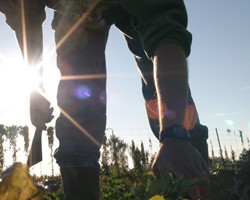 By Jim Ochterski, Ag Economic Development Specialist, CCE Ontario County
Collaborative marketing is a realistic solution for small- to mid-size farms that are seeking access to larger markets, but are unable to individually serve such accounts. In collaborative marketing, several like-minded producers join together formally to market and distribute farm products, but not necessarily under the governance or control of a cooperative.
The range of farm products that can be sold through a collaborative group is as diverse as the farms themselves: meats, vegetables, forest products, fruits, grains, flowers, nursery & greenhouse products, cheeses and other dairy products, and livestock.
Collaborative marketing may influence many areas of your farm. By choosing to market jointly with other farms, you will adjust your planting intentions, harvesting and storage techniques, crop schedule, certifications, buyer relationships and many other farm office decisions. It is not a decision to be taken lightly. In fact, establishing some type of business collaboration may be one of the more complicated decisions you will make for your farm.
The financial bottom line for family farms is profitability. Collaborative marketing could reduce your marketing expenses, but it might not make your farm profitable overall. Fortunately, there are ways for you to collaborate with other farms for trial periods to assess the economic strengths or weaknesses. The opportunities opened up through multi-farm marketing need to be tempered with good agreements and procedures.
Generally, small farms should consider temporary, limited-scale collaborative projects before developing substantial business agreements. Such arrangements can be a simple as consignment sales, or as complex as a corporation dedicated to marketing and distribution.
The PDF below contains information on creating a collaborative marketing strategy: considering the different types of collaborative marketing business structures, seeking attorney assistance to develop a collaborative marketing agreement, managing commmon problems, and a handy worksheet to help you organize the basic aspects of a collaborative marketing agreement.
Collaborative Marketing for Small Farms: Selling & Working Together (pdf; 447KB)


Upcoming Events
Berry Production Twilight Meeting

July 8, 2021
Peru, NY
Rulf's Orchard, 531 Bear Swamp Road, Peru, NY
Many berry topics will be discussed including growing Juneberries (Amelanchier, not strawberries), using entomopathogenic nematodes to control strawberry root pests, low tunnel production in June bearing strawberries, SWD monitoring and management. 2.5 DEC pesticide recertification credits available in categories 1A, 10, 22, and 23. Contact Elisabeth Hodgdon (eh528@cornell.edu or 518-650-5323) or Laura McDermott (lgm4@cornell.edu or 518-746-2562) with questions.
Announcements
Podcasts