About Program
The Eastern New York Commercial Horticulture is one of the premier regional agricultural Cornell Cooperative Extension programs in New York, serving a large multi-county area in the Champlain Valley, Capital Region and Hudson Valley of the state. The team's Specialists work together with Cornell faculty and extension educators statewide to address the issues that impact the vegetable, tree fruit, small fruit and grape industries. The Eastern New York Commercial Horticulture Program provides educational programs and information to growers and agri-business professionals, arming them with the knowledge to profitably produce and market safe and healthful horticultural crops, contributing to the viability of farms and the economic wellbeing of New York State. Specifically, our program focuses on food safety, variety evaluation, market development, pest management, and cultural practices.
Growers and agri-business professionals
must enroll in our program
to benefit from many of our educational offerings including our newsletter, direct mailings, and pest alerts.
The Eastern New York Commercial Horticulture Program is supported, in part, by
17 county Cornell Cooperative Extensions in the Capital Region of New York:
Albany, Clinton, Columbia, Dutchess, Essex, Fulton, Greene, Orange,
Montgomery, Putnam, Rensselaer, Saratoga, Schenectady, Schoharie,
Ulster, Warren and Washington Counties.

To visit one of these Cornell Cooperative Extension's web sites,
simply click on a county within the map.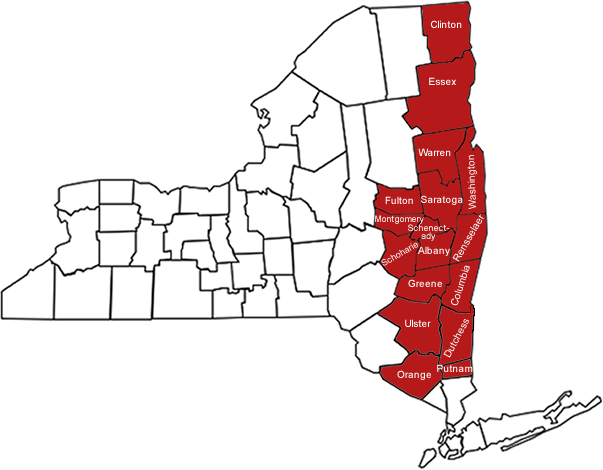 Upcoming Events
2020 Fall Round Up: Fall Management for Your Livestock, Pasture, and Business
October 29, 2020
Join Cornell Cooperative Extension Educators Ashley Pierce, Aaron Gabriel, and Dayton Maxwell. This dynamic and slightly humorous group will discuss strategies for overwintering pastures in combination with management guidelines for helping livestock enter the winter season with adequate body condition. Farm visioning, mission development, and farm goal setting will conclude the one-hour program.
2021 Fruit & Vegetable Conference
February 16 - February 18, 2021
The Eastern NY Fruit & Vegetable Conference, normally held at The Desmond Hotel in Albany, will be going virtual 2021. The ENYCH team will try to coordinate with other regional fruit and vegetable teams from across the state to offer a larger statewide virtual meeting. These are tentative dates for now. Additional information will be continued to be shared as it becomes available.
Announcements
Podcasts