About Program
The Eastern New York Commercial Horticulture is one of the premier regional agricultural Cornell Cooperative Extension programs in New York, serving a large multi-county area in the Champlain Valley, Capital Region and Hudson Valley of the state. The team's Specialists work together with Cornell faculty and extension educators statewide to address the issues that impact the vegetable, tree fruit, small fruit and grape industries. The Eastern New York Commercial Horticulture Program provides educational programs and information to growers and agri-business professionals, arming them with the knowledge to profitably produce and market safe and healthful horticultural crops, contributing to the viability of farms and the economic wellbeing of New York State. Specifically, our program focuses on food safety, variety evaluation, market development, pest management, and cultural practices.
Growers and agri-business professionals
must enroll in our program
to benefit from many of our educational offerings including our newsletter, direct mailings, and pest alerts.
The Eastern New York Commercial Horticulture Program is supported, in part, by
17 county Cornell Cooperative Extensions in the Capital Region of New York:
Albany, Clinton, Columbia, Dutchess, Essex, Fulton, Greene, Orange,
Montgomery, Putnam, Rensselaer, Saratoga, Schenectady, Schoharie,
Ulster, Warren and Washington Counties.

To visit one of these Cornell Cooperative Extension's web sites,
simply click on a county within the map.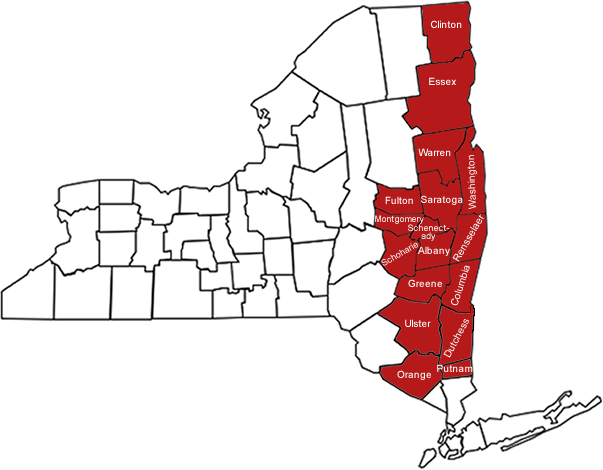 Upcoming Events
20 Minute Ag Manager Webinars: Relevant Information and Sensitivity Analysis
July 17, 2018
12-12:30 PM
20 minute lunchtime webinars will be held on Tuesdays this summer covering farm business management topics.

Berry Field Meeting: Exclusion Netting & SWD Monitoring
July 19, 2018
5-7pm
Poughkeepsie, NY
Join us at Poughkeepsie Farm Project, host site for our CCE SWD exclusion netting trial in raspberries. Peter Jentsch of the Hudson Valley Research Lab will discuss the netting trial, and the use of attract and kill baits in a U-Pick raspberry planting. A low tunnel over strawberries will be available for viewing. Bring a fruit sample for salt flotation testing, or a plant sample if you have other berry questions.

Attendees can enter for a chance to win free SWD monitoring traps!

20 Minute Ag Manager Webinars: Pricing for Profit
July 24, 2018
12-12:30 PM
20 minute lunchtime webinars will be held on Tuesdays this summer covering farm business management topics.

Announcements
Check out the Updated Labeled Insecticides for SWD
Labeled Insecticides for Control of Spotted Wing Drosophila in New York Berry Crops - Quick Guide Compiled by Greg Loeb, Laura McDermott, Peter Jentsch & Juliet Carroll, Cornell University. Updated regularly. Check it out at this link!
New Resources from CCE ENYCHP!
We are developing new ways to connect with the CCE ENYCHP team this year!
We have a Youtube page located at this link
. Check out videos on Table Grape Production, Pest Updates and the 20 Minute Ag Manager - in 4 Minutes series.
There are also text alerts available.
Fruit and vegetable farmers in 17 Eastern NY counties can now receive real time alerts on high risk disease and pest outbreaks texted directly to their cell phone. The Eastern NY Commercial Horticulture program, which is supported by local Cornell Cooperative Extension associations, will now offer text alerts to those that sign up.
The text alerts will be reserved for important crop alerts that could impact management decisions immediately. For instance, if there were an outbreak of Late Blight in the area, this would be transmitted to vegetable growers.
Farmers can choose the crop for which they wish to receive updates. Additionally they can request that Ag Business Alerts be sent to them. These alerts might include due dates for crop insurance deadlines, market opportunities etc.
Text alerts are easy to access. Just click on the link below and fill out a very short registration form. It takes just seconds to do - access to important information has never been so easy!!

If you have questions, please contact Abby Henderson at 518-746-2553 or email her at aef225@cornell.edu.

Confused by the WPS (Worker Protection Standard)?
Please take note: WPS pertains to all farms-organic and conventional! To be sure that you are complying with these regulations, please view the EPA link below:
https://www.epa.gov/sites/production/files/2015-09/documents/comparison-chart-wps.pdf
Eastern New York Commercial Horticulture - Cornell Cooperative Extension
Your Trusted Source for Research-Based Knowledge