About Program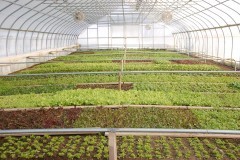 The Eastern New York Commercial Horticulture is one of the premier regional agricultural Cornell Cooperative Extension programs in New York, serving a large multi-county area in the Champlain Valley, Capital Region and Hudson Valley of the state. The team's Specialists work together with Cornell faculty and extension educators statewide to address the issues that impact the vegetable, tree fruit, small fruit and grape industries. The Eastern New York Commercial Horticulture Program provides educational programs and information to growers and agri-business professionals, arming them with the knowledge to profitably produce and market safe and healthful horticultural crops, contributing to the viability of farms and the economic wellbeing of New York State. Specifically, our program focuses on food safety, variety evaluation, market development, pest management, and cultural practices.

Growers and agri-business professionals must enroll in our program to benefit from many of our educational offerings including our newsletter, direct mailings, and pest alerts.
The Eastern New York Commercial Horticulture Program is supported, in part, by
17 county Cornell Cooperative Extensions in the Capital Region of New York:
Albany, Clinton, Columbia, Dutchess, Essex, Fulton, Greene, Orange,
Montgomery, Putnam, Rensselaer, Saratoga, Schenectady, Schoharie,
Ulster, Warren and Washington Counties.

To visit one of these Cornell Cooperative Extension's web sites,
simply click on a county within the map.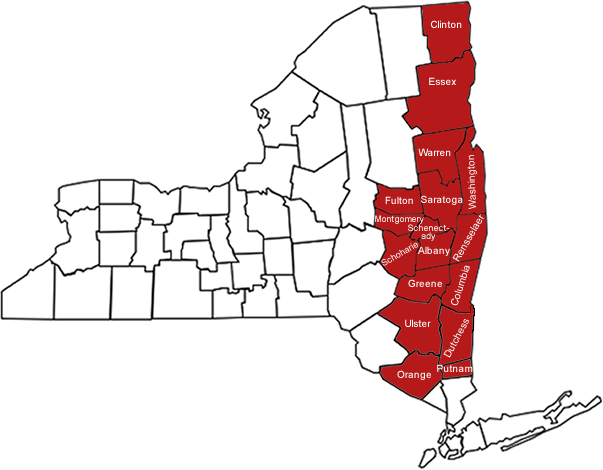 Upcoming Events
Apple Grower Listening Session - USDA RMA Crop Insurance
June 28, 2023
Highland, NY
The Risk Management Agency (RMA) is inviting interested parties to participate in a listening session to discuss the proposed changes to the apple crop insurance program. These proposed changes were published in a Proposed Rule with request for comments on December 16, 2021.
RMA invited public comments on this rule through April 15, 2022. RMA received comments to the Proposed Rule from approximately 200 interested parties. RMA is taking this opportunity to engage with interested parties to clarify the intent of the Proposed Rule before finalizing changes.
Small Fruit Opportunities for Small Farms

July 11, 2023
Willsboro, NY
$10 per farm
Pre register by Monday, July 10th at 9 am
Join us for a field afternoon at the Cornell Willsboro Research Farm and Juniper Hill Farm in Essex County to learn about growing small fruit crops in northern New York. We'll discuss considerations for site selection, varieties, pruning, integrated pest management, marketing, and more. In addition to strawberries, blueberries, and raspberries, we'll cover novelty small fruits and nuts for specialty markets and hear from local producers who grow them.
1.75 DEC credits approved in categories 1A, 10, and 22
Rain date: This event will be held at the same time on Thursday, July 13th if thunderstorms and/or significant rain are predicted on the 11th
Announcements
Podcasts