About Program
The Eastern New York Commercial Horticulture is one of the premier regional agricultural Cornell Cooperative Extension programs in New York, serving a large multi-county area in the Champlain Valley, Capital Region and Hudson Valley of the state. The team's Specialists work together with Cornell faculty and extension educators statewide to address the issues that impact the vegetable, tree fruit, small fruit and grape industries. The Eastern New York Commercial Horticulture Program provides educational programs and information to growers and agri-business professionals, arming them with the knowledge to profitably produce and market safe and healthful horticultural crops, contributing to the viability of farms and the economic wellbeing of New York State. Specifically, our program focuses on food safety, variety evaluation, market development, pest management, and cultural practices.
Growers and agri-business professionals
must enroll in our program
to benefit from many of our educational offerings including our newsletter, direct mailings, and pest alerts.
The Eastern New York Commercial Horticulture Program is supported, in part, by
17 county Cornell Cooperative Extensions in the Capital Region of New York:
Albany, Clinton, Columbia, Dutchess, Essex, Fulton, Greene, Orange,
Montgomery, Putnam, Rensselaer, Saratoga, Schenectady, Schoharie,
Ulster, Warren and Washington Counties.

To visit one of these Cornell Cooperative Extension's web sites,
simply click on a county within the map.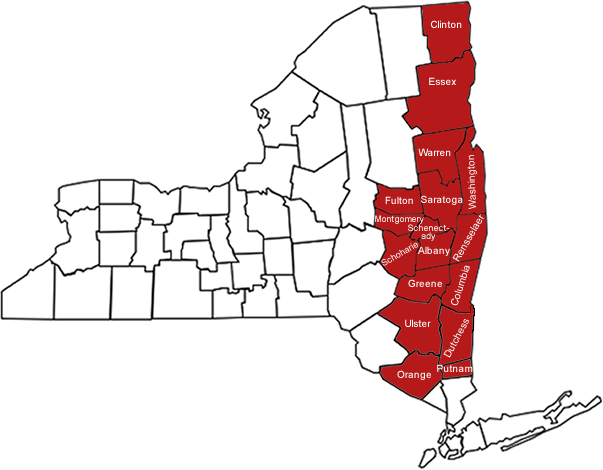 Upcoming Events
Pesticide Exam Certification Summer Trainings
July 2 - July 23, 2019
1:30pm - 4:30pm each day
Plattsburgh, NY
2019 Champlain Valley Pesticide Applicator Exam Intensive Training
CCE ENYCHP Horticulture Specialists Mike Basedow and Elisabeth Hodgdon will be offering four afternoons of training to review core concepts and commodity specific items in preparation for the exam.
CCE & Hudson Valley Research Lab Research & Extension Tour
July 26, 2019
12:30pm - 5:00pm
Highland, NY
The Eastern NY Commercial Horticultural Program and Hudson Valley Research Lab are hosting a 2019 Research and Extension Summer Tour on July 26th from 12:30 - 5:00 PM. Beginning at the Highland Research Station Conference Room.
Last Monday Grant Webinar for Fruit and Vegetable Growers - July
July 29, 2019
12:00-1:00
To help disseminate information on grants on a more consistent basis, we will be offering a "current grants" webinar on the last Monday of every month at noon
In order to help focus the program, the webinars will be limited to grants that are relevant to fruit and vegetable farmers in Eastern New York.
There is a possibility of webinars related to grants for experimental crops (i.e. hops and hemp) if it is likely that fruit and vegetable growers would be interested.
Announcements
Podcasts