Raspberries / Blackberries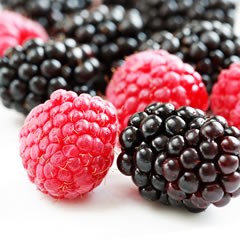 Raspberries are the most widely grown bramble crop in New York planted on over 450 acres in all regions of the state. Both floricane (summer bearing) and primocane (fall or ever-bearing) raspberries are grown and yellow, purple and black fruited cultivars in addition to the popular red raspberries make up the tasty crop. Ninety percent of the estimated 1.1 million pound annual raspberry crop is sold for fresh market and the remaining 10% is used to make value added items including preserves, juice additives and fruit wine.
Blackberries are closely related to raspberries and are grouped together with them in the 'Bramble' category of berry crops. Blackberries differ from raspberries in that the receptacle within the berry fruit is eaten along with the berry. For raspberries, the receptacle is left on the plant, leaving a hollow berry for consumption. Blackberries are also a more tender plant, successfully grown on 450 acres in more temperate regions of the state including Long Island, the Hudson Valley, the Finger Lakes region and fruiting districts near the Great Lakes.
All bramble crops need well drained soil as they are susceptible to soil borne diseases particularly Phytophthora. Potential growers should be aware of cane diseases and other pest problems, as well as the fact that raspberries and blackberries have an extremely short shelf life after harvest, making adequate post-harvest cooling essential. Brambles are often trellised adding to the production costs which can average about $4000/acre.
High tunnel production of raspberries and blackberries has been increasing throughout New York State thanks to research done by the Cornell University Department of Horticulture. This type of protected culture allows growers to extend the productive season of raspberries, extend the potential production sites of blackberries throughout the state and allows growers to produce a much higher quality fruit.
For more information about bramble culture, visit the
Cornell Berry website
.
Most Recent Raspberries / Blackberries Content
Labeled Insecticides for Control of Spotted Wing Drosophila in New York Berries
Last Modified: June 22, 2017

A Quick Guide to Labeled Insecticides for Control of Spotted Wing Drosophila in New York Berry Crops

Compiled by Greg Loeb, Laura McDermott, Peter Jentsch, Tess Grasswitz, & Juliet Carroll, Cornell University. Updated regularly.
Insecticides to Control Spotted Wing Drosophila
Last Modified: July 16, 2016


Current 2016 SWD Insecticides and Rates
2016 Berry School - Disease Diagnosis Talk
Anne Mills, Field Technician
Eastern New York Commercial Horticulture
Last Modified: March 25, 2016
More Raspberries / Blackberries Content


Upcoming Events
Hudson Valley Pesticide Applicator Pre-Exam Training
March 19 - March 21, 2018
9:00am-12:00pm
Highland, NY
CCE ENYCHP Agriculture Specialists will be offering a training to review core concepts and commodity specific items in preparation for the exam.
Registration Fee covers two days of review: Monday 3/19 and Wednesday 3/21, 9am-12noon

Exam: Tuesday 3/27, 9AM-1PM

Are you managing your risks as a farm employer? The compliance and safety workshop
March 22, 2018
1:00-4:00pm
Highlnd, NY
This is the workshop that covers the nuts and bolts of risk management as a farm employer. Hear presentations from NYS DOL and NYCAMH on employer regulations and safety.
NEWA "Hands-On" Workshop: Grapes and Small Fruits
March 28, 2018
9:30 to 11:45am
Voorheesville, NY
At this workshop, growers will learn the ins-and-outs of the NEWA system (Network for Environment and Weather Applications). NEWA is an online system that provides hourly and daily weather data, pest forecasting models, and crop production models, to help implement IPM practices on farms across the Northeast. Attendees will learn how to efficiently navigate the NEWA interface, including how to get weather data, access station specific pages, and effectively utilize models for grape berry moth, black rot, downy mildew, powdery mildew and Phomopsis. New models currently being developed for small fruits will also be discussed.
Announcements
Confused by the WPS (Worker Protection Standard)?
Please take note: WPS pertains to all farms-organic and conventional! To be sure that you are complying with these regulations, please view the EPA link below:
https://www.epa.gov/sites/production/files/2015-09/documents/comparison-chart-wps.pdf
Growing for Wholesale: Grading and Packing Guides
Grading and packing guidelines are now available for 16 commonly grown specialty crops in NYS: broccoli crowns, Brussels sprouts, corn, green peppers, cucumbers, green cabbage, red cabbage, savory cabbage, cauliflower, eggplant, green beans, jalapenos, poblanos, Hungarian hot peppers, summer squash, and zucchini. Find all 24 sheets online at:
https://rvpadmin.cce.cornell.edu/uploads/doc_612.pdf
This resource was developed through the support of Cheryl Thayer of CCE Harvest NY, Dave Walczak of Eden Valley Growers, Angela Parr and Robert Hadad of the CCE Cornell Vegetable Program, and Jim Monahan of Cornell Cooperative Extension. Further, development of this resource was made possible through grant funding from the USDA Local Food Promotion Program.
Eastern New York Commercial Horticulture - Cornell Cooperative Extension
Your Trusted Source for Research-Based Knowledge