Horseradish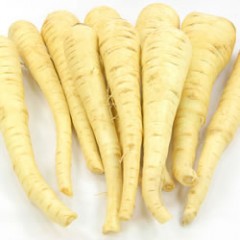 Horseradish is a minor crop in New York, with 5 acres produced on 8 farms (2007 Ag Census). Some of the smaller acreage is probably not reported. It is a member of the Brassicaceae or cabbage family which makes it related to turnips. The greens are edible and may be available at farmers markets in the spring/summer. However, the pungent root is generally what is cultivated and sold. Roots are generally harvested in the fall. They store well and are available throughout the winter.
Most Recent Horseradish Content
2018 Eastern New York Fruit & Vegetable Conference Vegetable Presentations
Last Modified: April 2, 2018


Presentations from the 2018 ENYCHP Eastern New York Fruit & Vegetable Conference held February 20th and 21st for the vegetable sections.
More Horseradish Content


Upcoming Events
Ag Manager Webinar Series: Understanding Financial Statements 1 (Balance Sheets)
July 2, 2019
12:30 - 12:50pm
Join Liz Higgins from the CCE ENYCHP every other Tuesday at 12:30pm throughout the summer as she discusses pertinent business topics for busy farm managers.
Pesticide Exam Certification Summer Trainings
July 2 - July 23, 2019
1:30pm - 4:30pm each day
Plattsburgh, NY
2019 Champlain Valley Pesticide Applicator Exam Intensive Training
CCE ENYCHP Horticulture Specialists Mike Basedow and Elisabeth Hodgdon will be offering four afternoons of training to review core concepts and commodity specific items in preparation for the exam.
FSMA/PSA Food Grower Training Course
July 15, 2019
8:00am - 5:30pm
Warrensburg, NY
A grower training course developed by the Produce Safety Alliance (PSA) that meets the regulatory requirements of the Food Safety Modernization Act (FSMA) Produce Safety Rule. At least one person per farm producing more than $25,000 worth of fruits and vegetables must attend this course once. Participants will receive a certificate of course completion from the Association of Food and Drug Officials.
Announcements
Podcasts