Horseradish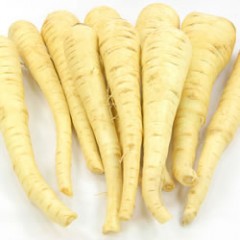 Horseradish is a minor crop in New York, with 5 acres produced on 8 farms (2007 Ag Census). Some of the smaller acreage is probably not reported. It is a member of the Brassicaceae or cabbage family which makes it related to turnips. The greens are edible and may be available at farmers markets in the spring/summer. However, the pungent root is generally what is cultivated and sold. Roots are generally harvested in the fall. They store well and are available throughout the winter.
Relevant Event
Apple IPM :: Basics for Orchard Employees
January 10, 2020
Ballston Spa, NY
Most Recent Horseradish Content
2018 Eastern New York Fruit & Vegetable Conference Vegetable Presentations
Last Modified: April 2, 2018


Presentations from the 2018 ENYCHP Eastern New York Fruit & Vegetable Conference held February 20th and 21st for the vegetable sections.
More Horseradish Content


Upcoming Events
Introduction to Winter Growing Webinar
January 2, 2020
Apple IPM :: Basics for Orchard Employees
January 10, 2020
Ballston Spa, NY
Produce Safety Alliance Grower Training Course

February 25, 2020
Albany, NY
Announcements
Podcasts