Brussels Sprouts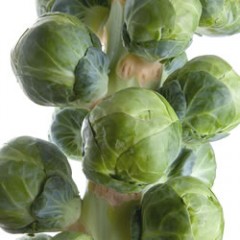 Brussels sprouts are grown on roughly 88 farms in New York, with 58 acres harvested for fresh production and 2 acres for processing (2007 Ag Census). They are members of the Brassicaceae family which includes cabbage, cauliflower and broccoli. Being cool season crops, they are well suited to the New York climate. Most cruciferous crops have similar cultural requirements and are susceptible to a common set of insects and diseases.
Seeds of Brussels sprouts are typically sown in a greenhouse or seed bed about 5-6 weeks prior to transplanting into the field beginning around mid-June. Fields are ready for harvest between 90 to 180 days after planting, depending on the variety and weather conditions. In New York, harvest occurs from September through November.
Buds or sprouts grow along the sides of long, thick stalks and mature from the base of the plant upwards. They are harvested when they are 1 to 2 inches in diameter. Individual buds may be hand harvested into baskets, with several harvests per season. Alternatively, entire stalks can be harvested and sold for processing or at the retail market.
Relevant Event
Apple IPM :: Basics for Orchard Employees
January 10, 2020
Ballston Spa, NY
Most Recent Brussels Sprouts Content
Brassica Project 2018
Amy Ivy, Vegetable Specialist
Eastern New York Commercial Horticulture
Last Modified: May 24, 2018
Our New England colleagues have launched a regional project related Brassicas, and New York growers and colleagues are welcome and encouraged to join in.
The Brassica Pest Collaborative is intended as a place where growers and extension folks can talk to each other and share observations and questions throughout the season so feel welcome to join and contribute all things Brassica! They are also looking for more growers to join that list and to sign up as collaborators who will implement a practice and collect some scouting records to help them assess efficacy of given practices on real farms. Growers can sign up by emailing brassicapest@umass.edu and include information about your farm, pest issue and what strategy you would like to try to implement.
Can it be True?
Chuck Bornt, Team Leader, Extension Vegetable Specialist
Eastern New York Commercial Horticulture
Last Modified: May 2, 2018
A product called LandSpring was labeled in NY back in July of 2017 and may help reduce transplant shock of certain crops. Learn more about what it is and how it works.
LandSpring NYS Label
Chuck Bornt, Team Leader, Extension Vegetable Specialist
Eastern New York Commercial Horticulture
Last Modified: May 1, 2018

Copy of the LandSpring NYS DEC approved label

More Brussels Sprouts Content


Upcoming Events
Introduction to Winter Growing Webinar
January 2, 2020
Apple IPM :: Basics for Orchard Employees
January 10, 2020
Ballston Spa, NY
Produce Safety Alliance Grower Training Course

February 25, 2020
Albany, NY
Announcements
Podcasts