Brussels Sprouts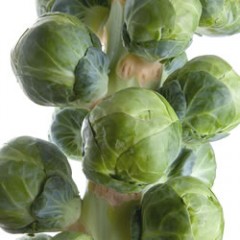 Brussels sprouts are grown on roughly 88 farms in New York, with 58 acres harvested for fresh production and 2 acres for processing (2007 Ag Census). They are members of the Brassicaceae family which includes cabbage, cauliflower and broccoli. Being cool season crops, they are well suited to the New York climate. Most cruciferous crops have similar cultural requirements and are susceptible to a common set of insects and diseases.
Seeds of Brussels sprouts are typically sown in a greenhouse or seed bed about 5-6 weeks prior to transplanting into the field beginning around mid-June. Fields are ready for harvest between 90 to 180 days after planting, depending on the variety and weather conditions. In New York, harvest occurs from September through November.
Buds or sprouts grow along the sides of long, thick stalks and mature from the base of the plant upwards. They are harvested when they are 1 to 2 inches in diameter. Individual buds may be hand harvested into baskets, with several harvests per season. Alternatively, entire stalks can be harvested and sold for processing or at the retail market.
Brassica Project 2018
Amy Ivy, Vegetable Specialist
Eastern New York Commercial Horticulture
Last Modified: May 24, 2018
Our New England colleagues have launched a regional project related Brassicas, and New York growers and colleagues are welcome and encouraged to join in.
The Brassica Pest Collaborative is intended as a place where growers and extension folks can talk to each other and share observations and questions throughout the season so feel welcome to join and contribute all things Brassica! They are also looking for more growers to join that list and to sign up as collaborators who will implement a practice and collect some scouting records to help them assess efficacy of given practices on real farms. Growers can sign up by emailing brassicapest@umass.edu and include information about your farm, pest issue and what strategy you would like to try to implement.
Can it be True?
Chuck Bornt, Team Leader, Extension Vegetable Specialist
Eastern New York Commercial Horticulture
Last Modified: May 2, 2018
A product called LandSpring was labeled in NY back in July of 2017 and may help reduce transplant shock of certain crops. Learn more about what it is and how it works.
LandSpring NYS Label
Chuck Bornt, Team Leader, Extension Vegetable Specialist
Eastern New York Commercial Horticulture
Last Modified: May 1, 2018

Copy of the LandSpring NYS DEC approved label

2018 Eastern New York Fruit & Vegetable Conference Vegetable Presentations
Last Modified: April 2, 2018


Presentations from the 2018 ENYCHP Eastern New York Fruit & Vegetable Conference held February 20th and 21st for the vegetable sections.
Organic Production Guides
Robert Hadad, Extension Vegetable Specialist
Cornell Vegetable Program
Last Modified: July 17, 2017


Organic Production Guides for fruits, vegetables and dairy are available through the NYS Integrated Pest Management (IPM) program. They outline general practices for growing vegetable and fruit crops using organic integrated pest management techniques.
Swede Midge Website
Julie Kikkert, Team Leader, Extension Vegetable Specialist
Cornell Vegetable Program
Last Modified: June 29, 2010


As swede midge continues to spread to more farms and gardens across the United States, a comprehensive website is available to aid in the identification and management of this pest of cole crops.


Upcoming Events
Agricultural Supervisory Leadership Certificate Program
June 17, 2022
June 23, 2022
June 30, 2022
July 7, 2022
July 14, 2022
July 21, 2022
July 28, 2022

Supervisors are critical to the success of farm businesses. They have a major impact both on employees' daily work experiences and on the production performance of the business. The agricultural Supervisory Leadership certificate helps farm supervisors and managers learn and apply human resource management practices and leadership skills that foster rewarding workplaces and drive business results. Confident managers who thoughtfully apply leadership and management skills improve employee performance, develop teams, reduce employee turnover, and increase employee engagement. The courses within the certificate program will offer extensive practice and engagement activities to build confidence and skill sets.
Getting the Most Out of Every Pass - Calibrating Airblast Sprayers for Best Results
June 29 - June 30, 2022
University of New Hampshire Extension Field Specialist Emeritus, George Hamilton will demonstrate the importance of and best techniques to calibrate air blast sprayers. Proper calibration will ensure effective, efficient, economical and legal spraying. Inadequate spray coverage is usually the cause of poor spray efficacy and additional spray applications. Overuse of some sprays results in unhealthy residues and can lead to fines.
Calibration should be done several times each season, or when you incorporate any new equipment or repairs - from the tractor to the nozzle. Join us for a refresher or send new employees for training. This workshop is open for any grower that relies on an airblast sprayer to deliver plant protectants to fruit or vegetable crops.
Peru Weed Management and Soil Health Field Day

July 20, 2022
Peru, NY
Join us in Peru on July 20th as we discuss orchard weed and soil management! Speakers will be joining us from across Cornell's research and extension teams. Topics will include the results of our herbicide timing trials, new vision-guided technologies for orchard weed spraying, organic weed management options, soil health demonstrations, and a discussion on our statewide orchard soil health survey. DEC credits are pending for this event.
Announcements
Podcasts