Cucumbers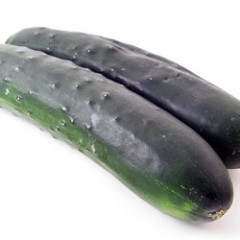 In 2011 there were approximately 3,000 acres of cucumbers grown in New York worth $19 million (2011 Vegetable Summary). The majority of this production is for fresh consumption, including small scale retail operations, as well as wholesale production to serve larger markets throughout the Northeast U.S. In addition to open field production cucumbers are increasingly grown inside greenhouses and high tunnels. The crop, when unhindered by pests and diseases, can provide high yields within a short harvest window. Cucumber production in New York is increasingly under threat from the foliar disease Downy Mildew (Pseudoperonospora cubensis). Thus the Cornell Vegetable Program is collaborating with partners to conduct advanced on-farm research to enhance production and marketing of cucumbers, including the development of improved varieties suited for organic agriculture. Stay tuned for more information on this project. In the meantime check out results from our variety trials and grafting work with cucumbers below.
Most Recent Cucumbers Content
Cucurbit Downy Mildew Update
Chuck Bornt, Team Leader, Extension Vegetable Specialist
Eastern New York Commercial Horticulture
Last Modified: July 25, 2018
The wet weather coming up from the south is likely to be bringing Cucurbit Downy Mildew Spores with it. Read about control strategies in the full article, including revised recommended sprays.
Be on the Lookout for Cucumber Beetles!
Crystal Stewart, Extension Vegetable Specialist
Eastern New York Commercial Horticulture
Last Modified: May 23, 2018
Thrips damage to High Tunnel Cucumbers
Amy Ivy, Vegetable Specialist
Eastern New York Commercial Horticulture
Last Modified: May 23, 2018

Thrips populations can explode, especially under the protective conditions in a high tunnel. Bio-controls can only help at the early stages, but there are a couple of other options for organic and conventional growers to try to bring this pest under control.
More Cucumbers Content


Upcoming Events
Pesticide Exam Certification Summer Trainings
July 2 - July 23, 2019
1:30pm - 4:30pm each day
Plattsburgh, NY
2019 Champlain Valley Pesticide Applicator Exam Intensive Training
CCE ENYCHP Horticulture Specialists Mike Basedow and Elisabeth Hodgdon will be offering four afternoons of training to review core concepts and commodity specific items in preparation for the exam.
CCE & Hudson Valley Research Lab Research & Extension Tour
July 26, 2019
12:30pm - 5:00pm
Highland, NY
The Eastern NY Commercial Horticultural Program and Hudson Valley Research Lab are hosting a 2019 Research and Extension Summer Tour on July 26th from 12:30 - 5:00 PM. Beginning at the Highland Research Station Conference Room.
Last Monday Grant Webinar for Fruit and Vegetable Growers - July
July 29, 2019
12:00-1:00
To help disseminate information on grants on a more consistent basis, we will be offering a "current grants" webinar on the last Monday of every month at noon
In order to help focus the program, the webinars will be limited to grants that are relevant to fruit and vegetable farmers in Eastern New York.
There is a possibility of webinars related to grants for experimental crops (i.e. hops and hemp) if it is likely that fruit and vegetable growers would be interested.
Announcements
Podcasts