Sweet Corn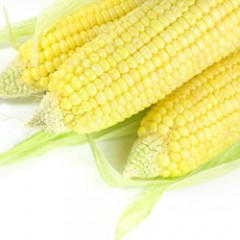 Sweet corn is popular with consumers and growers alike. New York typically ranks in the top 5 producing states with nearly 25,000 acres of fresh market and 10,000 acres of processed product grown annually.
A range of varieties are available to cover the growing season and needs of each market. Fresh market corn may be planted in March under plastic or later on bare ground. Planting of processing sweet corn in New York begins around May 1st with varieties selected to maintain a steady supply into mid-September.
Cornell Cooperative Extension Educators and Cornell faculty work together annually to conduct research on many aspects of sweet corn production in the state. Below you will find educational information and results of our research trials.
Most Recent Sweet Corn Content
True Armyworms Invading Sweet Corn!
Chuck Bornt, Team Leader, Extension Vegetable Specialist
Eastern New York Commercial Horticulture
Last Modified: June 7, 2018
For the last couple of years, we have seen True Armyworms showing up in late May early June and causing some significant damage in sweet corn and other crops. In the last two weeks we have caught low levels of adult True Armyworm moths in our sweet corn worm traps and are now starting to see the damage in sweet corn.
Watch Those Temperatures
Chuck Bornt, Team Leader, Extension Vegetable Specialist
Eastern New York Commercial Horticulture
Last Modified: May 9, 2018
Chuck Bornt Even though we haven't reached super warm temperatures yet, temperatures in high tunnels, crops under rowcovers or especially those under clear plastic hoops (such as sweet corn) can get very hot on these gorgeous bright sunny days!
2018 Eastern New York Fruit & Vegetable Conference Vegetable Presentations
Last Modified: April 2, 2018


Presentations from the 2018 ENYCHP Eastern New York Fruit & Vegetable Conference held February 20th and 21st for the vegetable sections.
More Sweet Corn Content


Upcoming Events
Pesticide Exam Certification Summer Trainings
July 2 - July 23, 2019
1:30pm - 4:30pm each day
Plattsburgh, NY
2019 Champlain Valley Pesticide Applicator Exam Intensive Training
CCE ENYCHP Horticulture Specialists Mike Basedow and Elisabeth Hodgdon will be offering four afternoons of training to review core concepts and commodity specific items in preparation for the exam.
CCE & Hudson Valley Research Lab Research & Extension Tour
July 26, 2019
12:30pm - 5:00pm
Highland, NY
The Eastern NY Commercial Horticultural Program and Hudson Valley Research Lab are hosting a 2019 Research and Extension Summer Tour on July 26th from 12:30 - 5:00 PM. Beginning at the Highland Research Station Conference Room.
Last Monday Grant Webinar for Fruit and Vegetable Growers - July
July 29, 2019
12:00-1:00
To help disseminate information on grants on a more consistent basis, we will be offering a "current grants" webinar on the last Monday of every month at noon
In order to help focus the program, the webinars will be limited to grants that are relevant to fruit and vegetable farmers in Eastern New York.
There is a possibility of webinars related to grants for experimental crops (i.e. hops and hemp) if it is likely that fruit and vegetable growers would be interested.
Announcements
Podcasts