Carrots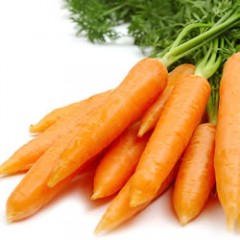 Carrots are a popular and versatile vegetable grown on many farms in New York. Fresh market growers have a wide range of varieties available for production intended for farm stands, farmer's markets, school lunch programs and wholesale markets. Fresh market carrots also come in a rainbow of colors. Roughly 2,000 acres of carrots are grown in Western, NY for the processing market. Blunt-tipped Nantes varieties are preferred for sliced, processed products and blocky Chantenay or Danvers types are used for dicing.
Obtaining long, straight, smooth roots can be difficult. The best soils are light-textured with few stones or well-drained muck. Good soil health is also important as excess moisture and/or compaction will limit root growth and quality. Insects, diseases and nematodes can also injure carrot roots.
Carrot Root Decay at Harvest Time
Chuck Bornt, Team Leader, Extension Vegetable Specialist
Eastern New York Commercial Horticulture
Last Modified: October 27, 2021
It's been a good growing season for carrots in western, NY once we passed initial establishment problems from dry planting conditions in many fields. Carrot tops have been vigorous for the most part and growers have done a good job with fungicide applications. However, now that carrot harvest is underway there can be some previously undetected root problems. Several pathogens can cause decayed carrot roots.
2018 Eastern New York Fruit & Vegetable Conference Vegetable Presentations
Last Modified: April 2, 2018


Presentations from the 2018 ENYCHP Eastern New York Fruit & Vegetable Conference held February 20th and 21st for the vegetable sections.
Winter Storage Keys to Success - Vegetable Crops
Last Modified: November 29, 2017


Key topics covered:

- Growing a healthy Crop and keeping it that way in storage
- Storage conditions
- Construction of coolers
- Controls and Thermostats
- Monitoring and more advanced controls
Organic Production Guides
Robert Hadad, Extension Vegetable Specialist
Cornell Vegetable Program
Last Modified: July 17, 2017


Organic Production Guides for fruits, vegetables and dairy are available through the NYS Integrated Pest Management (IPM) program. They outline general practices for growing vegetable and fruit crops using organic integrated pest management techniques.
2016 Carrot Variety Trial
Anne Mills, Field Technician
Eastern New York Commercial Horticulture
Last Modified: January 24, 2017

What makes a great carrot? The Eastern New York Commercial Horticulture Programs carrot variety trial will help you find out! Check out this slideshow to learn about the carrot varieties we grew and see which ones would make the cut to grow on your farm.
Taste test rating are included!
Carrot Variety Trial Presentation
Anne Mills, Field Technician
Eastern New York Commercial Horticulture
Last Modified: January 19, 2016

O-zone Injury on Vegetables
Crystal Stewart-Courtens, Extension Vegetable Specialist
Eastern New York Commercial Horticulture
Last Modified: August 22, 2012


Hot, humid weather with stagnant air masses may lead to ozone damage on crops. Ozone warnings were recently issued for much of New York. These warnings are intended for people with respiratory problems and let them know they should limit their outdoor activity and try to stay as much as possible in air-conditioned locations. These warning are also a good indicator that ozone damage may occur in plants.
Managing Weeds in Carrot Fields
Julie Kikkert, Team Leader, Extension Vegetable Specialist
Cornell Vegetable Program
Last Modified: June 21, 2012

Tips on how to manage weeds in carrots, including special problems like swamp dodder


Upcoming Events
Agricultural Supervisory Leadership Certificate Program
June 17, 2022
June 23, 2022
June 30, 2022
July 7, 2022
July 14, 2022
July 21, 2022
July 28, 2022

Supervisors are critical to the success of farm businesses. They have a major impact both on employees' daily work experiences and on the production performance of the business. The agricultural Supervisory Leadership certificate helps farm supervisors and managers learn and apply human resource management practices and leadership skills that foster rewarding workplaces and drive business results. Confident managers who thoughtfully apply leadership and management skills improve employee performance, develop teams, reduce employee turnover, and increase employee engagement. The courses within the certificate program will offer extensive practice and engagement activities to build confidence and skill sets.
Getting the Most Out of Every Pass - Calibrating Airblast Sprayers for Best Results
June 29 - June 30, 2022
University of New Hampshire Extension Field Specialist Emeritus, George Hamilton will demonstrate the importance of and best techniques to calibrate air blast sprayers. Proper calibration will ensure effective, efficient, economical and legal spraying. Inadequate spray coverage is usually the cause of poor spray efficacy and additional spray applications. Overuse of some sprays results in unhealthy residues and can lead to fines.
Calibration should be done several times each season, or when you incorporate any new equipment or repairs - from the tractor to the nozzle. Join us for a refresher or send new employees for training. This workshop is open for any grower that relies on an airblast sprayer to deliver plant protectants to fruit or vegetable crops.
Peru Weed Management and Soil Health Field Day

July 20, 2022
Peru, NY
Join us in Peru on July 20th as we discuss orchard weed and soil management! Speakers will be joining us from across Cornell's research and extension teams. Topics will include the results of our herbicide timing trials, new vision-guided technologies for orchard weed spraying, organic weed management options, soil health demonstrations, and a discussion on our statewide orchard soil health survey. DEC credits are pending for this event.
Announcements
Podcasts