Eggplant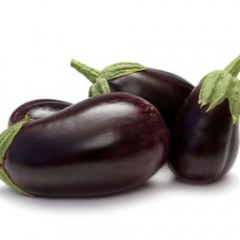 Eggplant is a commonly grown fresh market crop in New York, particularly for direct-sales such as farm stands, CSAs and farmers markets. In 2010 there were 400 acres of eggplant in the state with a value of over $4 million (2011 Vegetable Summary). Eggplants yield best in New York when grown on black plastic mulch with drip irrigation. The Cornell Vegetable Program scouts eggplant weekly in the growing season to provide pest and disease updates via Veg Edge, our grower-oriented newsletter. Research projects from our program that address eggplant include grafting and specialty variety trials. Check out our links below!
Insecticides Labeled for Colorado Potato Beetle
Chuck Bornt, Team Leader, Extension Vegetable Specialist
Eastern New York Commercial Horticulture
Last Modified: June 20, 2018

For a chart of conventional and organic spray options for Colorado Potato Beetle:
2018 Eastern New York Fruit & Vegetable Conference Vegetable Presentations
Last Modified: April 2, 2018


Presentations from the 2018 ENYCHP Eastern New York Fruit & Vegetable Conference held February 20th and 21st for the vegetable sections.
Phytophthora Webinar 3: Management practices to reduce P-Cap on the farm
Last Modified: May 13, 2013


This recorded webinar features Dr. Meg McGrath for a discussion of fungicides for P-Cap, crop rotation strategies, and the use of biofumigants to control P-Cap in infected fields.
Webinar: Farming with P-Cap: Managing Your Crops and Minimizing Spread
Laura McDermott, Team Leader, Small Fruit and Vegetable Specialist
Eastern New York Commercial Horticulture
Last Modified: November 8, 2012


In this pre-recorded webinar, Dr. Michael Mazourek, plant breeder at Cornell University, and Dr. Chris Smart, plant pathologist at Cornell University Geneva Experiment Station lead a discussion about how to minimize the impact of Phytophthora capsici on your farm.


Upcoming Events
2020 Fall Round Up: Fall Management for Your Livestock, Pasture, and Business
October 29, 2020
Join Cornell Cooperative Extension Educators Ashley Pierce, Aaron Gabriel, and Dayton Maxwell. This dynamic and slightly humorous group will discuss strategies for overwintering pastures in combination with management guidelines for helping livestock enter the winter season with adequate body condition. Farm visioning, mission development, and farm goal setting will conclude the one-hour program.
2021 Fruit & Vegetable Conference
February 16 - February 18, 2021
The Eastern NY Fruit & Vegetable Conference, normally held at The Desmond Hotel in Albany, will be going virtual 2021. The ENYCH team will try to coordinate with other regional fruit and vegetable teams from across the state to offer a larger statewide virtual meeting. These are tentative dates for now. Additional information will be continued to be shared as it becomes available.
Announcements
Podcasts