Eggplant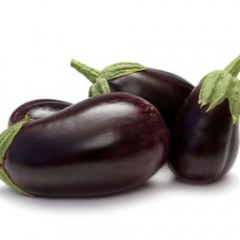 Eggplant is a commonly grown fresh market crop in New York, particularly for direct-sales such as farm stands, CSAs and farmers markets. In 2010 there were 400 acres of eggplant in the state with a value of over $4 million (2011 Vegetable Summary). Eggplants yield best in New York when grown on black plastic mulch with drip irrigation. The Cornell Vegetable Program scouts eggplant weekly in the growing season to provide pest and disease updates via Veg Edge, our grower-oriented newsletter. Research projects from our program that address eggplant include grafting and specialty variety trials. Check out our links below!
Most Recent Eggplant Content
Insecticides Labeled for Colorado Potato Beetle
Chuck Bornt, Team Leader, Extension Vegetable Specialist
Eastern New York Commercial Horticulture
Last Modified: June 20, 2018

For a chart of conventional and organic spray options for Colorado Potato Beetle:
2018 Eastern New York Fruit & Vegetable Conference Vegetable Presentations
Last Modified: April 2, 2018


Presentations from the 2018 ENYCHP Eastern New York Fruit & Vegetable Conference held February 20th and 21st for the vegetable sections.
Phytophthora Webinar 3: Management practices to reduce P-Cap on the farm
Last Modified: May 13, 2013


This recorded webinar features Dr. Meg McGrath for a discussion of fungicides for P-Cap, crop rotation strategies, and the use of biofumigants to control P-Cap in infected fields.
More Eggplant Content


Upcoming Events
Pesticide Exam Certification Summer Trainings
July 2 - July 23, 2019
1:30pm - 4:30pm each day
Plattsburgh, NY
2019 Champlain Valley Pesticide Applicator Exam Intensive Training
CCE ENYCHP Horticulture Specialists Mike Basedow and Elisabeth Hodgdon will be offering four afternoons of training to review core concepts and commodity specific items in preparation for the exam.
CCE & Hudson Valley Research Lab Research & Extension Tour
July 26, 2019
12:30pm - 5:00pm
Highland, NY
The Eastern NY Commercial Horticultural Program and Hudson Valley Research Lab are hosting a 2019 Research and Extension Summer Tour on July 26th from 12:30 - 5:00 PM. Beginning at the Highland Research Station Conference Room.
Last Monday Grant Webinar for Fruit and Vegetable Growers - July
July 29, 2019
12:00-1:00
To help disseminate information on grants on a more consistent basis, we will be offering a "current grants" webinar on the last Monday of every month at noon
In order to help focus the program, the webinars will be limited to grants that are relevant to fruit and vegetable farmers in Eastern New York.
There is a possibility of webinars related to grants for experimental crops (i.e. hops and hemp) if it is likely that fruit and vegetable growers would be interested.
Announcements
Podcasts