Apricots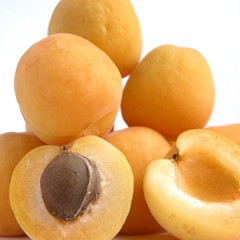 New York has a total of 87 acres devoted to apricot production, approximately 10 of which are located in the Hudson Valley. Apricots thrive in climates with long, hot summers and cool, wet winters making them a challenging crop for NY orchardists. The bulk of the US production is in California. The largest producers of apricots in the world are China and Turkey.
Apricots mature in early summer and are harvested just as the skin changes from green to yellow before the fruit is too soft and subject to bruising. The U.S. fresh market production season is relatively short, lasting from mid-May through mid-August. However, processed apricots are typically available throughout the year.
Apricot consumption is around 1 lb per person per year, with the dried market increasing over the past several decades.
For more information about tree fruit production, please visit the Cornell Tree Fruit website at
http://www.fruit.cornell.edu/tree_fruit/index.htm
Most Recent Apricots Content
Presentations - 2016 Winter Tree Fruit Schools
Sarah Elone, Field Technician
Eastern New York Commercial Horticulture
Last Modified: February 22, 2016

Presentations given at the 2016 Commercial Tree Fruit Schools in Lake George (LG) and Kingston in the Hudson Valley (HV) are available by clicking on the following links.

The Commercial Storage of Fruits, Vegetables, and Florist and Nursery Stocks
Craig Kahlke, Team Leader, Fruit Quality Management
Lake Ontario Fruit Program
Last Modified: January 13, 2014

The information contained in this preliminary version of HB-66 has been assembled from information prepared by nearly 100 authors from around the world. The version posted here is a revised copy of a Draft made available online in November 2002 for author and public review and comment.
More Apricots Content


Upcoming Events
Ag Manager Webinar Series: Understanding Financial Statements 1 (Balance Sheets)
July 2, 2019
12:30 - 12:50pm
Join Liz Higgins from the CCE ENYCHP every other Tuesday at 12:30pm throughout the summer as she discusses pertinent business topics for busy farm managers.
Pesticide Exam Certification Summer Trainings
July 2 - July 23, 2019
1:30pm - 4:30pm each day
Plattsburgh, NY
2019 Champlain Valley Pesticide Applicator Exam Intensive Training
CCE ENYCHP Horticulture Specialists Mike Basedow and Elisabeth Hodgdon will be offering four afternoons of training to review core concepts and commodity specific items in preparation for the exam.
FSMA/PSA Food Grower Training Course
July 15, 2019
8:00am - 5:30pm
Warrensburg, NY
A grower training course developed by the Produce Safety Alliance (PSA) that meets the regulatory requirements of the Food Safety Modernization Act (FSMA) Produce Safety Rule. At least one person per farm producing more than $25,000 worth of fruits and vegetables must attend this course once. Participants will receive a certificate of course completion from the Association of Food and Drug Officials.
Announcements
Podcasts