Apricots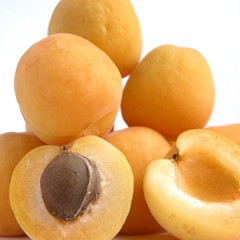 New York has a total of 87 acres devoted to apricot production, approximately 10 of which are located in the Hudson Valley. Apricots thrive in climates with long, hot summers and cool, wet winters making them a challenging crop for NY orchardists. The bulk of the US production is in California. The largest producers of apricots in the world are China and Turkey.
Apricots mature in early summer and are harvested just as the skin changes from green to yellow before the fruit is too soft and subject to bruising. The U.S. fresh market production season is relatively short, lasting from mid-May through mid-August. However, processed apricots are typically available throughout the year.
Apricot consumption is around 1 lb per person per year, with the dried market increasing over the past several decades.
For more information about tree fruit production, please visit the Cornell Tree Fruit website at
http://www.fruit.cornell.edu/tree_fruit/index.htm
Relevant Event
Apple Leafcurling Midge IPM Webinar

February 16, 2023
SWD Insecticides Quick Guide 2020
Laura McDermott, Team Leader, Small Fruit and Vegetable Specialist
Eastern New York Commercial Horticulture
Last Modified: June 16, 2020
Apricots for New York State
Mike Basedow, Tree Fruit Specialist
Eastern New York Commercial Horticulture
Last Modified: May 5, 2020
Stone Fruit IPM Webinar
Mike Basedow, Tree Fruit Specialist
Eastern New York Commercial Horticulture
Last Modified: March 24, 2020
The Commercial Storage of Fruits, Vegetables, and Florist and Nursery Stocks
Craig Kahlke, Team Leader, Fruit Quality Management
Lake Ontario Fruit Program
Last Modified: January 13, 2014


Upcoming Events
SAVE THE DATES
December 13 - December 15, 2022February 2 - February 8, 2023February 21 - February 23, 2023
Save the Dates for the following Winter Meetings:
NOFA NY Virtual Winter Conference, February 2-5, 2023
Empire State Expo, Oncenter Syracuse, February 6-7 2023
Becker Forum, Oncenter Syracuse, February 8, 2023
Eastern NY Commercial Horticulture Program Regional Winter Meeting, The Desmond Hotel, Albany, February 21-23, 2023
How Profitable Will My New Orchard Investment Be? 1-day, hands-on skills class in the Hudson Valley
February 7, 2023
Highland, NY
The Eastern NY Commercial Hort Team and the Lake Ontario Fruit Team are offering a 1-day, hands-on course for tree fruit farms on using farm financial information and other resources to make decisions about long-term investments or changes to their business. We will apply the techniques covered in the 8-part webinar series in December to scenarios using sample financial data from fruit farms in NYS. You will work with others in a group through a series of problems and leave with a better sense of how you can organize and interpret your own financial information to make better long-term investment decisions about your farm business. THIS SESSION IS AT THE CORNELL HUDSON VALLEY LAB
How Profitable Will My New Orchard Investment Be? 1-day, hands-on skills class in Northern NY
February 9, 2023
Plattsburgh, NY
The Eastern NY Commercial Hort Team and the Lake Ontario Fruit Team are offering a 1-day, hands-on course for tree fruit farms on using farm financial information and other resources to make decisions about long-term investments or changes to their business. We will apply the techniques covered in the 8-part webinar series in December to scenarios using sample financial data from fruit farms in NYS. You will work with others in a group through a series of problems and leave with a better sense of how you can organize and interpret your own financial information to make better long-term investment decisions about your farm business. THIS SESSION IS AT THE CCE CLINTON COUNTY OFFICE
Announcements
Podcasts