Squash- Winter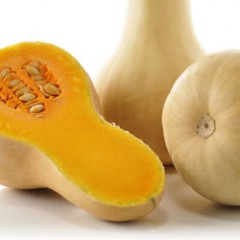 New York State has a strong industry growing winter and summer squash with over 5,000 acres produced in 2011 with a value of over 43 million dollars. There are many different types of winter squash that are grown including hubbard, buttercup and spaghetti, but butternut and acorn types are the two dominant ones for production. Winter squash is also sold for wholesale and fresh market use. There is also a significant amount of butternut squash that is cut and peeled and repacked and sold through grocery stores. Powdery and Downy Mildew, and Phytopthroa blight are the major diseases we are concerned with.
Relevant Event
Apple IPM :: Basics for Orchard Employees
January 10, 2020
Ballston Spa, NY
Most Recent Squash- Winter Content
Winter Squash and Pumpkin Harvest
Chuck Bornt, Team Leader, Extension Vegetable Specialist
Eastern New York Commercial Horticulture
Last Modified: September 12, 2019
Much of the winter squash in the region is matured and ready to go. This article will give you some tips on how to ensure harvesting, handling and storing the highest quality squash and pumpkins for your farm.

2018 Eastern New York Fruit & Vegetable Conference Vegetable Presentations
Last Modified: April 2, 2018


Presentations from the 2018 ENYCHP Eastern New York Fruit & Vegetable Conference held February 20th and 21st for the vegetable sections.
Winter Storage Keys to Success - Vegetable Crops
Last Modified: November 29, 2017


Key topics covered:

- Growing a healthy Crop and keeping it that way in storage
- Storage conditions
- Construction of coolers
- Controls and Thermostats
- Monitoring and more advanced controls
More Squash- Winter Content


Upcoming Events
Introduction to Winter Growing Webinar
January 2, 2020
Apple IPM :: Basics for Orchard Employees
January 10, 2020
Ballston Spa, NY
Produce Safety Alliance Grower Training Course

February 25, 2020
Albany, NY
Announcements
Podcasts