Squash- Winter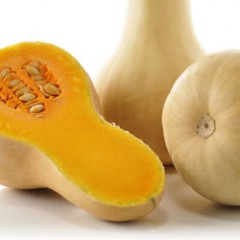 New York State has a strong industry growing winter and summer squash with over 5,000 acres produced in 2011 with a value of over 43 million dollars. There are many different types of winter squash that are grown including hubbard, buttercup and spaghetti, but butternut and acorn types are the two dominant ones for production. Winter squash is also sold for wholesale and fresh market use. There is also a significant amount of butternut squash that is cut and peeled and repacked and sold through grocery stores. Powdery and Downy Mildew, and Phytopthroa blight are the major diseases we are concerned with.
Most Recent Squash- Winter Content
2018 Eastern New York Fruit & Vegetable Conference Vegetable Presentations
Last Modified: April 2, 2018


Presentations from the 2018 ENYCHP Eastern New York Fruit & Vegetable Conference held February 20th and 21st for the vegetable sections.
Winter Storage Keys to Success - Vegetable Crops
Last Modified: November 29, 2017


Key topics covered:

- Growing a healthy Crop and keeping it that way in storage
- Storage conditions
- Construction of coolers
- Controls and Thermostats
- Monitoring and more advanced controls
Zonix Biofungicide Label
Last Modified: July 25, 2017
More Squash- Winter Content


Upcoming Events
Ag Manager Webinar Series: Understanding Financial Statements 1 (Balance Sheets)
July 2, 2019
12:30 - 12:50pm
Join Liz Higgins from the CCE ENYCHP every other Tuesday at 12:30pm throughout the summer as she discusses pertinent business topics for busy farm managers.
Pesticide Exam Certification Summer Trainings
July 2 - July 23, 2019
1:30pm - 4:30pm each day
Plattsburgh, NY
2019 Champlain Valley Pesticide Applicator Exam Intensive Training
CCE ENYCHP Horticulture Specialists Mike Basedow and Elisabeth Hodgdon will be offering four afternoons of training to review core concepts and commodity specific items in preparation for the exam.
FSMA/PSA Food Grower Training Course
July 15, 2019
8:00am - 5:30pm
Warrensburg, NY
A grower training course developed by the Produce Safety Alliance (PSA) that meets the regulatory requirements of the Food Safety Modernization Act (FSMA) Produce Safety Rule. At least one person per farm producing more than $25,000 worth of fruits and vegetables must attend this course once. Participants will receive a certificate of course completion from the Association of Food and Drug Officials.
Announcements
Podcasts