Onions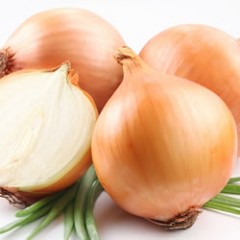 Onions are one of the most important vegetable crops in New York State with annual sales of approximately $52 million. New York accounts for 97% of the onion production in the North Eastern United States and ranks sixth in the nation. Approximately 12,000 acres of yellow pungent cooking onions are grown from direct seed, predominantly on organically rich muck soils. This crop is stored and marketed until April. Sweet and red varieties are also grown, mostly from transplants. Hundreds of small-scale diversified farms grow onions intensively on plastic beds on less than an acre. These onions can grow very large and be lucrative in the market place where they are sold through produce auctions, farmer's markets, roadside stands and CSAs.
Continued intensive production of onions in New York has led to an array of perennial pest challenges, as well as the introduction of new pests, so that management of the onion complex in New York requires a very strategic research-based approach. Cornell Cooperative Educators and Cornell faculty work together to conduct research on many aspects of onion production in the state. Below you will find educational information and results of our research trials.
Most Recent Onions Content
Growing Alliums for Storage & Long Term Sales Resource Guide
Last Modified: February 23, 2018
Pink Root on Your Onion Transplants: To Plant or Not to Plant?
Anne Mills, Field Technician
Eastern New York Commercial Horticulture
Last Modified: April 11, 2017


Word on the Black Dirt in Orange County is that many growers are receiving Arizona-grown onion plants that are heavily infected with pink root.
Relative Performance of Onion Fungicides
Christy Hoepting, Extension Vegetable Specialist
Cornell Vegetable Program
Last Modified: March 17, 2014


Botrytis leaf blight (BLB) and purple blotch (PB) are two of the most common and important leaf diseases of onions in New York. BLB is favored by cool and wet conditions, optimum: 59-65 degrees F + 12 hours leaf wetness, infection greatly reduced above 81 degrees F. PB is favored by warmer and humid conditions, optimum: 77 degrees F + 90% RH, minimum 55 degrees F; maximum 97 degrees F. Several fungicides are labeled in New York for control of both of these diseases.

To determine which fungicides were best for controlling BLB and PB in New York, head to head comparisons of the different fungicides were evaluated in four on-farm small plot trials, in Elba (2006), Sodus in (2007), Pembroke (2008) and Linwood (2008). Seven to eight weekly fungicide sprays were made per season starting in mid- to late-June using a back pack sprayer. Quantitative evaluations were made including number of BLB and PB lesions per plant, % leaf dieback, plant health ratings, yield and grade.
More Onions Content


Upcoming Events
Hudson Valley Pesticide Applicator Pre-Exam Training
March 19 - March 21, 2018
9:00am-12:00pm
Highland, NY
CCE ENYCHP Agriculture Specialists will be offering a training to review core concepts and commodity specific items in preparation for the exam.
Registration Fee covers two days of review: Monday 3/19 and Wednesday 3/21, 9am-12noon

Exam: Tuesday 3/27, 9AM-1PM

Are you managing your risks as a farm employer? The compliance and safety workshop
March 22, 2018
1:00-4:00pm
Highlnd, NY
This is the workshop that covers the nuts and bolts of risk management as a farm employer. Hear presentations from NYS DOL and NYCAMH on employer regulations and safety.
NEWA "Hands-On" Workshop: Grapes and Small Fruits
March 28, 2018
9:30 to 11:45am
Voorheesville, NY
At this workshop, growers will learn the ins-and-outs of the NEWA system (Network for Environment and Weather Applications). NEWA is an online system that provides hourly and daily weather data, pest forecasting models, and crop production models, to help implement IPM practices on farms across the Northeast. Attendees will learn how to efficiently navigate the NEWA interface, including how to get weather data, access station specific pages, and effectively utilize models for grape berry moth, black rot, downy mildew, powdery mildew and Phomopsis. New models currently being developed for small fruits will also be discussed.
Announcements
Confused by the WPS (Worker Protection Standard)?
Please take note: WPS pertains to all farms-organic and conventional! To be sure that you are complying with these regulations, please view the EPA link below:
https://www.epa.gov/sites/production/files/2015-09/documents/comparison-chart-wps.pdf
Growing for Wholesale: Grading and Packing Guides
Grading and packing guidelines are now available for 16 commonly grown specialty crops in NYS: broccoli crowns, Brussels sprouts, corn, green peppers, cucumbers, green cabbage, red cabbage, savory cabbage, cauliflower, eggplant, green beans, jalapenos, poblanos, Hungarian hot peppers, summer squash, and zucchini. Find all 24 sheets online at:
https://rvpadmin.cce.cornell.edu/uploads/doc_612.pdf
This resource was developed through the support of Cheryl Thayer of CCE Harvest NY, Dave Walczak of Eden Valley Growers, Angela Parr and Robert Hadad of the CCE Cornell Vegetable Program, and Jim Monahan of Cornell Cooperative Extension. Further, development of this resource was made possible through grant funding from the USDA Local Food Promotion Program.
Eastern New York Commercial Horticulture - Cornell Cooperative Extension
Your Trusted Source for Research-Based Knowledge