Onions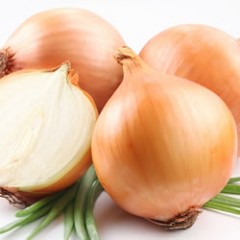 Onions are one of the most important vegetable crops in New York State with annual sales of approximately $52 million. New York accounts for 97% of the onion production in the North Eastern United States and ranks sixth in the nation. Approximately 12,000 acres of yellow pungent cooking onions are grown from direct seed, predominantly on organically rich muck soils. This crop is stored and marketed until April. Sweet and red varieties are also grown, mostly from transplants. Hundreds of small-scale diversified farms grow onions intensively on plastic beds on less than an acre. These onions can grow very large and be lucrative in the market place where they are sold through produce auctions, farmer's markets, roadside stands and CSAs.
Continued intensive production of onions in New York has led to an array of perennial pest challenges, as well as the introduction of new pests, so that management of the onion complex in New York requires a very strategic research-based approach. Cornell Cooperative Educators and Cornell faculty work together to conduct research on many aspects of onion production in the state. Below you will find educational information and results of our research trials.
Relevant Event
2019 Orange County Onion School

March 5, 2019
8:45am - 3:45pm
Pine Island, NY
Most Recent Onions Content
Onion Thrips Management Recommendations for 2018
Ethan Grundberg, Vegetable Specialist
Eastern New York Commercial Horticulture
Last Modified: June 7, 2018
Onion thrips populations have exceeded action thresholds in a few hot spots in Orange County. Review Dr. Brian Nault's insecticide recommendations for onion thrips management that incorporate newly registered products in New York State.
Allium Leafminer Spring Flight Update
Ethan Grundberg, Vegetable Specialist
Eastern New York Commercial Horticulture
Last Modified: May 31, 2018
The spring flight of the new invasive insect pest, the allium leafminer, is coming to an end. However, the larval stage of the pest will remain active for a couple of more weeks and can cause significant damage to garlic, scallions, onions, and chives. Read more about how to continue to protect your spring allium crops and how to prepare for the fall flight.
Lookout for Leek Moth
Amy Ivy, Vegetable Specialist
Eastern New York Commercial Horticulture
Last Modified: May 17, 2018

Leek moth adults emerge in mid April to mate and lay eggs. This year the first moths were caught in Essex on April 21. The larvae will hatch in a couple of weeks and can do considerable damage to garlic scapes so this is a good first place to look when scouting.
Be cautious when buying and selling onion transplants between growers in the infested areas. We have seen leek moth appear in new locations when infested plants were brought in from farms to the north.
More Onions Content


Upcoming Events
PSA Grower Training Course
February 19, 2019
8:00am- 5:15pm
Albany, NY
The course will provide a foundation of Good Agricultural Practices (GAPs) and co-management information, FSMA Produce Safety Rule requirements, and details on how to develop a farm food safety plan.

The Course is designed for fruit and vegetable growers and others interested in learning about produce safety, the Food Safety Modernization Act (FSMA) Produce Safety Rule, Good Agricultural Practices (GAPs), and co-management of natural resources and food safety. The PSA Grower Training Course is one way to satisfy the FSMA Produce Safety Rule requirement outlined in 112.22(c) that requires at least one supervisor or responsible party for your farm must have successfully completed food safety training at least equivalent to that received under standardized curriculum recognized as adequate by the Food and Drug Administration.

Registration is mandatory for this event.
Hosted by CCE Eastern NY Commercial Horticulture Program during our 2019 Fruit and Vegetable Conference. Note: You do NOT need to register for the Fruit and Vegetable Conference to attend this training.
2019 Eastern New York Fruit and Vegetable Conference
February 19, 2019 : Day 1: Tree Fruit, Small Fruit & Business Management
February 20, 2019 : Day 2: General, Vegetable, Tree Fruit
February 21, 2019 : Day 3: Fertility, CSA, Irrigation, Grapes
Join us for the 2nd Annual Eastern NY Fruit and Vegetable Conference! This year we will be expanding our conference to include a third day and many exciting new sessions. Preliminary agenda is now available. Mark your calendars, and don't miss this great line-up!
DEC credits have been awarded - see program for details.
Multi day discounts are available for two and three day registrations.
Last Monday Grant Webinar for Fruit and Vegetable Growers - February
February 25, 2019
12:00-1:00
To help disseminate information on grants on a more consistent basis, we will be offering a "current grants" webinar on the last Monday of every month at noon
In order to help focus the program, the webinars will be limited to grants that are relevant to fruit and vegetable farmers in Eastern New York.
There is a possibility of webinars related to grants for experimental crops (i.e. hops and hemp) if it is likely that fruit and vegetable growers would be interested.
Announcements
ENYCHP Fruit and Vegetable Conference Feb 19-21
Join us for the 2nd Annual Eastern NY Fruit and Vegetable Conference! This year we will be expanding our conference to include a third day and many exciting new sessions. Speakers, topic details, and registration information currently available. Mark your calendars, and don't miss this great line-up!

Tuesday February 19th- Thursday 21st, 2019
Desmond Conference Center
660 Albany Shaker Rd
Albany, NY 12211
NYSBGA & CCE Blueberry Intensive Workshop
The New York State Berry Growers Association (NYSBGA) has partnered with Cornell Cooperative Extension to bring growers a pair of winter Blueberry Intensive Workshops. An in-depth look at growing and management techniques, pest and diseases, profitability tools, and more, the Blueberry Intensive Workshops will feature 10 expert speakers from Cornell University, Cornell CCE, New York State IPM, Rutgers University, and Pennsylvania State University, as well as owners of successful area farms. The workshops will be held in Ellicottville, New York on March 5, 2019, and in Millbrook, New York on March 14, 2019. The cost to attend is $35 for current NYSBGA members and $45 for non-members. To register,
click here
.
Growers who attend the workshops will learn about:
• Choosing and preparing a site for blueberry production
• Blueberry diseases and management strategies
• Blueberry insect pest management
• Using the NEWA blueberry pest and disease models to best advantage
• Alternative options for markets
• Using a new berry crops profitability tool
• How area farms have ensured success in their blueberry growing program
• Nutrition for blueberries
• Post-harvest handling to reduce pest damage and improve fruit quality
• Correct pruning techniques, with a live, hands-on demonstration
• Pest scouting and weed management
Resources from CCE ENYCHP!
We are developing new ways to connect with the CCE ENYCHP team this year!
We have a Youtube page located at this link
. Check out videos on Table Grape Production, Pest Updates and the
20 Minute Ag Manager - in 4 Minutes series
.
We have a
Facebook Page here
as well as an
Instagram page
. We keep these places updated with current projects, events, and other interesting articles and deadlines.
There are also text alerts available.
Fruit and vegetable farmers in 17 Eastern NY counties can now receive real time alerts on high risk disease and pest outbreaks texted directly to their cell phone. The Eastern NY Commercial Horticulture program, which is supported by local Cornell Cooperative Extension associations, will now offer text alerts to those that enroll in our program in 2019.
The text alerts will be reserved for important crop alerts that could impact management decisions immediately. For instance, if there were an outbreak of Late Blight in the area, this would be transmitted to vegetable growers.
Farmers can choose the crop for which they wish to receive updates. Additionally they can request that Ag Business Alerts be sent to them. These alerts might include due dates for crop insurance deadlines, market opportunities etc.

If you have questions, please contact enychp@cornell.edu