Onions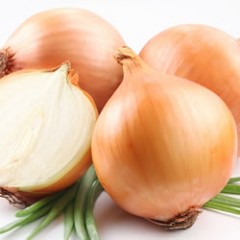 Onions are one of the most important vegetable crops in New York State with annual sales of approximately $52 million. New York accounts for 97% of the onion production in the North Eastern United States and ranks sixth in the nation. Approximately 12,000 acres of yellow pungent cooking onions are grown from direct seed, predominantly on organically rich muck soils. This crop is stored and marketed until April. Sweet and red varieties are also grown, mostly from transplants. Hundreds of small-scale diversified farms grow onions intensively on plastic beds on less than an acre. These onions can grow very large and be lucrative in the market place where they are sold through produce auctions, farmer's markets, roadside stands and CSAs.
Continued intensive production of onions in New York has led to an array of perennial pest challenges, as well as the introduction of new pests, so that management of the onion complex in New York requires a very strategic research-based approach. Cornell Cooperative Educators and Cornell faculty work together to conduct research on many aspects of onion production in the state. Below you will find educational information and results of our research trials.
Most Recent Onions Content
Assessing Biocontrols for Pink Root Mitigation and Yield Impact in Onions
Ethan Grundberg, Vegetable Specialist
Eastern New York Commercial Horticulture
Last Modified: March 25, 2019
Thanks to the generous support of the members of the New York Onion Research and Development Program (ORDP) board, Ethan Grundberg and Amara Dunn began evaluating commercially available plant growth regulators, biostimulants, and biofungicides for potential suppression of pink root and impact on yield in transplanted bare root 'Highlander' onions during the 2018 growing season. As discussed in the proposal for "Assessing Biocontrols for Pink Root Mitigation and Yield Impact in Onions", few conventional fungicides are labeled for pink root management in New York and even fewer are labeled for use as pre-plant dips for bare root transplanted onions. The goal for the first year of research on this project was to screen a large number of what were broadly designed as biological products, many of which are already being used by onion growers, in order to narrow the focus of future research efforts to find solutions for managing pink root in transplanted onions.
Onion Thrips Management Recommendations for 2018
Ethan Grundberg, Vegetable Specialist
Eastern New York Commercial Horticulture
Last Modified: June 7, 2018
Onion thrips populations have exceeded action thresholds in a few hot spots in Orange County. Review Dr. Brian Nault's insecticide recommendations for onion thrips management that incorporate newly registered products in New York State.
Allium Leafminer Spring Flight Update
Ethan Grundberg, Vegetable Specialist
Eastern New York Commercial Horticulture
Last Modified: May 31, 2018
The spring flight of the new invasive insect pest, the allium leafminer, is coming to an end. However, the larval stage of the pest will remain active for a couple of more weeks and can cause significant damage to garlic, scallions, onions, and chives. Read more about how to continue to protect your spring allium crops and how to prepare for the fall flight.
More Onions Content


Upcoming Events
Pesticide Exam Certification Summer Trainings
July 2 - July 23, 2019
1:30pm - 4:30pm each day
Plattsburgh, NY
2019 Champlain Valley Pesticide Applicator Exam Intensive Training
CCE ENYCHP Horticulture Specialists Mike Basedow and Elisabeth Hodgdon will be offering four afternoons of training to review core concepts and commodity specific items in preparation for the exam.
CCE & Hudson Valley Research Lab Research & Extension Tour
July 26, 2019
12:30pm - 5:00pm
Highland, NY
The Eastern NY Commercial Horticultural Program and Hudson Valley Research Lab are hosting a 2019 Research and Extension Summer Tour on July 26th from 12:30 - 5:00 PM. Beginning at the Highland Research Station Conference Room.
Last Monday Grant Webinar for Fruit and Vegetable Growers - July
July 29, 2019
12:00-1:00
To help disseminate information on grants on a more consistent basis, we will be offering a "current grants" webinar on the last Monday of every month at noon
In order to help focus the program, the webinars will be limited to grants that are relevant to fruit and vegetable farmers in Eastern New York.
There is a possibility of webinars related to grants for experimental crops (i.e. hops and hemp) if it is likely that fruit and vegetable growers would be interested.
Announcements
Podcasts