Apples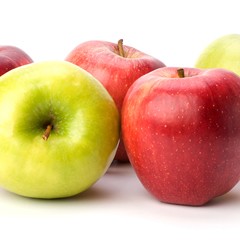 The 2012 USDA Census revealed that the 16 counties comprising the Eastern NY Commercial Horticulture program had over 12,500 acres devoted to apple production. The lower Hudson Valley region and the Lake Champlain region are two of the largest and most important apple production areas in New York state which ranks second in the nation for apple production and first in the country for canned apple products, although much of that crop is produced in western NY.
Apples are thought to have originated between the Caspian and the Black Seas and proof of humansí enjoyment of apples traces back at least 750,000 years. Early settlers brought apple seeds with them to the United States. Records indicate that apples were grown in New England as early as 1630. John Chapman, also known as Johnny Appleseed, along with many other traders, missionaries and Native Americans, were responsible for extensive apple tree plantings in the Midwest and beyond.
Apples are one of the most valuable fruit crops in the United States. The 9.0 billion pound U.S. 2012 apple crop was valued at nearly $3.1 billion. Apples are the second most consumed fruit (fresh and processed uses combined), following oranges. The average person consumes 44 pounds of apple products annually.
Over the last 20 years, Cornell research and extension projects have helped growers increase yields and fruit quality by increasing tree densities and improving labor efficiency. We estimate that profitability of new high density orchards is 100 to 300% greater than the traditional low-density orchards.
In 2013, Cornell University announced the introduction of two new apple varieties, SnapDragon and RubyFrost, developed through a managed release partnership with the New York Apple Growers (NYAG). The income generated through this partnership is used to market the new varieties and support Cornellís apple-breeding program.
For more information about tree fruit production, please visit the Cornell Tree Fruit website at
http://www.fruit.cornell.edu/tree_fruit/index.htm
.
Relevant Event
Apple IPM :: Basics for Orchard Employees
January 10, 2020
Ballston Spa, NY
Most Recent Apples Content
Planning Your Irrigation with Malusim
Mike Basedow, Tree Fruit Specialist
Eastern New York Commercial Horticulture
Last Modified: July 10, 2019

The Malusim app allows you to enter spray records, use the fruit growth rate model, the carbohydrate thinning model, and the irrigation model. The tool uses the Cornell evapotranspiration model and weather data off your station to determine how much irrigation is needed for each block.
2019 Fire Blight Survey
Mike Basedow, Tree Fruit Specialist
Eastern New York Commercial Horticulture
Last Modified: June 13, 2019

Kerik Cox's lab will be conducting a fire blight survey again this year, investigating streptomycin resistance and strain distribution across NY State and New England.
2019 Eastern New York Fruit & Vegetable Conference Tree Fruit Presentations
Last Modified: April 3, 2019

Presentations from the 2019 ENYCHP Eastern New York Fruit & Vegetable Conference held February 19-21 for the tree fruit sections.
More Apples Content


Upcoming Events
Introduction to Winter Growing Webinar
January 2, 2020
Apple IPM :: Basics for Orchard Employees
January 10, 2020
Ballston Spa, NY
Produce Safety Alliance Grower Training Course

February 25, 2020
Albany, NY
Announcements
Podcasts