Melons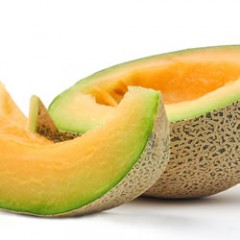 Fresh market production of melons has been an important crop for NYS growers for many years. Cantaloupe are predominantly the main type of melons grown, but Honeydew, Crenshaw, Watermelon and Gallia types can also be grown quite nicely in our climate. Recently, "personal" or "ice box" types of melons, which have been bred for individual consumer use are much smaller (2-3 pounds) and have become favorites of consumers at roadside stands and farmers markets. Nearly all the melons grown in NY are produced on raised beds mulched with black plastic and drip irrigation. Fusarium wilt, Powdery and Downy Mildew and Gummy Stem Blight remain the main disease issues with these crops. Striped Cucumber Beetles and aphids remain the major insect pests.
Most Recent Melons Content
Can it be True?
Chuck Bornt, Team Leader, Extension Vegetable Specialist
Eastern New York Commercial Horticulture
Last Modified: May 2, 2018
A product called LandSpring was labeled in NY back in July of 2017 and may help reduce transplant shock of certain crops. Learn more about what it is and how it works.
LandSpring NYS Label
Chuck Bornt, Team Leader, Extension Vegetable Specialist
Eastern New York Commercial Horticulture
Last Modified: May 1, 2018

Copy of the LandSpring NYS DEC approved label

2018 Eastern New York Fruit & Vegetable Conference Vegetable Presentations
Last Modified: April 2, 2018


Presentations from the 2018 ENYCHP Eastern New York Fruit & Vegetable Conference held February 20th and 21st for the vegetable sections.
More Melons Content


Upcoming Events
Farm Financial Education for Women - Annies Project
November 12 - January 14, 2019
9:00am to 2:00pm
Kingston, NY
This 4-part series is designed for women who are farm owners or farm managers, or who anticipate moving into a decision-making position on a farm. The program runs from November through January.
Certificates will be awarded from Annie's Project to those who complete all sessions and who have applied to have the program qualify for FSA borrower training.
Reduced Tillage on Muck Soils: Results and Farmer Discussion from 2018 Trials

December 13, 2018
10:15am-12:00pm
Pine Island, NY
Join Ethan Grundberg and Chuck Bornt of CCE ENYCHP on Thursday, December 13th for a review and discussion of the 2018 reduced tillage trials on muck soils. They will cover cover crops used, equipment, cultural practices and the goals and results of the trials.
The Heirloom Orchard: A Three-Day Series on Estate Orchard Management

December 15, 2018
5:00PM-8:00PM
Highland, NY
Join Peter Jentsch & Dr. Srdan Acimovic, homeowners and management professionals for a three-week series, each evening discussion and workshop focusing on 3 hours devoted to establishing
and maintaining new or existing estate orchards using 3 with apple and cider tastings, hands-on experience in our research orchards. Dec 8th, 15th, 22nd.
Announcements
ENYCHP Fruit and Vegetable Conference Feb 19-22
Join us for the 2nd Annual Eastern NY Fruit and Vegetable Conference! This year we will be expanding our conference to include a third day and many exciting new sessions. Speakers, topic details, and registration information will be available soon. Mark your calendars, and don't miss this great line-up!

Tuesday February 19th- Thursday 21st, 2019
Desmond Conference Center
660 Albany Shaker Rd
Albany, NY 12211
Resources from CCE ENYCHP!
We are developing new ways to connect with the CCE ENYCHP team this year!
We have a Youtube page located at this link
. Check out videos on Table Grape Production, Pest Updates and the
20 Minute Ag Manager - in 4 Minutes series
.
We have a
Facebook Page here
as well as an
Instagram page
. We keep these places updated with current projects, events, and other interesting articles and deadlines.
There are also text alerts available.
Fruit and vegetable farmers in 17 Eastern NY counties can now receive real time alerts on high risk disease and pest outbreaks texted directly to their cell phone. The Eastern NY Commercial Horticulture program, which is supported by local Cornell Cooperative Extension associations, will now offer text alerts to those that sign up.
The text alerts will be reserved for important crop alerts that could impact management decisions immediately. For instance, if there were an outbreak of Late Blight in the area, this would be transmitted to vegetable growers.
Farmers can choose the crop for which they wish to receive updates. Additionally they can request that Ag Business Alerts be sent to them. These alerts might include due dates for crop insurance deadlines, market opportunities etc.
Text alerts are easy to access. Just click on the link below and fill out a very short registration form. It takes just seconds to do - access to important information has never been so easy!!

If you have questions, please contact enychp@cornell.edu

Eastern New York Commercial Horticulture - Cornell Cooperative Extension
Your Trusted Source for Research-Based Knowledge