Tomatoes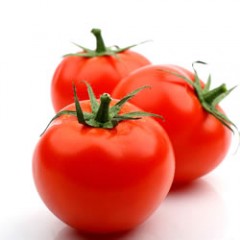 In 2011 Empire State farmers planted 3,000 acres of tomatoes for an estimated value of nearly $37 million (2011 Vegetable Summary). Most field production is devoted to determinate cultivars, with plastic mulch, drip irrigation and stake-and-weave trellis essential production elements for early and quality yields. Greenhouse (and high tunnel) production is on the rise in New York with structures of less than 1/10th to in-excess of 40 acres under protection. Indeterminate, greenhouse lines, as well as heirloom varieties are grown under protected culture. Tomatoes are a popular crop with New York fresh market vegetable farmers due to high demand and fair prices. The Cornell Vegetable Program conducts a number of research projects each year addressing improved tomato production. Check out the links below to learn more.
Most Recent Tomatoes Content
Leaf Mold in High Tunnel Tomatoes 2015
Amy Ivy, Vegetable Specialist
Eastern New York Commercial Horticulture
Last Modified: December 2, 2015


Leaf mold is a fungus disease of tomatoes that has been increasing across New York State in recent years. It is favored by high humidity and is therefore seen in greenhouse and high tunnel production but rarely in field production.
Spacing Tomatoes in High Tunnels
Amy Ivy, Vegetable Specialist
Eastern New York Commercial Horticulture
Last Modified: December 2, 2015

Proper spacing is a common concern of high tunnel growers. More plants does not necessarily mean more yield. Determinate varieties are spaced and trained differently than indeterminates, and grafted plants need more room than non-grafted. A well-spaced planting allows room for the grower to move down the aisles for harvesting, training and scouting for pest and disease problems.
Tomatoes for High Tunnels
Last Modified: December 2, 2015

One of the first choices when beginning high tunnel tomato production is the type: determinate or indeterminate. Differences in the growth habits, nutritional needs, disease resistance, and fruit attributes of determinate and indeterminate tomatoes will influence the types and varieties a grower will choose.
More Tomatoes Content


Upcoming Events
Effective Orchard Spraying & Navigating NEWA Workshop- Champlain Valley
March 28, 2017
8:00am- 4:00pm
Chazy, NY
Effective Orchard Spraying - Morning
Understand how to improve your timeliness and therefore apply sprays when needed and not be forever chasing the calendar. Correct application at the correct time will allow you to make better use of your time and materials over the season.
Navigating NEWA - Afternoon
Learn the ins-and-outs of the NEWA system (Network for Environment and Weather Applications). Learn how to efficiently navigate the NEWA interface, including how to get weather data, access station specific pages, and effectively utilize models for insects, diseases, crop thinning, and irrigation.
Bring your Laptop or Smart Device!!
***PRE-REGISTRATION IS REQUIRED! ***
Hudson Valley Orchard Scouting & NEWA Orchard Models Workshop
March 30, 2017
10:00am-3:00pm
Highland, NY
Interested in learning how utilize the NEWA orchard models and learn pest scouting techniques to improve your orchard pest management? NEWA Coordinator Dan Olmstead, HVRL entomologist Peter Jentsch, HVRL plant pathologist Dr. Srdjan Acimovic, and ENYCHP tree fruit specialist Dan Donahue will be presenting a workshop at the Cornell Hudson Valley Research Lab on March 30th from 10 am to 3:00 pm.
Pruning Demonstration Day
March 30, 2017
2pm-5pm
Red Hook, NY
You are invited to join Laura McDermott and Jim O'Connell, Berry Educators for Cornell Cooperative Extension of Eastern NY, for a pruning demonstration on mature blueberries on Thursday, March 30th.
This workshop is free, but please preregister with Jim O'Connell no later than March 28th, 2017 by email (jmo98@cornell.edu) or phone (845-943-9814) so we know how many people to expect.
Announcements
White Rot Update
Earlier in June I sent a garlic sample to the diagnostic lab hoping that I was wrong. The sample was covered in small black sclerotia, the size of poppy seeds, and white fungal hyphae crept up the stem. The results, unfortunately, matched the field diagnosis: White Rot. Within a couple days additional calls came from up and down the Hudson Valley as well as one in Western NY with similar suspicions. These samples have also gone to the lab for verification, but it looks like the latest pest to move back into the state is this nasty fungus.

White Rot, Sclerotinia cepivorum, decimated the onion industry in New York in the 1930's before being eradicated through careful management. More recently, in 2003, it infected 10,000 acres of garlic in California, leading to the abandonment of some garlic fields and adoption of strict containment rules. White rot has been confirmed in Northeastern states over the last decade as well, with New York being one of the last to discover the disease.

The primary reason that White Rot is such a concern is because the sclerotia, or reproductive structures, can remain dormant in the soil for up to 40 years, attacking any allium crop planted into the soil under favorable conditions. This spring was ideal for infection due to the period of cool, moist weather we had. Optimal temperature for infection is 60-65 degrees F, but infection can occur anywhere from 50-75 degrees F.
Once garlic has white rot, it generally declines rapidly. Leaves will yellow and the plant will wilt, not unlike a severe fusarium infection. However, unlike with fusarium, white rot infected bulbs are covered in black sclerotia and white fungus. To add to the confusion, another disease CAN look similar. Botrytis also causes black sclerotia and white fungal growth. However, Botrytis sclerotia are quite large, often larger than a pencil eraser.

So, what do we do now? We're still working on long-term management strategies, but the most important steps to take now are vigilance when culling (look at the plants you are pulling for symptoms like you see in this article, and if they are present, call us to take a sample and have the disease verified) and, if you see anything suspicious, reduction of movement of inoculum. The main ways diseases get moved around are by dumping culls (compost, field edges, etc) and my moving soil on equipment. Throw away your culls, and wash equipment that may have come in contact with suspicious garlic or the soil it is growing in. Everything from cultivation equipment to harvest bins should be cleaned.

We will keep learning about this disease and will keep sending out information, particularly to help you make decisions about what to sell and buy. For now, remember that the west coast has learned to manage the disease, and we will too. -Crystal Stewart, ENYCHP

Eastern New York Commercial Horticulture - Cornell Cooperative Extension
Your Trusted Source for Research-Based Knowledge