Ethnic Vegetables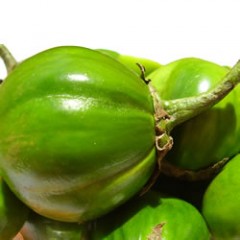 Production of ethnic vegetables is a growing trend on many New York farms. A large assortment of exotic vegetable types while unfamiliar to many Americans may be a taste of home to foreign nationals, immigrants and ethnically-based communities. Most of these ethnic vegetables can be successfully grown in New York. The key to marketing is to select varieties that are familiar to the consumer group. Many immigrants are excited to be able to purchase fresh produce grown locally that would be readily available in their country of origin. Producing ethnic vegetables can be rewarding, but should be properly researched and tried on a small scale to begin.
2018 Eastern New York Fruit & Vegetable Conference Vegetable Presentations
Last Modified: April 2, 2018


Presentations from the 2018 ENYCHP Eastern New York Fruit & Vegetable Conference held February 20th and 21st for the vegetable sections.
Ethnic Greens Trial, 2012
Robert Hadad, Extension Vegetable Specialist
Cornell Vegetable Program
Last Modified: January 23, 2013


Interest in growing ethnic vegetables has been increasing in our region. In response, the Cornell Vegetable Program conducted a two-year ethnic vegetable variety and marketing trial. The focus of the trial was to see how well assortments of vegetables that represent some different nationalities perform in WNY under our wildly fluctuating weather conditions and also to see how growers can market these new vegetables, how customers respond to them at the market, and what is needed to reach targeted communities perhaps. Funding was provided by the Western NY CCE Association group.

Exploring Ethnic Vegetables
Robert Hadad, Extension Vegetable Specialist
Cornell Vegetable Program
Last Modified: April 2, 2012


In and around our larger cities and increasingly out in suburban areas, ethnic communities are expanding. This presentation was made to a small farmers' meeting sponsored by the Cornell Vegetable Program, Ontario County CCE, and through funding by GVRMA. The presentation covered discovering what communities are out there, vegetable varieties available, and marketing. Future work will focus on reporting results from variety trials and marketing economics.



Upcoming Events
Agricultural Supervisory Leadership Certificate Program
June 17, 2022
June 23, 2022
June 30, 2022
July 7, 2022
July 14, 2022
July 21, 2022
July 28, 2022

Supervisors are critical to the success of farm businesses. They have a major impact both on employees' daily work experiences and on the production performance of the business. The agricultural Supervisory Leadership certificate helps farm supervisors and managers learn and apply human resource management practices and leadership skills that foster rewarding workplaces and drive business results. Confident managers who thoughtfully apply leadership and management skills improve employee performance, develop teams, reduce employee turnover, and increase employee engagement. The courses within the certificate program will offer extensive practice and engagement activities to build confidence and skill sets.
Getting the Most Out of Every Pass - Calibrating Airblast Sprayers for Best Results
June 29 - June 30, 2022
University of New Hampshire Extension Field Specialist Emeritus, George Hamilton will demonstrate the importance of and best techniques to calibrate air blast sprayers. Proper calibration will ensure effective, efficient, economical and legal spraying. Inadequate spray coverage is usually the cause of poor spray efficacy and additional spray applications. Overuse of some sprays results in unhealthy residues and can lead to fines.
Calibration should be done several times each season, or when you incorporate any new equipment or repairs - from the tractor to the nozzle. Join us for a refresher or send new employees for training. This workshop is open for any grower that relies on an airblast sprayer to deliver plant protectants to fruit or vegetable crops.
Peru Weed Management and Soil Health Field Day

July 20, 2022
Peru, NY
Join us in Peru on July 20th as we discuss orchard weed and soil management! Speakers will be joining us from across Cornell's research and extension teams. Topics will include the results of our herbicide timing trials, new vision-guided technologies for orchard weed spraying, organic weed management options, soil health demonstrations, and a discussion on our statewide orchard soil health survey. DEC credits are pending for this event.
Announcements
Podcasts