Ethnic Vegetables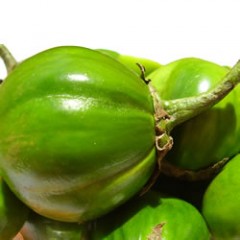 Production of ethnic vegetables is a growing trend on many New York farms. A large assortment of exotic vegetable types while unfamiliar to many Americans may be a taste of home to foreign nationals, immigrants and ethnically-based communities. Most of these ethnic vegetables can be successfully grown in New York. The key to marketing is to select varieties that are familiar to the consumer group. Many immigrants are excited to be able to purchase fresh produce grown locally that would be readily available in their country of origin. Producing ethnic vegetables can be rewarding, but should be properly researched and tried on a small scale to begin.
2018 Eastern New York Fruit & Vegetable Conference Vegetable Presentations
Last Modified: April 2, 2018


Presentations from the 2018 ENYCHP Eastern New York Fruit & Vegetable Conference held February 20th and 21st for the vegetable sections.
Ethnic Greens Trial, 2012
Robert Hadad, Extension Vegetable Specialist
Cornell Vegetable Program
Last Modified: January 23, 2013


Interest in growing ethnic vegetables has been increasing in our region. In response, the Cornell Vegetable Program conducted a two-year ethnic vegetable variety and marketing trial. The focus of the trial was to see how well assortments of vegetables that represent some different nationalities perform in WNY under our wildly fluctuating weather conditions and also to see how growers can market these new vegetables, how customers respond to them at the market, and what is needed to reach targeted communities perhaps. Funding was provided by the Western NY CCE Association group.

Exploring Ethnic Vegetables
Robert Hadad, Extension Vegetable Specialist
Cornell Vegetable Program
Last Modified: April 2, 2012


In and around our larger cities and increasingly out in suburban areas, ethnic communities are expanding. This presentation was made to a small farmers' meeting sponsored by the Cornell Vegetable Program, Ontario County CCE, and through funding by GVRMA. The presentation covered discovering what communities are out there, vegetable varieties available, and marketing. Future work will focus on reporting results from variety trials and marketing economics.



Upcoming Events
2020 Fall Round Up: Fall Management for Your Livestock, Pasture, and Business
October 29, 2020
Join Cornell Cooperative Extension Educators Ashley Pierce, Aaron Gabriel, and Dayton Maxwell. This dynamic and slightly humorous group will discuss strategies for overwintering pastures in combination with management guidelines for helping livestock enter the winter season with adequate body condition. Farm visioning, mission development, and farm goal setting will conclude the one-hour program.
2021 Fruit & Vegetable Conference
February 16 - February 18, 2021
The Eastern NY Fruit & Vegetable Conference, normally held at The Desmond Hotel in Albany, will be going virtual 2021. The ENYCH team will try to coordinate with other regional fruit and vegetable teams from across the state to offer a larger statewide virtual meeting. These are tentative dates for now. Additional information will be continued to be shared as it becomes available.
Announcements
Podcasts