Leeks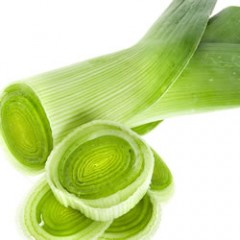 There are roughly 30 acres of leeks grown in New York annually. They are an edible member of the Liliaceae or lily family. They are tender and have a mild onion flavor with a slightly sweet edge. Leeks may be planted in late February to March for harvest in early- to mid-summer. Alternatively, they may be planted in July for harvest in late fall/early winter.
Leek is an expensive crop to grow, because it is labor intensive. Hand labor is required for all stages of production including: transplanting, weeding, harvesting, washing and packing.
Information on cultural practices and pests of leeks can be found in the
Leek Pest Management Strategic Plan
.
Most Recent Leeks Content
Growing Alliums for Storage & Long Term Sales Resource Guide
Last Modified: February 23, 2018
Leek Moth Control and Information
Christy Hoepting, Extension Vegetable Specialist
Cornell Vegetable Program
Last Modified: May 24, 2012

Leek Moth was detected in four home gardens in Plattsburg, NY in 2009. It was first detected in Ontario, Canada in 1997 where it has become problematic especially to small-scale, organic growers in eastern Ontario and to commercial producers in western Quebec, who have limited insecticides available to them.
Leek Moth continues its spread to more farms and gardens across the U.S., a new comprehensive website is available to aid in the identification and management of this pest. This Cornell website features maps of the distribution of leek moth, protocols on insect monitoring and identification, best management practices for farms and home gardens, a photo gallery of damage symptoms and a comprehensive resource section.
Visit the Leek Moth website.
More Leeks Content


Upcoming Events
Hudson Valley Pesticide Applicator Pre-Exam Training
March 19 - March 21, 2018
9:00am-12:00pm
Highland, NY
CCE ENYCHP Agriculture Specialists will be offering a training to review core concepts and commodity specific items in preparation for the exam.
Registration Fee covers two days of review: Monday 3/19 and Wednesday 3/21, 9am-12noon

Exam: Tuesday 3/27, 9AM-1PM

Are you managing your risks as a farm employer? The compliance and safety workshop
March 22, 2018
1:00-4:00pm
Highlnd, NY
This is the workshop that covers the nuts and bolts of risk management as a farm employer. Hear presentations from NYS DOL and NYCAMH on employer regulations and safety.
NEWA "Hands-On" Workshop: Grapes and Small Fruits
March 28, 2018
9:30 to 11:45am
Voorheesville, NY
At this workshop, growers will learn the ins-and-outs of the NEWA system (Network for Environment and Weather Applications). NEWA is an online system that provides hourly and daily weather data, pest forecasting models, and crop production models, to help implement IPM practices on farms across the Northeast. Attendees will learn how to efficiently navigate the NEWA interface, including how to get weather data, access station specific pages, and effectively utilize models for grape berry moth, black rot, downy mildew, powdery mildew and Phomopsis. New models currently being developed for small fruits will also be discussed.
Announcements
Confused by the WPS (Worker Protection Standard)?
Please take note: WPS pertains to all farms-organic and conventional! To be sure that you are complying with these regulations, please view the EPA link below:
https://www.epa.gov/sites/production/files/2015-09/documents/comparison-chart-wps.pdf
Growing for Wholesale: Grading and Packing Guides
Grading and packing guidelines are now available for 16 commonly grown specialty crops in NYS: broccoli crowns, Brussels sprouts, corn, green peppers, cucumbers, green cabbage, red cabbage, savory cabbage, cauliflower, eggplant, green beans, jalapenos, poblanos, Hungarian hot peppers, summer squash, and zucchini. Find all 24 sheets online at:
https://rvpadmin.cce.cornell.edu/uploads/doc_612.pdf
This resource was developed through the support of Cheryl Thayer of CCE Harvest NY, Dave Walczak of Eden Valley Growers, Angela Parr and Robert Hadad of the CCE Cornell Vegetable Program, and Jim Monahan of Cornell Cooperative Extension. Further, development of this resource was made possible through grant funding from the USDA Local Food Promotion Program.
Eastern New York Commercial Horticulture - Cornell Cooperative Extension
Your Trusted Source for Research-Based Knowledge