Leeks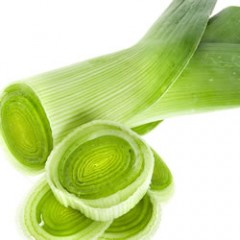 There are roughly 30 acres of leeks grown in New York annually. They are an edible member of the Liliaceae or lily family. They are tender and have a mild onion flavor with a slightly sweet edge. Leeks may be planted in late February to March for harvest in early- to mid-summer. Alternatively, they may be planted in July for harvest in late fall/early winter.
Leek is an expensive crop to grow, because it is labor intensive. Hand labor is required for all stages of production including: transplanting, weeding, harvesting, washing and packing.
Information on cultural practices and pests of leeks can be found in the
Leek Pest Management Strategic Plan
.
Most Recent Leeks Content
Onion Thrips Management Recommendations for 2018
Ethan Grundberg, Vegetable Specialist
Eastern New York Commercial Horticulture
Last Modified: June 7, 2018
Onion thrips populations have exceeded action thresholds in a few hot spots in Orange County. Review Dr. Brian Nault's insecticide recommendations for onion thrips management that incorporate newly registered products in New York State.
2018 Eastern New York Fruit & Vegetable Conference Vegetable Presentations
Last Modified: April 2, 2018


Presentations from the 2018 ENYCHP Eastern New York Fruit & Vegetable Conference held February 20th and 21st for the vegetable sections.
Growing Alliums for Storage & Long Term Sales Resource Guide
Last Modified: February 23, 2018
More Leeks Content


Upcoming Events
20 Minute Ag Manager Webinars: Crop Insurance for Diverse Farms
August 14, 2018
12-12:30 PM
20 minute lunchtime webinars will be held on Tuesdays this summer covering farm business management topics.

20 Minute Ag Manager Webinars: Flood Insurance and Other Disaster Programs
August 21, 2018
12-12:30 PM
20 minute lunchtime webinars will be held on Tuesdays this summer covering farm business management topics.

Fresh Market Vegetable Grading & Packing Workshop
August 21, 2018
2:00 PM - 5:00 PM
Deposit, NY
Are you interested in farm to school or selling to institutional markets? Maybe you'd like to know more about grading and packing your fresh market produce right in the field? CCE Broome County, in partnership with the CCE Cornell Vegetable Program and the Cornell Baskets to Pallets program, is offering a hands-on, on-farm experience designed to prepare farms in NY, both beginning and experienced, to enter new markets.

Announcements
Check out the Updated Labeled Insecticides for SWD
Labeled Insecticides for Control of Spotted Wing Drosophila in New York Berry Crops - Quick Guide Compiled by Greg Loeb, Laura McDermott, Peter Jentsch & Juliet Carroll, Cornell University. Updated regularly. Check it out at this link!
New Resources from CCE ENYCHP!
We are developing new ways to connect with the CCE ENYCHP team this year!
We have a Youtube page located at this link
. Check out videos on Table Grape Production, Pest Updates and the 20 Minute Ag Manager - in 4 Minutes series.
There are also text alerts available.
Fruit and vegetable farmers in 17 Eastern NY counties can now receive real time alerts on high risk disease and pest outbreaks texted directly to their cell phone. The Eastern NY Commercial Horticulture program, which is supported by local Cornell Cooperative Extension associations, will now offer text alerts to those that sign up.
The text alerts will be reserved for important crop alerts that could impact management decisions immediately. For instance, if there were an outbreak of Late Blight in the area, this would be transmitted to vegetable growers.
Farmers can choose the crop for which they wish to receive updates. Additionally they can request that Ag Business Alerts be sent to them. These alerts might include due dates for crop insurance deadlines, market opportunities etc.
Text alerts are easy to access. Just click on the link below and fill out a very short registration form. It takes just seconds to do - access to important information has never been so easy!!

If you have questions, please contact Abby Henderson at 518-746-2553 or email her at aef225@cornell.edu.

Confused by the WPS (Worker Protection Standard)?
Please take note: WPS pertains to all farms-organic and conventional! To be sure that you are complying with these regulations, please view the EPA link below:
https://www.epa.gov/sites/production/files/2015-09/documents/comparison-chart-wps.pdf
Eastern New York Commercial Horticulture - Cornell Cooperative Extension
Your Trusted Source for Research-Based Knowledge