Leeks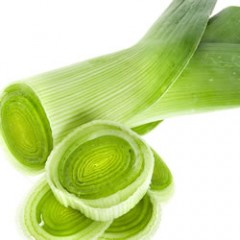 There are roughly 30 acres of leeks grown in New York annually. They are an edible member of the Liliaceae or lily family. They are tender and have a mild onion flavor with a slightly sweet edge. Leeks may be planted in late February to March for harvest in early- to mid-summer. Alternatively, they may be planted in July for harvest in late fall/early winter.
Leek is an expensive crop to grow, because it is labor intensive. Hand labor is required for all stages of production including: transplanting, weeding, harvesting, washing and packing.
Information on cultural practices and pests of leeks can be found in the
Leek Pest Management Strategic Plan
.
Most Recent Leeks Content
Onion Thrips Management Recommendations for 2018
Ethan Grundberg, Vegetable Specialist
Eastern New York Commercial Horticulture
Last Modified: June 7, 2018
Onion thrips populations have exceeded action thresholds in a few hot spots in Orange County. Review Dr. Brian Nault's insecticide recommendations for onion thrips management that incorporate newly registered products in New York State.
2018 Eastern New York Fruit & Vegetable Conference Vegetable Presentations
Last Modified: April 2, 2018


Presentations from the 2018 ENYCHP Eastern New York Fruit & Vegetable Conference held February 20th and 21st for the vegetable sections.
Growing Alliums for Storage & Long Term Sales Resource Guide
Last Modified: February 23, 2018
More Leeks Content


Upcoming Events
Pesticide Exam Certification Summer Trainings
July 2 - July 23, 2019
1:30pm - 4:30pm each day
Plattsburgh, NY
2019 Champlain Valley Pesticide Applicator Exam Intensive Training
CCE ENYCHP Horticulture Specialists Mike Basedow and Elisabeth Hodgdon will be offering four afternoons of training to review core concepts and commodity specific items in preparation for the exam.
CCE & Hudson Valley Research Lab Research & Extension Tour
July 26, 2019
12:30pm - 5:00pm
Highland, NY
The Eastern NY Commercial Horticultural Program and Hudson Valley Research Lab are hosting a 2019 Research and Extension Summer Tour on July 26th from 12:30 - 5:00 PM. Beginning at the Highland Research Station Conference Room.
Last Monday Grant Webinar for Fruit and Vegetable Growers - July
July 29, 2019
12:00-1:00
To help disseminate information on grants on a more consistent basis, we will be offering a "current grants" webinar on the last Monday of every month at noon
In order to help focus the program, the webinars will be limited to grants that are relevant to fruit and vegetable farmers in Eastern New York.
There is a possibility of webinars related to grants for experimental crops (i.e. hops and hemp) if it is likely that fruit and vegetable growers would be interested.
Announcements
Podcasts