Kohlrabi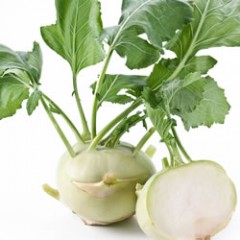 Kohlrabi is a minor crop in New York, but is popular at farmers markets and other retail stands. Its mild flavor makes it favorable to eating fresh and even young children like it when cut up and served like carrot or celery sticks. Both green and purple varieties are available. It is best grown in cooler temperatures and is typically available in June and July and then again in September and October. Kohlrabi is a member of the Brassicaceae or cabbage family which also includes broccoli, cauliflower and turnips. It can be susceptible to many of the same diseases and insects as other members of this family.
Most Recent Kohlrabi Content
2018 Eastern New York Fruit & Vegetable Conference Vegetable Presentations
Last Modified: April 2, 2018


Presentations from the 2018 ENYCHP Eastern New York Fruit & Vegetable Conference held February 20th and 21st for the vegetable sections.
More Kohlrabi Content


Upcoming Events
Biocontrol Trial and IPM Field Meeting
August 20, 2019
4pm-6pm
Fort Plain, NY
4-5 pm: Dr's Amara Dunn and Meg McGrath will discuss powdery mildew control using biocontrols and organic and conventional fungicides. Crystal Stewart from the ENYCHP will provide a tour of the biocontrol trial and additional squash and pumpkin mini-variety trial.
5-6pm: Walk the farm fields with Dr's Dunn and McGrath and with CVP specialist Elizabeth Buck to talk about integrated strategies to control pests, diseases, and weeds on the vegetables farm. Bring samples and questions!
6-?pm: Discussion and light refreshments
*Look for the CCE sign to park on a cross street right before the farm.
Ag Manager Webinar Series: Ag Tax Topics - Sales Tax and Property Tax Issues for Ag in NYS
August 27, 2019
12:30 - 12:50pm
Join Liz Higgins from the CCE ENYCHP every other Tuesday at 12:30pm throughout the summer as she discusses pertinent business topics for busy farm managers.
Willsboro Farm High Tunnel Twilight Meeting
August 27, 2019
5:00pm - 7:00pm
Willsboro, NY
Join vegetable specialists Elisabeth Hodgdon, Jud Reid, and farm manager Mike Davis for a high tunnel and field tour at Cornell's Willsboro Research Farm, where they will share research results for the following projects:
Striped cucumber beetle management suing netting and row cover
Varietal differences in cucumber susceptibility to striped cucumber beetle
Ground cherry and goldenberry production in field and high tunnel environments
Overwintered high tunnel spinach nitrogen fertility
Announcements
Podcasts