Beets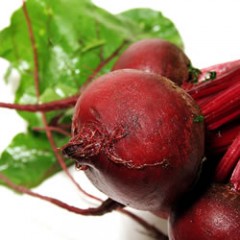 Did you know that New York is the second leading producer of red table beets in the US? Approximately 3,000 acres are grown annually for processing by Seneca Foods in Leiceister, NY (Livingston Co.). Most of the processing beets are grown in Genesee, Livingston and Wyoming Counties in Western, NY. Processors require specific varieties for production of certain size roots throughout the season and commonly grow Ruby Queen, Red Ace and Red Atlas.
Fresh market growers have a wide range of varieties to select from. Root colors include red, golden, or alternating red and white rings. Roots may be cylindrical or elongated. Beets can be harvested for fresh market at any stage and the greens are considered a delicacy by some. Roots harvested in the fall can be stored and sold at winter markets.
Educational and research information from Cornell Cooperative Extension can be found by clicking on the links below.
2021 Beet Herbicide Chart
Julie Kikkert, Team Leader, Extension Vegetable Specialist
Cornell Vegetable Program
Last Modified: May 25, 2021

This chart, created with information from the late Dr. Robin Bellinder, Weed Scientist at Cornell, lists the herbicides that are labeled for beets and which weed species are controlled. While the chart is a handy reference, it is critical to read the product labels thoroughly.
Be on the Lookout for Southern Blight
Ethan Grundberg, Vegetable Specialist
Eastern New York Commercial Horticulture
Last Modified: April 27, 2018
Southern Blight (Sclerotium rolfsii) was found on golden storage beets this winter in Dutchess County. The fungal pathogen is fairly new to New York and poses a threat to a wide range of vegetable crops. Early detection and proper diagnosis are key to managing this disease.
2018 Eastern New York Fruit & Vegetable Conference Vegetable Presentations
Last Modified: April 2, 2018


Presentations from the 2018 ENYCHP Eastern New York Fruit & Vegetable Conference held February 20th and 21st for the vegetable sections.
2016 Beet Variety Trial
Anne Mills, Field Technician
Eastern New York Commercial Horticulture
Last Modified: January 19, 2017

What makes a great beet? The Eastern New York Commercial Horticulture Programs beet variety trial will help you find out! Check out this slideshow to learn about the beet varieties we grew and see which ones would make the cut to grow on your farm.
2015 Beet Variety Trial Photo Slideshow!
Crystal Stewart-Courtens, Extension Vegetable Specialist
Eastern New York Commercial Horticulture
Last Modified: December 9, 2015



Upcoming Events
Agricultural Supervisory Leadership Certificate Program
June 17, 2022
June 23, 2022
June 30, 2022
July 7, 2022
July 14, 2022
July 21, 2022
July 28, 2022

Supervisors are critical to the success of farm businesses. They have a major impact both on employees' daily work experiences and on the production performance of the business. The agricultural Supervisory Leadership certificate helps farm supervisors and managers learn and apply human resource management practices and leadership skills that foster rewarding workplaces and drive business results. Confident managers who thoughtfully apply leadership and management skills improve employee performance, develop teams, reduce employee turnover, and increase employee engagement. The courses within the certificate program will offer extensive practice and engagement activities to build confidence and skill sets.
Getting the Most Out of Every Pass - Calibrating Airblast Sprayers for Best Results
June 29 - June 30, 2022
University of New Hampshire Extension Field Specialist Emeritus, George Hamilton will demonstrate the importance of and best techniques to calibrate air blast sprayers. Proper calibration will ensure effective, efficient, economical and legal spraying. Inadequate spray coverage is usually the cause of poor spray efficacy and additional spray applications. Overuse of some sprays results in unhealthy residues and can lead to fines.
Calibration should be done several times each season, or when you incorporate any new equipment or repairs - from the tractor to the nozzle. Join us for a refresher or send new employees for training. This workshop is open for any grower that relies on an airblast sprayer to deliver plant protectants to fruit or vegetable crops.
Peru Weed Management and Soil Health Field Day

July 20, 2022
Peru, NY
Join us in Peru on July 20th as we discuss orchard weed and soil management! Speakers will be joining us from across Cornell's research and extension teams. Topics will include the results of our herbicide timing trials, new vision-guided technologies for orchard weed spraying, organic weed management options, soil health demonstrations, and a discussion on our statewide orchard soil health survey. DEC credits are pending for this event.
Announcements
Podcasts