Beets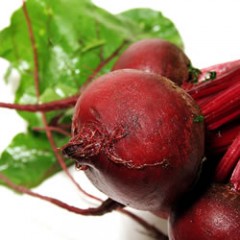 Did you know that New York is the second leading producer of red table beets in the US? Approximately 3,000 acres are grown annually for processing by Seneca Foods in Leiceister, NY (Livingston Co.). Most of the processing beets are grown in Genesee, Livingston and Wyoming Counties in Western, NY. Processors require specific varieties for production of certain size roots throughout the season and commonly grow Ruby Queen, Red Ace and Red Atlas.
Fresh market growers have a wide range of varieties to select from. Root colors include red, golden, or alternating red and white rings. Roots may be cylindrical or elongated. Beets can be harvested for fresh market at any stage and the greens are considered a delicacy by some. Roots harvested in the fall can be stored and sold at winter markets.
Educational and research information from Cornell Cooperative Extension can be found by clicking on the links below.
Most Recent Beets Content
Be on the Lookout for Southern Blight
Ethan Grundberg, Vegetable Specialist
Eastern New York Commercial Horticulture
Last Modified: April 27, 2018
Southern Blight (Sclerotium rolfsii) was found on golden storage beets this winter in Dutchess County. The fungal pathogen is fairly new to New York and poses a threat to a wide range of vegetable crops. Early detection and proper diagnosis are key to managing this disease.
2018 Eastern New York Fruit & Vegetable Conference Vegetable Presentations
Last Modified: April 2, 2018


Presentations from the 2018 ENYCHP Eastern New York Fruit & Vegetable Conference held February 20th and 21st for the vegetable sections.
2016 Beet Variety Trial
Anne Mills, Field Technician
Eastern New York Commercial Horticulture
Last Modified: January 19, 2017

What makes a great beet? The Eastern New York Commercial Horticulture Programs beet variety trial will help you find out! Check out this slideshow to learn about the beet varieties we grew and see which ones would make the cut to grow on your farm.
More Beets Content


Upcoming Events
2019 Hudson Valley Pesticide Applicator Pre-Exam Training
March 18, 2019 : 2019 Hudson Valley Pesticide Applicator Pre-Exam Training Day 1
March 20, 2019 : 2019 Hudson Valley Pesticide Applicator Pre-Exam Training Day 2
CCE ENYCHP Agriculture Specialists will be offering a training to review core concepts and commodity specific items in preparation for the exam.
Last Monday Grant Webinar for Fruit and Vegetable Growers - March
March 25, 2019
12:00-1:00
To help disseminate information on grants on a more consistent basis, we will be offering a "current grants" webinar on the last Monday of every month at noon
In order to help focus the program, the webinars will be limited to grants that are relevant to fruit and vegetable farmers in Eastern New York.
There is a possibility of webinars related to grants for experimental crops (i.e. hops and hemp) if it is likely that fruit and vegetable growers would be interested.
How to Obtain a Pesticide Applicator License
March 26, 2019
1:00pm - 4:00pm
Hudson Falls, NY
Receive an overview of the pesticide applicator certification process and some of the key concepts of the exam materials needed to obtain a private or commercial NYSDEC pesticide applicator license.
Announcements
Resources from CCE ENYCHP!
We are developing new ways to connect with the CCE ENYCHP team this year!
We have a Youtube page located at this link
. Check out videos on Table Grape Production, Pest Updates and the
20 Minute Ag Manager - in 4 Minutes series
.
We have a
Facebook Page here
as well as an
Instagram page
. We keep these places updated with current projects, events, and other interesting articles and deadlines.
There are also text alerts available.
Fruit and vegetable farmers in 17 Eastern NY counties can now receive real time alerts on high risk disease and pest outbreaks texted directly to their cell phone. The Eastern NY Commercial Horticulture program, which is supported by local Cornell Cooperative Extension associations, will now offer text alerts to those that enroll in our program in 2019.
The text alerts will be reserved for important crop alerts that could impact management decisions immediately. For instance, if there were an outbreak of Late Blight in the area, this would be transmitted to vegetable growers.
Farmers can choose the crop for which they wish to receive updates. Additionally they can request that Ag Business Alerts be sent to them. These alerts might include due dates for crop insurance deadlines, market opportunities etc.

If you have questions, please contact enychp@cornell.edu