Peas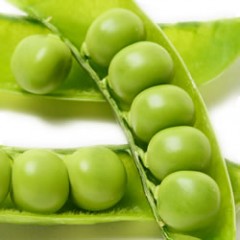 Peas are one of the first crops planted and harvested in New York. Fresh market, edible pod and processing peas are all produced. In fact, the state has a long history of processed pea production with a 10-year average of 17,689 acres grown. Processed peas are grown in fields ranging in size from 20 to 100 acres. Processors select the varieties to ensure consistent supply to the plants. The peas are machine harvested and shelled right in the field and taken to the plant for sorting, cleaning, freezing and packaging.
Fresh edible pod peas or podded peas which are shelled by the consumer are a delight in early season markets. These markets are more concerned with blemishes on the pods.
Peas are very sensitive to excess soil moisture and are susceptible to numerous soil pathogens. Weeds can quickly out-compete peas and are a special problem in late-April and May plantings when temperatures are favorable to annual weed seed germination.
Cornell Cooperative Extension Educators and Cornell faculty work together annually to conduct research on many aspects of pea production in the state. Below you will find educational information and results of our research trials.
Most Recent Peas Content
2018 Eastern New York Fruit & Vegetable Conference Vegetable Presentations
Last Modified: April 2, 2018


Presentations from the 2018 ENYCHP Eastern New York Fruit & Vegetable Conference held February 20th and 21st for the vegetable sections.
Organic Production Guides
Robert Hadad, Extension Vegetable Specialist
Cornell Vegetable Program
Last Modified: July 17, 2017


Organic Production Guides for fruits, vegetables and dairy are available through the NYS Integrated Pest Management (IPM) program. They outline general practices for growing vegetable and fruit crops using organic integrated pest management techniques.
2015 Pea Herbicide Chart
Julie Kikkert, Team Leader, Extension Vegetable Specialist
Cornell Vegetable Program
Last Modified: April 1, 2015


A chart is presented that lists the herbicides labelled for use on succulent peas in New York for the year 2015. The relative effectiveness of each herbicide on different weed species is highlighted.
More Peas Content


Upcoming Events
2019 Hudson Valley Pesticide Applicator Pre-Exam Training
March 18, 2019 : 2019 Hudson Valley Pesticide Applicator Pre-Exam Training Day 1
March 20, 2019 : 2019 Hudson Valley Pesticide Applicator Pre-Exam Training Day 2
CCE ENYCHP Agriculture Specialists will be offering a training to review core concepts and commodity specific items in preparation for the exam.
Last Monday Grant Webinar for Fruit and Vegetable Growers - March
March 25, 2019
12:00-1:00
To help disseminate information on grants on a more consistent basis, we will be offering a "current grants" webinar on the last Monday of every month at noon
In order to help focus the program, the webinars will be limited to grants that are relevant to fruit and vegetable farmers in Eastern New York.
There is a possibility of webinars related to grants for experimental crops (i.e. hops and hemp) if it is likely that fruit and vegetable growers would be interested.
How to Obtain a Pesticide Applicator License
March 26, 2019
1:00pm - 4:00pm
Hudson Falls, NY
Receive an overview of the pesticide applicator certification process and some of the key concepts of the exam materials needed to obtain a private or commercial NYSDEC pesticide applicator license.
Announcements
Resources from CCE ENYCHP!
We are developing new ways to connect with the CCE ENYCHP team this year!
We have a Youtube page located at this link
. Check out videos on Table Grape Production, Pest Updates and the
20 Minute Ag Manager - in 4 Minutes series
.
We have a
Facebook Page here
as well as an
Instagram page
. We keep these places updated with current projects, events, and other interesting articles and deadlines.
There are also text alerts available.
Fruit and vegetable farmers in 17 Eastern NY counties can now receive real time alerts on high risk disease and pest outbreaks texted directly to their cell phone. The Eastern NY Commercial Horticulture program, which is supported by local Cornell Cooperative Extension associations, will now offer text alerts to those that enroll in our program in 2019.
The text alerts will be reserved for important crop alerts that could impact management decisions immediately. For instance, if there were an outbreak of Late Blight in the area, this would be transmitted to vegetable growers.
Farmers can choose the crop for which they wish to receive updates. Additionally they can request that Ag Business Alerts be sent to them. These alerts might include due dates for crop insurance deadlines, market opportunities etc.

If you have questions, please contact enychp@cornell.edu