Enrollment
Please consider enrolling in Cornell Cooperative Extensions' Eastern NY Commercial Horticulture Program. We appreciate your support and the continuation of our work relies on your enrollment! Seventeen Cooperative Extension Associations contribute to CCE ENYCHP so that growers in their counties have access to affordable, highly specialized vegetable and fruit production and business management programs. Your enrollment dollars support applied research and local educational programming and shows funders that you value and support these efforts. The ENYCHP team provides education in the following program areas: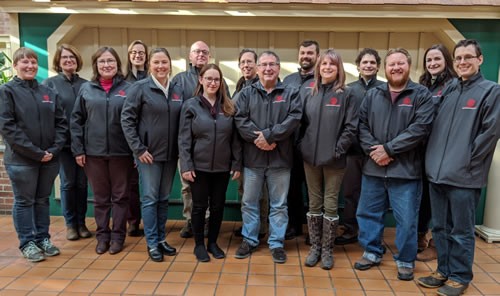 Food Safety: Research and education to help growers meet Quality Assurance and Food Safety Certification Standards and Good Agricultural Practices (GAPs)
Variety Evaluation & Market Development: Unbiased results from local on-farm trials and marketing education on promoting local foods and new crops
Pest Management: Understanding pest biology and effective control strategies, identifying new pests and pest alerts
Cultural Practices: Educating growers on nutrient management, yield enhancement and season extension
Soil Health: Educating growers on cover crops, reduced tillage, reduced compaction, increased organic matter and improved soil health
Business Management: Resources and education for growers to help manage finances, labor, adapt to changing markets and many other aspects to running a successful farm
ENYCH Enrollment Form (PDF; 457KB)
Please Choose One
YES!
I wish to become an enrolled member
in support of ENYCHP
(receive newsletters, text alerts, discounts to programs etc.)
No,
I choose not to enroll in ENYCHP at this time but would like to receive complimentary email newsletters.
Enrollment Form -
Online
In Region ($100.00)
- for those that live, farm or conduct agricultural services within participating counties (listed below).
Satellite ($200.00)
- for those outside of the participating counties.


Upcoming Events
Agricultural Supervisory Leadership Certificate Program
June 17, 2022
June 23, 2022
June 30, 2022
July 7, 2022
July 14, 2022
July 21, 2022
July 28, 2022

Supervisors are critical to the success of farm businesses. They have a major impact both on employees' daily work experiences and on the production performance of the business. The agricultural Supervisory Leadership certificate helps farm supervisors and managers learn and apply human resource management practices and leadership skills that foster rewarding workplaces and drive business results. Confident managers who thoughtfully apply leadership and management skills improve employee performance, develop teams, reduce employee turnover, and increase employee engagement. The courses within the certificate program will offer extensive practice and engagement activities to build confidence and skill sets.
Getting the Most Out of Every Pass - Calibrating Airblast Sprayers for Best Results
June 29 - June 30, 2022
University of New Hampshire Extension Field Specialist Emeritus, George Hamilton will demonstrate the importance of and best techniques to calibrate air blast sprayers. Proper calibration will ensure effective, efficient, economical and legal spraying. Inadequate spray coverage is usually the cause of poor spray efficacy and additional spray applications. Overuse of some sprays results in unhealthy residues and can lead to fines.
Calibration should be done several times each season, or when you incorporate any new equipment or repairs - from the tractor to the nozzle. Join us for a refresher or send new employees for training. This workshop is open for any grower that relies on an airblast sprayer to deliver plant protectants to fruit or vegetable crops.
Peru Weed Management and Soil Health Field Day

July 20, 2022
Peru, NY
Join us in Peru on July 20th as we discuss orchard weed and soil management! Speakers will be joining us from across Cornell's research and extension teams. Topics will include the results of our herbicide timing trials, new vision-guided technologies for orchard weed spraying, organic weed management options, soil health demonstrations, and a discussion on our statewide orchard soil health survey. DEC credits are pending for this event.
Announcements
Podcasts