Join ENYCH Now
Please consider contributing to Cornell Cooperative Extensions' Eastern NY Commercial Horticulture Program. We appreciate your support and the continuation of our work relies on you! Seventeen Cooperative Extension Associations contribute to CCE ENYCHP so that growers in their counties have access to affordable, highly specialized vegetable and fruit production and business management programs. Your contribution dollars support applied research and local educational programming and shows funders that you value and support these efforts. The ENYCHP team provides education in the following program areas: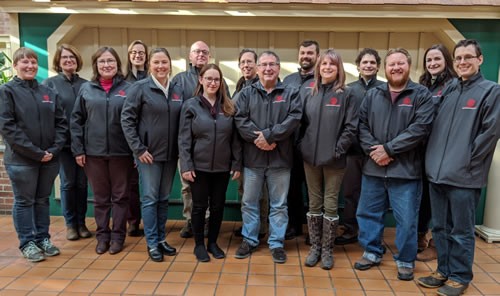 Food Safety: Research and education to help growers meet Quality Assurance and Food Safety Certification Standards and Good Agricultural Practices (GAPs)
Variety Evaluation & Market Development: Unbiased results from local on-farm trials and marketing education on promoting local foods and new crops
Pest Management: Understanding pest biology and effective control strategies, identifying new pests and pest alerts
Cultural Practices: Educating growers on nutrient management, yield enhancement and season extension
Soil Health: Educating growers on cover crops, reduced tillage, reduced compaction, increased organic matter and improved soil health
Business Management: Resources and education for growers to help manage finances, labor, adapt to changing markets and many other aspects to running a successful farm
ENYCH Enrollment Form (PDF; 315KB)
Please Choose One
YES!
I wish to become an enrolled member
in support of ENYCHP
(receive newsletters, text alerts, discounts to programs etc.)
No,
I choose not to enroll in ENYCHP at this time but would like to receive complimentary email newsletters.
Enrollment Form -
Online
In Region ($75.00)
- For those that live, farm or conduct agricultural services within participating counties (listed below).
Satellite ($175.00)
- For those outside of the participating counties.


Upcoming Events
Apple Grower Listening Session - USDA RMA Crop Insurance
June 28, 2023
Highland, NY
The Risk Management Agency (RMA) is inviting interested parties to participate in a listening session to discuss the proposed changes to the apple crop insurance program. These proposed changes were published in a Proposed Rule with request for comments on December 16, 2021.
RMA invited public comments on this rule through April 15, 2022. RMA received comments to the Proposed Rule from approximately 200 interested parties. RMA is taking this opportunity to engage with interested parties to clarify the intent of the Proposed Rule before finalizing changes.
Small Fruit Opportunities for Small Farms

July 11, 2023
Willsboro, NY
$10 per farm
Pre register by Monday, July 10th at 9 am
Join us for a field afternoon at the Cornell Willsboro Research Farm and Juniper Hill Farm in Essex County to learn about growing small fruit crops in northern New York. We'll discuss considerations for site selection, varieties, pruning, integrated pest management, marketing, and more. In addition to strawberries, blueberries, and raspberries, we'll cover novelty small fruits and nuts for specialty markets and hear from local producers who grow them.
1.75 DEC credits approved in categories 1A, 10, and 22
Rain date: This event will be held at the same time on Thursday, July 13th if thunderstorms and/or significant rain are predicted on the 11th
Announcements
Podcasts