Dry Beans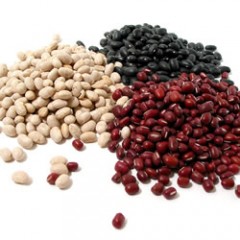 Dry edible beans are grown almost exclusively in Western NY (such as Genesee, Livingston, Monroe and Wyoming counties) and in Central NY (such as Ontario, Yates, Seneca and Cayuga counties), where soils are deep, fertile and light- to medium-textured. New York produces edible dry beans on up to 16,000 acres for local, regional (east of the Mississippi), export and organic markets. Those beans marketed regionally are either processed into canned product or packaged for the dry pack market. Value of the crop in the state varies but has averaged around $7 million/year recently.
Major types include varieties of black turtle soup and light/dark red kidney beans. Adoption of reduced, zone tillage has been occurring on a number of farms as a time and fuel-savings measure. Insect, disease and weed pests are similar to those seen on snap beans and are managed similarly. Because dry beans must mature on the plant they are out in the field much longer than snap beans, however, so there is more opportunity for diseases such as white mold to develop. Weeds must also be controlled for a much longer period.
2018 Eastern New York Fruit & Vegetable Conference Vegetable Presentations
Last Modified: April 2, 2018


Presentations from the 2018 ENYCHP Eastern New York Fruit & Vegetable Conference held February 20th and 21st for the vegetable sections.
2015 Herbicides for Weed Control in Snap and Dry Beans
Julie Kikkert, Team Leader, Extension Vegetable Specialist
Cornell Vegetable Program
Last Modified: April 29, 2016


Have you had problem weeds slipping through your snap or dry bean weed control program? Have lambsquarters, ragweed, hairy or Eastern black nightshade, nutsedge, etc, been. escaping? Have you tried any of the newer materials or expanded application timings to try to improve your results? The 2015 update to the Herbicide for Snap and Dry Bean Weed Control chart will help you choose the best herbicide programs for your fields.



Upcoming Events
Agricultural Supervisory Leadership Certificate Program
June 17, 2022
June 23, 2022
June 30, 2022
July 7, 2022
July 14, 2022
July 21, 2022
July 28, 2022

Supervisors are critical to the success of farm businesses. They have a major impact both on employees' daily work experiences and on the production performance of the business. The agricultural Supervisory Leadership certificate helps farm supervisors and managers learn and apply human resource management practices and leadership skills that foster rewarding workplaces and drive business results. Confident managers who thoughtfully apply leadership and management skills improve employee performance, develop teams, reduce employee turnover, and increase employee engagement. The courses within the certificate program will offer extensive practice and engagement activities to build confidence and skill sets.
Getting the Most Out of Every Pass - Calibrating Airblast Sprayers for Best Results
June 29 - June 30, 2022
University of New Hampshire Extension Field Specialist Emeritus, George Hamilton will demonstrate the importance of and best techniques to calibrate air blast sprayers. Proper calibration will ensure effective, efficient, economical and legal spraying. Inadequate spray coverage is usually the cause of poor spray efficacy and additional spray applications. Overuse of some sprays results in unhealthy residues and can lead to fines.
Calibration should be done several times each season, or when you incorporate any new equipment or repairs - from the tractor to the nozzle. Join us for a refresher or send new employees for training. This workshop is open for any grower that relies on an airblast sprayer to deliver plant protectants to fruit or vegetable crops.
Peru Weed Management and Soil Health Field Day

July 20, 2022
Peru, NY
Join us in Peru on July 20th as we discuss orchard weed and soil management! Speakers will be joining us from across Cornell's research and extension teams. Topics will include the results of our herbicide timing trials, new vision-guided technologies for orchard weed spraying, organic weed management options, soil health demonstrations, and a discussion on our statewide orchard soil health survey. DEC credits are pending for this event.
Announcements
Podcasts