Dry Beans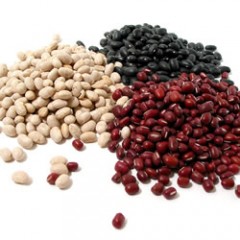 Dry edible beans are grown almost exclusively in Western NY (such as Genesee, Livingston, Monroe and Wyoming counties) and in Central NY (such as Ontario, Yates, Seneca and Cayuga counties), where soils are deep, fertile and light- to medium-textured. New York produces edible dry beans on up to 16,000 acres for local, regional (east of the Mississippi), export and organic markets. Those beans marketed regionally are either processed into canned product or packaged for the dry pack market. Value of the crop in the state varies but has averaged around $7 million/year recently.
Major types include varieties of black turtle soup and light/dark red kidney beans. Adoption of reduced, zone tillage has been occurring on a number of farms as a time and fuel-savings measure. Insect, disease and weed pests are similar to those seen on snap beans and are managed similarly. Because dry beans must mature on the plant they are out in the field much longer than snap beans, however, so there is more opportunity for diseases such as white mold to develop. Weeds must also be controlled for a much longer period.
2018 Eastern New York Fruit & Vegetable Conference Vegetable Presentations
Last Modified: April 2, 2018


Presentations from the 2018 ENYCHP Eastern New York Fruit & Vegetable Conference held February 20th and 21st for the vegetable sections.
2015 Herbicides for Weed Control in Snap and Dry Beans
Julie Kikkert, Team Leader, Extension Vegetable Specialist
Cornell Vegetable Program
Last Modified: April 29, 2016


Have you had problem weeds slipping through your snap or dry bean weed control program? Have lambsquarters, ragweed, hairy or Eastern black nightshade, nutsedge, etc, been. escaping? Have you tried any of the newer materials or expanded application timings to try to improve your results? The 2015 update to the Herbicide for Snap and Dry Bean Weed Control chart will help you choose the best herbicide programs for your fields.



Upcoming Events
2020 Fall Round Up: Fall Management for Your Livestock, Pasture, and Business
October 29, 2020
Join Cornell Cooperative Extension Educators Ashley Pierce, Aaron Gabriel, and Dayton Maxwell. This dynamic and slightly humorous group will discuss strategies for overwintering pastures in combination with management guidelines for helping livestock enter the winter season with adequate body condition. Farm visioning, mission development, and farm goal setting will conclude the one-hour program.
2021 Fruit & Vegetable Conference
February 16 - February 18, 2021
The Eastern NY Fruit & Vegetable Conference, normally held at The Desmond Hotel in Albany, will be going virtual 2021. The ENYCH team will try to coordinate with other regional fruit and vegetable teams from across the state to offer a larger statewide virtual meeting. These are tentative dates for now. Additional information will be continued to be shared as it becomes available.
Announcements
Podcasts