Cabbage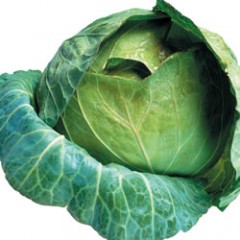 Fertile soils and favorable climate contribute to the impressive production of cabbage in New York State. With more than 12,000 acres grown annually, New York ranks in the top three states nationally for both fresh market and kraut cabbage. Fresh cabbage is sold in retail and wholesale markets and is used for cole slaw, egg rolls and other products. Under the proper conditions, cabbage can be stored through April, making it available nearly year round. There are two large processors in Western, NY (Seneca Foods and Great Lakes Kraut). Kraut cabbage is harvested late in the fall. It is trimmed, shredded, mixed with salt and then fermented in huge vats. The product is then packed in cans, glass jars or sealed plastic bags.
Many varieties are available for fresh market, storage and kraut cabbage. Varieties also differ in their susceptibility to insects and diseases. Cornell Cooperative Extension Educators and Cornell faculty work together annually to conduct research on many aspects of cabbage production in the state. Below you will find educational information and results of our research trials.
Can it be True?
Chuck Bornt, Team Leader, Extension Vegetable Specialist
Eastern New York Commercial Horticulture
Last Modified: May 2, 2018
A product called LandSpring was labeled in NY back in July of 2017 and may help reduce transplant shock of certain crops. Learn more about what it is and how it works.
LandSpring NYS Label
Chuck Bornt, Team Leader, Extension Vegetable Specialist
Eastern New York Commercial Horticulture
Last Modified: May 1, 2018

Copy of the LandSpring NYS DEC approved label

2018 Eastern New York Fruit & Vegetable Conference Vegetable Presentations
Last Modified: April 2, 2018


Presentations from the 2018 ENYCHP Eastern New York Fruit & Vegetable Conference held February 20th and 21st for the vegetable sections.
Organic Production Guides
Robert Hadad, Extension Vegetable Specialist
Cornell Vegetable Program
Last Modified: July 17, 2017


Organic Production Guides for fruits, vegetables and dairy are available through the NYS Integrated Pest Management (IPM) program. They outline general practices for growing vegetable and fruit crops using organic integrated pest management techniques.
Feasibility of Reducing Slug Damage in Cabbage
Christy Hoepting, Extension Vegetable Specialist
Cornell Vegetable Program
Last Modified: March 17, 2014

Slugs are an increasing threat to cabbage production: The board of the New York Cabbage Research and Development Program made slug control one of their highest research priorities for the first time in 2009. Slugs are considered a sporadic pest in cabbage and are favored by cool and moist conditions, especially where crop residues are left on the soil surface. In conventional production of cabbage, slugs tend to be a problem later in the growing season along tree lines and hedgerows and in weedy patches within the field. Slugs leave large holes in the leaves with the veins intact, and can be a contaminant in the heads when they squeeze between the leaves. During the cool wet growing season of 2009, slug contaminants were the cause of several rejected loads of cabbage in New York. It is predicted that the frequency of slug problems in cabbage will increase, because more cabbage is being grown in rotation following field corn. The newer varieties of field corn are Bt-tolerant and have tougher stalks that take longer to break down, thus, these fields have more crop residue and are more favorable for slugs. It is worthwhile to investigate whether there are cost effective means for growers to manage sporadic infestations of slugs in cabbage.
View the exciting results from our 2010 trial in the final report that follows.
Swede Midge Website
Julie Kikkert, Team Leader, Extension Vegetable Specialist
Cornell Vegetable Program
Last Modified: June 29, 2010


As swede midge continues to spread to more farms and gardens across the United States, a comprehensive website is available to aid in the identification and management of this pest of cole crops.


Upcoming Events
Agricultural Supervisory Leadership Certificate Program
June 17, 2022
June 23, 2022
June 30, 2022
July 7, 2022
July 14, 2022
July 21, 2022
July 28, 2022

Supervisors are critical to the success of farm businesses. They have a major impact both on employees' daily work experiences and on the production performance of the business. The agricultural Supervisory Leadership certificate helps farm supervisors and managers learn and apply human resource management practices and leadership skills that foster rewarding workplaces and drive business results. Confident managers who thoughtfully apply leadership and management skills improve employee performance, develop teams, reduce employee turnover, and increase employee engagement. The courses within the certificate program will offer extensive practice and engagement activities to build confidence and skill sets.
Getting the Most Out of Every Pass - Calibrating Airblast Sprayers for Best Results
June 29 - June 30, 2022
University of New Hampshire Extension Field Specialist Emeritus, George Hamilton will demonstrate the importance of and best techniques to calibrate air blast sprayers. Proper calibration will ensure effective, efficient, economical and legal spraying. Inadequate spray coverage is usually the cause of poor spray efficacy and additional spray applications. Overuse of some sprays results in unhealthy residues and can lead to fines.
Calibration should be done several times each season, or when you incorporate any new equipment or repairs - from the tractor to the nozzle. Join us for a refresher or send new employees for training. This workshop is open for any grower that relies on an airblast sprayer to deliver plant protectants to fruit or vegetable crops.
Peru Weed Management and Soil Health Field Day

July 20, 2022
Peru, NY
Join us in Peru on July 20th as we discuss orchard weed and soil management! Speakers will be joining us from across Cornell's research and extension teams. Topics will include the results of our herbicide timing trials, new vision-guided technologies for orchard weed spraying, organic weed management options, soil health demonstrations, and a discussion on our statewide orchard soil health survey. DEC credits are pending for this event.
Announcements
Podcasts