Cabbage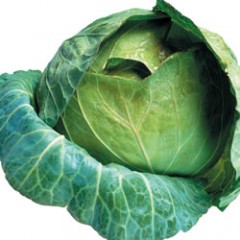 Fertile soils and favorable climate contribute to the impressive production of cabbage in New York State. With more than 12,000 acres grown annually, New York ranks in the top three states nationally for both fresh market and kraut cabbage. Fresh cabbage is sold in retail and wholesale markets and is used for cole slaw, egg rolls and other products. Under the proper conditions, cabbage can be stored through April, making it available nearly year round. There are two large processors in Western, NY (Seneca Foods and Great Lakes Kraut). Kraut cabbage is harvested late in the fall. It is trimmed, shredded, mixed with salt and then fermented in huge vats. The product is then packed in cans, glass jars or sealed plastic bags.
Many varieties are available for fresh market, storage and kraut cabbage. Varieties also differ in their susceptibility to insects and diseases. Cornell Cooperative Extension Educators and Cornell faculty work together annually to conduct research on many aspects of cabbage production in the state. Below you will find educational information and results of our research trials.
Most Recent Cabbage Content
Can it be True?
Chuck Bornt, Team Leader, Extension Vegetable Specialist
Eastern New York Commercial Horticulture
Last Modified: May 2, 2018
A product called LandSpring was labeled in NY back in July of 2017 and may help reduce transplant shock of certain crops. Learn more about what it is and how it works.
LandSpring NYS Label
Chuck Bornt, Team Leader, Extension Vegetable Specialist
Eastern New York Commercial Horticulture
Last Modified: May 1, 2018

Copy of the LandSpring NYS DEC approved label

2018 Eastern New York Fruit & Vegetable Conference Vegetable Presentations
Last Modified: April 2, 2018


Presentations from the 2018 ENYCHP Eastern New York Fruit & Vegetable Conference held February 20th and 21st for the vegetable sections.
More Cabbage Content


Upcoming Events
Pesticide Exam Certification Summer Trainings
July 2 - July 23, 2019
1:30pm - 4:30pm each day
Plattsburgh, NY
2019 Champlain Valley Pesticide Applicator Exam Intensive Training
CCE ENYCHP Horticulture Specialists Mike Basedow and Elisabeth Hodgdon will be offering four afternoons of training to review core concepts and commodity specific items in preparation for the exam.
CCE & Hudson Valley Research Lab Research & Extension Tour
July 26, 2019
12:30pm - 5:00pm
Highland, NY
The Eastern NY Commercial Horticultural Program and Hudson Valley Research Lab are hosting a 2019 Research and Extension Summer Tour on July 26th from 12:30 - 5:00 PM. Beginning at the Highland Research Station Conference Room.
Last Monday Grant Webinar for Fruit and Vegetable Growers - July
July 29, 2019
12:00-1:00
To help disseminate information on grants on a more consistent basis, we will be offering a "current grants" webinar on the last Monday of every month at noon
In order to help focus the program, the webinars will be limited to grants that are relevant to fruit and vegetable farmers in Eastern New York.
There is a possibility of webinars related to grants for experimental crops (i.e. hops and hemp) if it is likely that fruit and vegetable growers would be interested.
Announcements
Podcasts