Radishes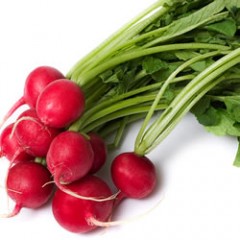 Approximately 154 acres are produced on 57 farms (2007 Census of Ag) in New York. They are harvested from May through September.
Radishes come in many shapes, sizes and colors. Small round types are popular for salads. Radishes with long roots, including daikon varieties are a popular ethnic vegetable that can be eaten fresh or cooked in a variety of ways.
2018 Eastern New York Fruit & Vegetable Conference Vegetable Presentations
Last Modified: April 2, 2018


Presentations from the 2018 ENYCHP Eastern New York Fruit & Vegetable Conference held February 20th and 21st for the vegetable sections.
O-zone Injury on Vegetables
Crystal Stewart-Courtens, Extension Vegetable Specialist
Eastern New York Commercial Horticulture
Last Modified: August 22, 2012


Hot, humid weather with stagnant air masses may lead to ozone damage on crops. Ozone warnings were recently issued for much of New York. These warnings are intended for people with respiratory problems and let them know they should limit their outdoor activity and try to stay as much as possible in air-conditioned locations. These warning are also a good indicator that ozone damage may occur in plants.


Upcoming Events
Soil Health for Vegetable Growers Workshop

November 1, 2023
Essex, NY
Join us for presentations, discussions, and hands-on demonstrations focusing on soil health concepts and best management practices for vegetable growers. Topics include tarping, maintaining soil health in high tunnels, cover cropping, reduced tillage, compost microbiology, and more.
1.75 DEC pesticide recertification credits available in categories 1A, 10, and 23.
Announcements
Podcasts