Radishes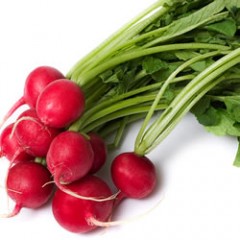 Approximately 154 acres are produced on 57 farms (2007 Census of Ag) in New York. They are harvested from May through September.
Radishes come in many shapes, sizes and colors. Small round types are popular for salads. Radishes with long roots, including daikon varieties are a popular ethnic vegetable that can be eaten fresh or cooked in a variety of ways.
Most Recent Radishes Content
2018 Eastern New York Fruit & Vegetable Conference Vegetable Presentations
Last Modified: April 2, 2018


Presentations from the 2018 ENYCHP Eastern New York Fruit & Vegetable Conference held February 20th and 21st for the vegetable sections.
O-zone Injury on Vegetables
Crystal Stewart, Extension Vegetable Specialist
Eastern New York Commercial Horticulture
Last Modified: August 22, 2012


Hot, humid weather with stagnant air masses may lead to ozone damage on crops. Ozone warnings were recently issued for much of New York. These warnings are intended for people with respiratory problems and let them know they should limit their outdoor activity and try to stay as much as possible in air-conditioned locations. These warning are also a good indicator that ozone damage may occur in plants.
More Radishes Content


Upcoming Events
Pesticide Exam Certification Summer Trainings
July 2 - July 23, 2019
1:30pm - 4:30pm each day
Plattsburgh, NY
2019 Champlain Valley Pesticide Applicator Exam Intensive Training
CCE ENYCHP Horticulture Specialists Mike Basedow and Elisabeth Hodgdon will be offering four afternoons of training to review core concepts and commodity specific items in preparation for the exam.
CCE & Hudson Valley Research Lab Research & Extension Tour
July 26, 2019
12:30pm - 5:00pm
Highland, NY
The Eastern NY Commercial Horticultural Program and Hudson Valley Research Lab are hosting a 2019 Research and Extension Summer Tour on July 26th from 12:30 - 5:00 PM. Beginning at the Highland Research Station Conference Room.
Last Monday Grant Webinar for Fruit and Vegetable Growers - July
July 29, 2019
12:00-1:00
To help disseminate information on grants on a more consistent basis, we will be offering a "current grants" webinar on the last Monday of every month at noon
In order to help focus the program, the webinars will be limited to grants that are relevant to fruit and vegetable farmers in Eastern New York.
There is a possibility of webinars related to grants for experimental crops (i.e. hops and hemp) if it is likely that fruit and vegetable growers would be interested.
Announcements
Podcasts