Grapes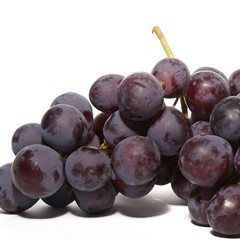 Grapes are thought to have been first cultivated more than 7,000 years ago near present-day Iran. New York ranks third in wine and grape production in the U.S. (California and Washington are the top two). The 2012 Census of Agriculture reports that there are about 1200 farms with about 36,000 acres of land dedicated to grape production in New York State. Greater than half of these farms produce grapes on less than 25 acres. Eastern New York, a relative newcomer to commercial grape production, has 650 acres under cultivation.
There are four major wine producing regions in New York (Lake Erie, Finger Lakes, Hudson Valley, and Long Island). These areas are officially recognized by the Federal Tax and Trade Bureau. Improvement in cold hardiness of grape cultivars and increased consumer interest in local wine production has allowed wine trails in non-traditional grape regions to flourish (e.g. Lake Champlain Region). A small amount of acreage is even being devoted to table grapes.
The total New York grape crop value was estimated at $52.3 million at the time of the census. Grapes processed into juice accounted for 62% of the total production, with the remaining 36% and 2% going to wine and fresh market respectively.
For more information about grape production, please visit the Cornell Grape website at
http://www.fruit.cornell.edu/grape/index.htm
.
Relevant Event
Apple Leafcurling Midge IPM Webinar

February 16, 2023
Heritage Wines of the Hudson Valley
Jim Meyers, Viticulture Specialist
Eastern New York Commercial Horticulture
Last Modified: January 27, 2022
'Early Season Grape Disease Management, Spring 2020' by Katie Gold
Jim Meyers, Viticulture Specialist
Eastern New York Commercial Horticulture
Last Modified: July 27, 2020
SWD Insecticides Quick Guide 2020
Laura McDermott, Team Leader, Small Fruit and Vegetable Specialist
Eastern New York Commercial Horticulture
Last Modified: June 16, 2020
Onion and Seed Corn Maggot Concerns in a Cold, Wet Spring
Crystal Stewart-Courtens, Extension Vegetable Specialist
Eastern New York Commercial Horticulture
Last Modified: April 18, 2018
Eastern Promises: Appellations and Precision
Jim Meyers, Viticulture Specialist
Eastern New York Commercial Horticulture
Last Modified: April 13, 2018
NEWA Workshop Program Key Takeaways
Last Modified: April 6, 2018
2018 Eastern New York Fruit & Vegetable Conference Vegetable Presentations
Last Modified: April 2, 2018
Labeled Insecticides for Control of Spotted Wing Drosophila in New York Berries
Last Modified: June 22, 2017
2017 Grape Disease Control
Anna Wallis, Tree Fruit and Grape Specialist
Eastern New York Commercial Horticulture
Last Modified: May 31, 2017
Eastern NY Grape Industry Growth Prompts Marketing Initiatives,Specialist Hiring
Anne Mills, Field Technician
Eastern New York Commercial Horticulture
Last Modified: April 18, 2017
Bird Damage in Tree Fruits
Anne Mills, Field Technician
Eastern New York Commercial Horticulture
Last Modified: February 27, 2017
Bird Damage Q&A
Anne Mills, Field Technician
Eastern New York Commercial Horticulture
Last Modified: February 27, 2017
Installing and Monitoring American Kestrel Nest Boxes in Orchards
Anne Mills, Field Technician
Eastern New York Commercial Horticulture
Last Modified: February 27, 2017
Grapevine Nutrition & Vineyard Nutrient Management
Anne Mills, Field Technician
Eastern New York Commercial Horticulture
Last Modified: February 21, 2017
HVRL Vineyard Update
Anne Mills, Field Technician
Eastern New York Commercial Horticulture
Last Modified: February 21, 2017
2016 Spider Mites and Dry Hot Weather
Anna Wallis, Tree Fruit and Grape Specialist
Eastern New York Commercial Horticulture
Last Modified: August 11, 2016
2016 Grape Disease Control
Anna Wallis, Tree Fruit and Grape Specialist
Eastern New York Commercial Horticulture
Last Modified: May 18, 2016
2016 NENY & VT Winter Grape School Presentations
Anna Wallis, Tree Fruit and Grape Specialist
Eastern New York Commercial Horticulture
Last Modified: April 5, 2016
Fruit School 2016 - Andy Senesac's Vineyard Weed Managemtent Presentation
Jim O'Connell, Small Fruit and Grape Specialist
Eastern New York Commercial Horticulture
Last Modified: March 25, 2016
Fruit School 2016 - FROST BLANKETS FOR TENDER VINIFERA
Jim O'Connell, Small Fruit and Grape Specialist
Eastern New York Commercial Horticulture
Last Modified: March 25, 2016
Fruit School 2016 - Grapevine Leaf roller & Grape Mealy bugs
Jim O'Connell, Small Fruit and Grape Specialist
Eastern New York Commercial Horticulture
Last Modified: March 25, 2016
Fruit School 2016 -GRAPE BERRY MOTH PRESENTATION
Jim O'Connell, Small Fruit and Grape Specialist
Eastern New York Commercial Horticulture
Last Modified: March 25, 2016
Vineyard Pest Management - Webinar Recording 5/13/15
Anna Wallis, Tree Fruit and Grape Specialist
Eastern New York Commercial Horticulture
Last Modified: May 14, 2015
Navigating the NYS DEC: How to Get Your Certified Pesticide Applicator License
Jim O'Connell, Small Fruit and Grape Specialist
Eastern New York Commercial Horticulture
Last Modified: May 13, 2015
2015 Grape Disease Control
Anna Wallis, Tree Fruit and Grape Specialist
Eastern New York Commercial Horticulture
Last Modified: May 11, 2015
2014 Veraison to Harvest Issue #10 (pdf)
Jim O'Connell, Small Fruit and Grape Specialist
Eastern New York Commercial Horticulture
Last Modified: November 24, 2014
2014 Veraison to Harvest Issue #7 (pdf)
Jim O'Connell, Small Fruit and Grape Specialist
Eastern New York Commercial Horticulture
Last Modified: November 24, 2014
2014 Veraison to Harvest Issue #8 (pdf)
Jim O'Connell, Small Fruit and Grape Specialist
Eastern New York Commercial Horticulture
Last Modified: November 24, 2014
2014 Veraison to Harvest Issue #9 (pdf)
Jim O'Connell, Small Fruit and Grape Specialist
Eastern New York Commercial Horticulture
Last Modified: November 24, 2014
2014 Veraison to Harvest Issue #6 (pdf)
Jim O'Connell, Small Fruit and Grape Specialist
Eastern New York Commercial Horticulture
Last Modified: October 6, 2014
2014 Veraison to Harvest Issue #5 (pdf)
Jim O'Connell, Small Fruit and Grape Specialist
Eastern New York Commercial Horticulture
Last Modified: September 26, 2014
2014 Veraison to Harvest Issue #4 (pdf)
Jim O'Connell, Small Fruit and Grape Specialist
Eastern New York Commercial Horticulture
Last Modified: September 22, 2014
2014 Veraison to Harvest Issue #3 (pdf)
Jim O'Connell, Small Fruit and Grape Specialist
Eastern New York Commercial Horticulture
Last Modified: September 17, 2014
2014 Veraison to Harvest Issue #2 (pdf)
Jim O'Connell, Small Fruit and Grape Specialist
Eastern New York Commercial Horticulture
Last Modified: September 8, 2014
Hudson Valley Grapes Program Blog
Jim O'Connell, Small Fruit and Grape Specialist
Eastern New York Commercial Horticulture
Last Modified: August 25, 2014
DEPARTMENT OF AGRICULTURE AND MARKETS ANNOUNCES ACTIONS TO ASSIST FARM WINERIES
Jim O'Connell, Small Fruit and Grape Specialist
Eastern New York Commercial Horticulture
Last Modified: August 19, 2014
Spotted Wing Drosophila Found
Jim O'Connell, Small Fruit and Grape Specialist
Eastern New York Commercial Horticulture
Last Modified: July 25, 2014


Upcoming Events
SAVE THE DATES
December 13 - December 15, 2022February 2 - February 8, 2023February 21 - February 23, 2023
Save the Dates for the following Winter Meetings:
NOFA NY Virtual Winter Conference, February 2-5, 2023
Empire State Expo, Oncenter Syracuse, February 6-7 2023
Becker Forum, Oncenter Syracuse, February 8, 2023
Eastern NY Commercial Horticulture Program Regional Winter Meeting, The Desmond Hotel, Albany, February 21-23, 2023
How Profitable Will My New Orchard Investment Be? 1-day, hands-on skills class in the Hudson Valley
February 7, 2023
Highland, NY
The Eastern NY Commercial Hort Team and the Lake Ontario Fruit Team are offering a 1-day, hands-on course for tree fruit farms on using farm financial information and other resources to make decisions about long-term investments or changes to their business. We will apply the techniques covered in the 8-part webinar series in December to scenarios using sample financial data from fruit farms in NYS. You will work with others in a group through a series of problems and leave with a better sense of how you can organize and interpret your own financial information to make better long-term investment decisions about your farm business. THIS SESSION IS AT THE CORNELL HUDSON VALLEY LAB
How Profitable Will My New Orchard Investment Be? 1-day, hands-on skills class in Northern NY
February 9, 2023
Plattsburgh, NY
The Eastern NY Commercial Hort Team and the Lake Ontario Fruit Team are offering a 1-day, hands-on course for tree fruit farms on using farm financial information and other resources to make decisions about long-term investments or changes to their business. We will apply the techniques covered in the 8-part webinar series in December to scenarios using sample financial data from fruit farms in NYS. You will work with others in a group through a series of problems and leave with a better sense of how you can organize and interpret your own financial information to make better long-term investment decisions about your farm business. THIS SESSION IS AT THE CCE CLINTON COUNTY OFFICE
Announcements
Podcasts