Grapes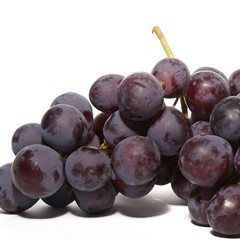 Grapes are thought to have been first cultivated more than 7,000 years ago near present-day Iran. New York ranks third in wine and grape production in the U.S. (California and Washington are the top two). The 2012 Census of Agriculture reports that there are about 1200 farms with about 36,000 acres of land dedicated to grape production in New York State. Greater than half of these farms produce grapes on less than 25 acres. Eastern New York, a relative newcomer to commercial grape production, has 650 acres under cultivation.
There are four major wine producing regions in New York (Lake Erie, Finger Lakes, Hudson Valley, and Long Island). These areas are officially recognized by the Federal Tax and Trade Bureau. Improvement in cold hardiness of grape cultivars and increased consumer interest in local wine production has allowed wine trails in non-traditional grape regions to flourish (e.g. Lake Champlain Region). A small amount of acreage is even being devoted to table grapes.
The total New York grape crop value was estimated at $52.3 million at the time of the census. Grapes processed into juice accounted for 62% of the total production, with the remaining 36% and 2% going to wine and fresh market respectively.
For more information about grape production, please visit the Cornell Grape website at
http://www.fruit.cornell.edu/grape/index.htm
.
Most Recent Grapes Content
Eastern Promises: Appellations and Precision
Jim Meyers, Viticulture Specialist
Eastern New York Commercial Horticulture
Last Modified: April 13, 2018

Quanitfying drivers of diversity in Eastern New York
NEWA Workshop Program Key Takeaways
Last Modified: April 6, 2018

ENYCHP hosted a NEWA training workshop in Voorheesville in April 2018. Here are some of the main takeaways from the training.
2018 Eastern New York Fruit & Vegetable Conference Vegetable Presentations
Last Modified: April 2, 2018


Presentations from the 2018 ENYCHP Eastern New York Fruit & Vegetable Conference held February 20th and 21st for the vegetable sections.
More Grapes Content


Upcoming Events
Tarping for Reduced Tillage Workshop
November 2 - November 19, 2019

Are you a vegetable farmer already using tarps? Or are you wondering if and how tarps could work best on your farm?

The Cornell Small Farms Program is excited to announce a series of workshops on tarping for reduced tillage in small-scale vegetable systems, to be held in Maine and New York this fall. The Reduced Tillage (RT) project of the Cornell Small Farms Program supports farmers in adopting scale-appropriate RT practices that can lead to healthy, productive soils and greater profitability. Through the evaluation of novel tools and methods using systems-based field research and on-farm trials, the project helps farmers learn about the approaches that can work for their farm. This work is accomplished in collaboration with the University of Maine, and with support from Northeast SARE.

Winter Greens High Tunnel Tour
November 13, 2019
9:30am - 4:00pm
Willsboro, NY
Join us for a tour of overwintered high tunnel greens. Our first stop will be the Willsboro Research Farm, where we will visit our spinach nitrogen fertility experiment, discuss research results, and view a sous vide hot water seed treatment demonstration. Following an early lunch, we will carpool across the lake via the ferry to the Intervale Community Farm in Burlington, Vermont. The Intervale has been providing organic vegetables to the greater Burlington area for 30 years and has a 600 member CSA. Farm manager Andy Jones will discuss their evolving winter greens production practices, including variety selection, soil fertility, irrigation, and food safety practices. After touring their high tunnels and new wash/pack shed, we will return to Willsboro.
Learn About Using the H-2A Program on Small Farms
November 18, 2019
1:30pm - 4:00pm
Schenectady, NY
Are you worried about labor next season on your farm?
Are you wondering if the H-2A program will make sense on your farm?
The H-2A program allows US employers who meet specific regulatory requirements to bring foreign nationals to the US to fill temporary agricultural jobs. Join us to learn about how to use the H-2A program on small farms. Learn from US DOL H-2A staff and a CSA vegetable farmer, with experience using H-2A, about what it takes to use the program.
Announcements
Podcasts