Grapes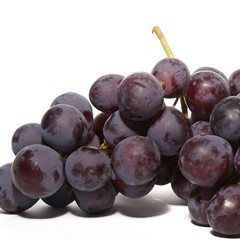 Grapes are thought to have been first cultivated more than 7,000 years ago near present-day Iran. New York ranks third in wine and grape production in the U.S. (California and Washington are the top two). The 2012 Census of Agriculture reports that there are about 1200 farms with about 36,000 acres of land dedicated to grape production in New York State. Greater than half of these farms produce grapes on less than 25 acres. Eastern New York, a relative newcomer to commercial grape production, has 650 acres under cultivation.
There are four major wine producing regions in New York (Lake Erie, Finger Lakes, Hudson Valley, and Long Island). These areas are officially recognized by the Federal Tax and Trade Bureau. Improvement in cold hardiness of grape cultivars and increased consumer interest in local wine production has allowed wine trails in non-traditional grape regions to flourish (e.g. Lake Champlain Region). A small amount of acreage is even being devoted to table grapes.
The total New York grape crop value was estimated at $52.3 million at the time of the census. Grapes processed into juice accounted for 62% of the total production, with the remaining 36% and 2% going to wine and fresh market respectively.
For more information about grape production, please visit the Cornell Grape website at
http://www.fruit.cornell.edu/grape/index.htm
.
Most Recent Grapes Content
Eastern Promises: Appellations and Precision
Jim Meyers, Viticulture Specialist
Eastern New York Commercial Horticulture
Last Modified: April 13, 2018

Quanitfying drivers of diversity in Eastern New York
NEWA Workshop Program Key Takeaways
Last Modified: April 6, 2018

ENYCHP hosted a NEWA training workshop in Voorheesville in April 2018. Here are some of the main takeaways from the training.
2018 Eastern New York Fruit & Vegetable Conference Vegetable Presentations
Last Modified: April 2, 2018


Presentations from the 2018 ENYCHP Eastern New York Fruit & Vegetable Conference held February 20th and 21st for the vegetable sections.
More Grapes Content


Upcoming Events
Pesticide Exam Certification Summer Trainings
July 2 - July 23, 2019
1:30pm - 4:30pm each day
Plattsburgh, NY
2019 Champlain Valley Pesticide Applicator Exam Intensive Training
CCE ENYCHP Horticulture Specialists Mike Basedow and Elisabeth Hodgdon will be offering four afternoons of training to review core concepts and commodity specific items in preparation for the exam.
CCE & Hudson Valley Research Lab Research & Extension Tour
July 26, 2019
12:30pm - 5:00pm
Highland, NY
The Eastern NY Commercial Horticultural Program and Hudson Valley Research Lab are hosting a 2019 Research and Extension Summer Tour on July 26th from 12:30 - 5:00 PM. Beginning at the Highland Research Station Conference Room.
Last Monday Grant Webinar for Fruit and Vegetable Growers - July
July 29, 2019
12:00-1:00
To help disseminate information on grants on a more consistent basis, we will be offering a "current grants" webinar on the last Monday of every month at noon
In order to help focus the program, the webinars will be limited to grants that are relevant to fruit and vegetable farmers in Eastern New York.
There is a possibility of webinars related to grants for experimental crops (i.e. hops and hemp) if it is likely that fruit and vegetable growers would be interested.
Announcements
Podcasts