Lettuce / Leafy Greens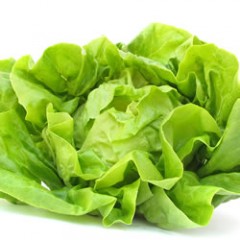 Two dozen or more types of leafy greens are grown in New York, primarily for fresh market production. According to the 2007 Census of Agriculture, 224 New York farms produced 1,398 acres of lettuce. Leaf lettuce is the most widely grown with 758 acres, followed by 381 acres of head lettuce and 260 acres of romaine lettuce. Lettuce is grown for local sales as well as large wholesale markets in the Northeastern, US.
Other popular greens are spinach (247 acres), collards (96 acres), escarole & endive (75 acres), kale (57 acres), mustard greens (36 acres) and turnip greens (16 acres). Additional types for which no statistical information is available include: arugula, beet greens, bok choy, dandelion greens, radiccho, rapini, swiss chard and watercress.
Field-grown greens are available beginning from May through mid-October (depending on the type). However, the season can be extended by growing in tunnels protected from harsh winter temperatures.
Most Recent Lettuce / Leafy Greens Content
2017 and 2018 Lettuce Variety Trial Results
Crystal Stewart, Extension Vegetable Specialist
Eastern New York Commercial Horticulture
Last Modified: January 17, 2019

During the past two seasons we conducted trials of primarily Romaine lettuces to determine heat tolerance as measured by bolting and bitterness. Our trials were located at Pleasant Valley Farm in Washington County. During 2017 we planted three successions. One seeding failed due to a greenhouse malfunction; the other two were transplanted in mid-June and early August, about three weeks after seeding. In 2018 we seeded successions on March 28th, July 15th, and August 1st, all of which yielded good harvests. These trials are more observational than research oriented, and included only one replication per planting.
2018 Summer Romaine Lettuce Variety Trial
Crystal Stewart, Extension Vegetable Specialist
Eastern New York Commercial Horticulture
Last Modified: December 18, 2018

This year's lettuce variety trial was conducted at Pleasant Valley Farm in Argyle, NY. The main goal of the trial was to evaluate romaine varieties to see which would perform well in hot summer conditions. We had three plantings over the summer. This report summarizes all information collected from the trial.
Recording of High Tunnel Veg Research Webinar 11/29/18
Amy Ivy, Vegetable Specialist
Eastern New York Commercial Horticulture
Last Modified: November 29, 2018

This is a recording of an hour long webinar held by Amy Ivy of the Eastern NY Commercial Horticulture Program, Judson Reid of the Cornell Vegetable Program and Mike Davis of the Cornell University Willsboro Research Farm on Nov 29, 2018.
A copy of the PowerPoint is included in the 'read details' section below. With funding from the Northern NY Agricultural Development Program.
More Lettuce / Leafy Greens Content


Upcoming Events
Pesticide Exam Certification Summer Trainings
July 2 - July 23, 2019
1:30pm - 4:30pm each day
Plattsburgh, NY
2019 Champlain Valley Pesticide Applicator Exam Intensive Training
CCE ENYCHP Horticulture Specialists Mike Basedow and Elisabeth Hodgdon will be offering four afternoons of training to review core concepts and commodity specific items in preparation for the exam.
CCE & Hudson Valley Research Lab Research & Extension Tour
July 26, 2019
12:30pm - 5:00pm
Highland, NY
The Eastern NY Commercial Horticultural Program and Hudson Valley Research Lab are hosting a 2019 Research and Extension Summer Tour on July 26th from 12:30 - 5:00 PM. Beginning at the Highland Research Station Conference Room.
Last Monday Grant Webinar for Fruit and Vegetable Growers - July
July 29, 2019
12:00-1:00
To help disseminate information on grants on a more consistent basis, we will be offering a "current grants" webinar on the last Monday of every month at noon
In order to help focus the program, the webinars will be limited to grants that are relevant to fruit and vegetable farmers in Eastern New York.
There is a possibility of webinars related to grants for experimental crops (i.e. hops and hemp) if it is likely that fruit and vegetable growers would be interested.
Announcements
Podcasts