Parsnips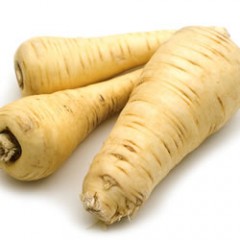 Parsnips are a minor crop in New York, but can be found at farmer's markets and retail stands. They are harvested in April and May or from October through December. Parsnips can be stored over the winter and are a good crop for winter farmers markets. Parsnips are a member of the Apiaceae or carrot family. They are grown much the same way as are carrots and are susceptible to many of the same diseases and insects. Like carrots they require a deep, well-drained soil. They can be grown on either mineral or muck soils.
A good summary of parsnip production can be found at the
Ontario Ministry of Agriculture, Food and Rural Affairs website
.
Most Recent Parsnips Content
2018 Eastern New York Fruit & Vegetable Conference Vegetable Presentations
Last Modified: April 2, 2018


Presentations from the 2018 ENYCHP Eastern New York Fruit & Vegetable Conference held February 20th and 21st for the vegetable sections.
Winter Storage Keys to Success - Vegetable Crops
Last Modified: November 29, 2017


Key topics covered:

- Growing a healthy Crop and keeping it that way in storage
- Storage conditions
- Construction of coolers
- Controls and Thermostats
- Monitoring and more advanced controls
O-zone Injury on Vegetables
Crystal Stewart, Extension Vegetable Specialist
Eastern New York Commercial Horticulture
Last Modified: August 22, 2012


Hot, humid weather with stagnant air masses may lead to ozone damage on crops. Ozone warnings were recently issued for much of New York. These warnings are intended for people with respiratory problems and let them know they should limit their outdoor activity and try to stay as much as possible in air-conditioned locations. These warning are also a good indicator that ozone damage may occur in plants.
More Parsnips Content


Upcoming Events
Pumpkin Variety Trial Meeting (Northern Location)
October 24, 2018
1:00pm- 3:00pm
Melrose, NY
Join Chuck Bornt and Teresa Rusinek from CCE ENYCHP for our 2018 pumpkin variety trial results. We trialed 48 different pumpkin varieties of various shapes and sizes, from different companies. Come on out and see how they look!


Pumpkin Variety Trial Meeting (Southern Location)
October 25, 2018
1:00pm- 3:00pm
Kingston, NY
Join Chuck Bornt and Teresa Rusinek from CCE ENYCHP for our 2018 pumpkin variety trial results. We trialed 48 different pumpkin varieties of various shapes and sizes, from different companies. Come on out and see how they look!


Grow a Successful Agritourism Business! Managing Your Human Resource Risk From Agritourism
October 26, 2018
10:00am - 2:30pm
Highland, NY
Bringing visitors to your farm can create new income streams but agritourism can also be a source of risk to your farm business. Five lunchtime seminars will teach how to assess and manage different risks to help develop a successful agritourism business. The seminars will be followed by a panel of successful agritourism operators. In-between each seminar, participants will build on their knowledge to develop their own risk management plan. This 5-county program will be offered simultaneously in Delaware (the host county), and by Zoom technology in Otsego/Schoharie, Sullivan and Ulster Counties. The Ulster County site, hosted by Liz Higgins of the Eastern NY Commercial Hort Team, will be at the Hudson Valley Lab

Announcements
Check out the Updated Labeled Insecticides for SWD
Labeled Insecticides for Control of Spotted Wing Drosophila in New York Berry Crops - Quick Guide Compiled by Greg Loeb, Laura McDermott, Peter Jentsch & Juliet Carroll, Cornell University. Updated regularly. Check it out at this link!
New Resources from CCE ENYCHP!
We are developing new ways to connect with the CCE ENYCHP team this year!
We have a Youtube page located at this link
. Check out videos on Table Grape Production, Pest Updates and the 20 Minute Ag Manager - in 4 Minutes series.
There are also text alerts available.
Fruit and vegetable farmers in 17 Eastern NY counties can now receive real time alerts on high risk disease and pest outbreaks texted directly to their cell phone. The Eastern NY Commercial Horticulture program, which is supported by local Cornell Cooperative Extension associations, will now offer text alerts to those that sign up.
The text alerts will be reserved for important crop alerts that could impact management decisions immediately. For instance, if there were an outbreak of Late Blight in the area, this would be transmitted to vegetable growers.
Farmers can choose the crop for which they wish to receive updates. Additionally they can request that Ag Business Alerts be sent to them. These alerts might include due dates for crop insurance deadlines, market opportunities etc.
Text alerts are easy to access. Just click on the link below and fill out a very short registration form. It takes just seconds to do - access to important information has never been so easy!!

If you have questions, please contact Abby Henderson at 518-746-2553 or email her at aef225@cornell.edu.

Confused by the WPS (Worker Protection Standard)?
Please take note: WPS pertains to all farms-organic and conventional! To be sure that you are complying with these regulations, please view the EPA link below:
https://www.epa.gov/sites/production/files/2015-09/documents/comparison-chart-wps.pdf
Eastern New York Commercial Horticulture - Cornell Cooperative Extension
Your Trusted Source for Research-Based Knowledge