Strawberries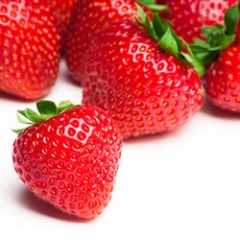 New York State ranks 8th in the nation in strawberry production. Statewide there are over 1700 acres in production yielding 3.6 million pounds with a cash value of nearly 8.5 million dollars. The vast majority of the crop is sold from late May into early July as part of the June bearing crop that is grown in a perennial matted row system. This crop has a significant emotional bond with consumers. Strawberries have long been the first locally grown crop of the season. Picking strawberries is one of the most popular agricultural activities in upstate NY with most communities hosting delicious strawberry festivals. Ninety-five percent of the crop is sold this way, often picked by customers and always for immediate fresh consumption. The remaining 5% of the crop is used for value-added processing.
With the advent of ever-bearing (also called day neutral) varieties many strawberry farmers have been able to offer NY consumers high quality, locally grown fresh strawberries later in the season - from August to November. Other production innovations include growing on plastic mulch to help reduce herbicide inputs and growing strawberries in high tunnels to lower the incidence of botrytis gray mold and other pests.
For more information about strawberry production, visit the
Cornell Berry website
.
Relevant Event
Apple Leafcurling Midge IPM Webinar

February 16, 2023
2022 SWD Quick Guide
Laura McDermott, Team Leader, Small Fruit and Vegetable Specialist
Eastern New York Commercial Horticulture
Last Modified: June 17, 2022
First Year Impressions: Using Low Tunnels to Improve June-Bearing Strawberries
Laura McDermott, Team Leader, Small Fruit and Vegetable Specialist
Eastern New York Commercial Horticulture
Last Modified: January 27, 2022
Fall Weed Control in Berry Crops
Laura McDermott, Team Leader, Small Fruit and Vegetable Specialist
Eastern New York Commercial Horticulture
Last Modified: October 27, 2021
Keeping Plants Clean from Viruses
Laura McDermott, Team Leader, Small Fruit and Vegetable Specialist
Eastern New York Commercial Horticulture
Last Modified: October 27, 2021
SWD Insecticides Quick Guide 2020
Laura McDermott, Team Leader, Small Fruit and Vegetable Specialist
Eastern New York Commercial Horticulture
Last Modified: June 16, 2020
Understanding Strawberry Root Problems That Impact Berry Farm Profitability
Laura McDermott, Team Leader, Small Fruit and Vegetable Specialist
Eastern New York Commercial Horticulture
Last Modified: January 17, 2019
Overwintering Strawberries - Timing of Fall Mulch Application and Spring Removal
Laura McDermott, Team Leader, Small Fruit and Vegetable Specialist
Eastern New York Commercial Horticulture
Last Modified: November 2, 2018
Labeled Insecticides for Control of Spotted Wing Drosophila
Laura McDermott, Team Leader, Small Fruit and Vegetable Specialist
Eastern New York Commercial Horticulture
Last Modified: June 20, 2018
Spray Guidelines to Manage Fungicide Resistance
Laura McDermott, Team Leader, Small Fruit and Vegetable Specialist
Eastern New York Commercial Horticulture
Last Modified: May 11, 2018
Weed Management in Strawberries - an IPM Approach - Video
Last Modified: April 9, 2018
2018 Eastern New York Fruit & Vegetable Conference Small Fruit Presentations
Last Modified: April 2, 2018
Labeled Insecticides for Control of Spotted Wing Drosophila in New York Berries
Last Modified: June 22, 2017
Insecticides to Control Spotted Wing Drosophila
Last Modified: July 16, 2016
2016 Berry School - Disease Diagnosis Talk
Anne Mills, Field Technician
Eastern New York Commercial Horticulture
Last Modified: March 25, 2016
2016 Berry School - Disease Management Talk
Anne Mills, Field Technician
Eastern New York Commercial Horticulture
Last Modified: March 25, 2016
Berry School 2016- Small Fruit Resources
Anne Mills, Field Technician
Eastern New York Commercial Horticulture
Last Modified: March 25, 2016
The Commercial Storage of Fruits, Vegetables, and Florist and Nursery Stocks
Craig Kahlke, Team Leader, Fruit Quality Management
Lake Ontario Fruit Program
Last Modified: January 13, 2014
Strawberry Specific Insecticides for SWD
Last Modified: May 31, 2013
Spotted Winged Drosophila found locally and throughout New York and New England
Laura McDermott, Team Leader, Small Fruit and Vegetable Specialist
Eastern New York Commercial Horticulture
Last Modified: August 7, 2012
Designing a Better Sprayer for Pesticide Application in Strawberries
Laura McDermott, Team Leader, Small Fruit and Vegetable Specialist
Eastern New York Commercial Horticulture
Last Modified: April 2, 2012


Upcoming Events
SAVE THE DATES
December 13 - December 15, 2022February 2 - February 8, 2023February 21 - February 23, 2023
Save the Dates for the following Winter Meetings:
NOFA NY Virtual Winter Conference, February 2-5, 2023
Empire State Expo, Oncenter Syracuse, February 6-7 2023
Becker Forum, Oncenter Syracuse, February 8, 2023
Eastern NY Commercial Horticulture Program Regional Winter Meeting, The Desmond Hotel, Albany, February 21-23, 2023
How Profitable Will My New Orchard Investment Be? 1-day, hands-on skills class in the Hudson Valley
February 7, 2023
Highland, NY
The Eastern NY Commercial Hort Team and the Lake Ontario Fruit Team are offering a 1-day, hands-on course for tree fruit farms on using farm financial information and other resources to make decisions about long-term investments or changes to their business. We will apply the techniques covered in the 8-part webinar series in December to scenarios using sample financial data from fruit farms in NYS. You will work with others in a group through a series of problems and leave with a better sense of how you can organize and interpret your own financial information to make better long-term investment decisions about your farm business. THIS SESSION IS AT THE CORNELL HUDSON VALLEY LAB
How Profitable Will My New Orchard Investment Be? 1-day, hands-on skills class in Northern NY
February 9, 2023
Plattsburgh, NY
The Eastern NY Commercial Hort Team and the Lake Ontario Fruit Team are offering a 1-day, hands-on course for tree fruit farms on using farm financial information and other resources to make decisions about long-term investments or changes to their business. We will apply the techniques covered in the 8-part webinar series in December to scenarios using sample financial data from fruit farms in NYS. You will work with others in a group through a series of problems and leave with a better sense of how you can organize and interpret your own financial information to make better long-term investment decisions about your farm business. THIS SESSION IS AT THE CCE CLINTON COUNTY OFFICE
Announcements
Podcasts