Pears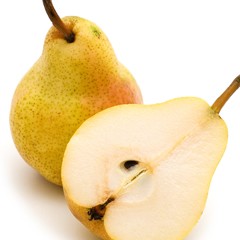 Commercial pear production is concentrated in the Pacific Northwest. New York grows approximately 1200 acres of pears, nearly half of which are located in eastern NY. European type pears predominately grown in the state including varieties like Bartlett, Bosc and D'Anjou. Asian pears, also known as "apple-pears" because of their apple-like texture, are grown on a few fresh market operations.
U.S. per capita consumption of fresh pears was 3.2 pounds in 2009. Per capita consumption of all pear products was about 7 pounds in 2010. About 60 percent of the U.S. pear crop is sold as fresh and 40 percent is processed, primarily in the form of canned product.
Over the last 20 years, Cornell research and extension projects have helped growers increase yields and fruit quality by increasing tree densities and improving labor efficiency. We estimate that profitability of new high density orchards is 100 to 300% greater than the traditional low-density orchards. For more information about tree fruit production, please visit the Cornell Tree Fruit website at
http://www.fruit.cornell.edu/tree_fruit/index.htm.
Prepping Your Air Blast Sprayer for Spring
Mike Basedow, Tree Fruit Specialist
Eastern New York Commercial Horticulture
Last Modified: March 12, 2020
Sprayers must be regularly checked over to ensure that proper maintenance has been carried out and that no outstanding repairs need to be done. Faulty sprayers contribute to increased drift levels and waste money through inefficiency and overuse of chemicals.
2019 Eastern New York Fruit & Vegetable Conference Tree Fruit Presentations
Last Modified: April 3, 2019

Presentations from the 2019 ENYCHP Eastern New York Fruit & Vegetable Conference held February 19-21 for the tree fruit sections.
2018 Eastern New York Fruit & Vegetable Conference Tree Fruit Presentations
Last Modified: April 6, 2018


Presentations from the 2018 ENYCHP Eastern New York Fruit & Vegetable Conference held February 20th and 21st for the tree fruit sections.
New fungicides labeled for use in tree fruit - all Special Local Needs Labels
Deborah Breth, Integrated Pest Management
Lake Ontario Fruit Program
Last Modified: April 9, 2014

The new class of fungicides, SDHI's, are now registered for use in tree fruit. Fontelis was registered last season, and Luna Tranquility and Merivon were registered this spring. They are all registered in NY as "Restricted Use" fungicides. Due to the special restrictions for use in NY, they also are Special Local Need registrations. In order to apply these materials you must have a copy of the label and the SLN label in your possession. You can access these SLN and label to study or print at these links.

The Commercial Storage of Fruits, Vegetables, and Florist and Nursery Stocks
Craig Kahlke, Team Leader, Fruit Quality Management
Lake Ontario Fruit Program
Last Modified: January 13, 2014

The information contained in this preliminary version of HB-66 has been assembled from information prepared by nearly 100 authors from around the world. The version posted here is a revised copy of a Draft made available online in November 2002 for author and public review and comment.


Upcoming Events
Agricultural Supervisory Leadership Certificate Program
June 17, 2022
June 23, 2022
June 30, 2022
July 7, 2022
July 14, 2022
July 21, 2022
July 28, 2022

Supervisors are critical to the success of farm businesses. They have a major impact both on employees' daily work experiences and on the production performance of the business. The agricultural Supervisory Leadership certificate helps farm supervisors and managers learn and apply human resource management practices and leadership skills that foster rewarding workplaces and drive business results. Confident managers who thoughtfully apply leadership and management skills improve employee performance, develop teams, reduce employee turnover, and increase employee engagement. The courses within the certificate program will offer extensive practice and engagement activities to build confidence and skill sets.
Getting the Most Out of Every Pass - Calibrating Airblast Sprayers for Best Results
June 29 - June 30, 2022
University of New Hampshire Extension Field Specialist Emeritus, George Hamilton will demonstrate the importance of and best techniques to calibrate air blast sprayers. Proper calibration will ensure effective, efficient, economical and legal spraying. Inadequate spray coverage is usually the cause of poor spray efficacy and additional spray applications. Overuse of some sprays results in unhealthy residues and can lead to fines.
Calibration should be done several times each season, or when you incorporate any new equipment or repairs - from the tractor to the nozzle. Join us for a refresher or send new employees for training. This workshop is open for any grower that relies on an airblast sprayer to deliver plant protectants to fruit or vegetable crops.
Peru Weed Management and Soil Health Field Day

July 20, 2022
Peru, NY
Join us in Peru on July 20th as we discuss orchard weed and soil management! Speakers will be joining us from across Cornell's research and extension teams. Topics will include the results of our herbicide timing trials, new vision-guided technologies for orchard weed spraying, organic weed management options, soil health demonstrations, and a discussion on our statewide orchard soil health survey. DEC credits are pending for this event.
Announcements
Podcasts