Garlic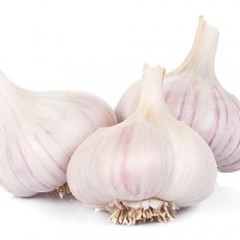 Garlic production has increased significantly in New York over the last few decades, and garlic is now considered to be an important niche crop. In 1992, only 11 acres of garlic were reported in New York, but by 1997 the number grew to 153 acres and by 2007 it again doubled to 306 acres. Garlic is currently estimated to be a $20 million dollar crop. New York is the fifth largest garlic producing state in the country, and ten percent of all New York vegetable farms report growing garlic. That is a higher percentage of growers than for broccoli, cabbage, carrots, lettuce, or onions.
Garlic is sold at farmers' markets from mid-summer to the fall throughout the state. Garlic is also sold at festivals which take place throughout the Northeast from August through October. New York's largest festival is in Saugerties, in September. Festivals are important outlets for growers and important agrotourism events for the cities that host them.
Varieties of garlic grown in New York tend to be different from those you will find in the grocery store. New York is known for excellent 'hardneck' garlic, which has a hard stalk running through the center of the bulb. The flavor of our hardneck garlic is often considered to be stronger and more unique than the flavor of 'softneck' varieties found in the grocery store and grown primarily on the West Coast or in China.
Relevant Event
Apple Leafcurling Midge IPM Webinar

February 16, 2023
Eriophyid mites- micro-sourge of garlic
Crystal Stewart-Courtens, Extension Vegetable Specialist
Eastern New York Commercial Horticulture
Last Modified: April 20, 2019
Garlic post-harvest handling year two results
Crystal Stewart-Courtens, Extension Vegetable Specialist
Eastern New York Commercial Horticulture
Last Modified: April 20, 2019
Presentations and Resources from 2019 Garlic School in Batavia
Crystal Stewart-Courtens, Extension Vegetable Specialist
Eastern New York Commercial Horticulture
Last Modified: April 5, 2019
Allium Leafminer Spring Flight Update
Ethan Grundberg, Vegetable Specialist
Eastern New York Commercial Horticulture
Last Modified: May 31, 2018
Year one results of Fusarium Management Study
Crystal Stewart-Courtens, Extension Vegetable Specialist
Eastern New York Commercial Horticulture
Last Modified: May 23, 2018
Lookout for Leek Moth
Amy Ivy, Vegetable Specialist
Eastern New York Commercial Horticulture
Last Modified: May 17, 2018
Be on the Lookout for Southern Blight
Ethan Grundberg, Vegetable Specialist
Eastern New York Commercial Horticulture
Last Modified: April 27, 2018
Early Season Garlic Fertility
Crystal Stewart-Courtens, Extension Vegetable Specialist
Eastern New York Commercial Horticulture
Last Modified: April 26, 2018
Allium Leafminer Active in Southern Pennsylvania
Teresa Rusinek, Vegetable Specialist
Eastern New York Commercial Horticulture
Last Modified: April 18, 2018
2018 Eastern New York Fruit & Vegetable Conference Vegetable Presentations
Last Modified: April 2, 2018
Growing Alliums for Storage & Long Term Sales Resource Guide
Last Modified: February 23, 2018
White Rot Fact Sheet
Crystal Stewart-Courtens, Extension Vegetable Specialist
Eastern New York Commercial Horticulture
Last Modified: August 31, 2016
Fusarium Sample Submission form
Crystal Stewart-Courtens, Extension Vegetable Specialist
Eastern New York Commercial Horticulture
Last Modified: June 22, 2016
White Rot Update
Crystal Stewart-Courtens, Extension Vegetable Specialist
Eastern New York Commercial Horticulture
Last Modified: June 22, 2016
NOFA Garlic Presentation
Crystal Stewart-Courtens, Extension Vegetable Specialist
Eastern New York Commercial Horticulture
Last Modified: April 7, 2016
Organic Fertility Recommendations for Garlic Production
Crystal Stewart-Courtens, Extension Vegetable Specialist
Eastern New York Commercial Horticulture
Last Modified: February 21, 2016
Garlic Bloat Nematode Fact Sheet and Sample Submission Form
Crystal Stewart-Courtens, Extension Vegetable Specialist
Eastern New York Commercial Horticulture
Last Modified: August 9, 2015
Garlic Post-Harvest Trial Year One Results
Crystal Stewart-Courtens, Extension Vegetable Specialist
Eastern New York Commercial Horticulture
Last Modified: December 10, 2012
Harvest Considerations for Garlic
Crystal Stewart-Courtens, Extension Vegetable Specialist
Eastern New York Commercial Horticulture
Last Modified: August 7, 2012
Garlic Weed Control
Crystal Stewart-Courtens, Extension Vegetable Specialist
Eastern New York Commercial Horticulture
Last Modified: May 24, 2012
Leek Moth Control and Information
Christy Hoepting, Extension Vegetable Specialist
Cornell Vegetable Program
Last Modified: May 24, 2012
Spring Garlic Recommendations
Crystal Stewart-Courtens, Extension Vegetable Specialist
Eastern New York Commercial Horticulture
Last Modified: April 2, 2012


Upcoming Events
SAVE THE DATES
December 13 - December 15, 2022February 2 - February 8, 2023February 21 - February 23, 2023
Save the Dates for the following Winter Meetings:
NOFA NY Virtual Winter Conference, February 2-5, 2023
Empire State Expo, Oncenter Syracuse, February 6-7 2023
Becker Forum, Oncenter Syracuse, February 8, 2023
Eastern NY Commercial Horticulture Program Regional Winter Meeting, The Desmond Hotel, Albany, February 21-23, 2023
How Profitable Will My New Orchard Investment Be? 1-day, hands-on skills class in the Hudson Valley
February 7, 2023
Highland, NY
The Eastern NY Commercial Hort Team and the Lake Ontario Fruit Team are offering a 1-day, hands-on course for tree fruit farms on using farm financial information and other resources to make decisions about long-term investments or changes to their business. We will apply the techniques covered in the 8-part webinar series in December to scenarios using sample financial data from fruit farms in NYS. You will work with others in a group through a series of problems and leave with a better sense of how you can organize and interpret your own financial information to make better long-term investment decisions about your farm business. THIS SESSION IS AT THE CORNELL HUDSON VALLEY LAB
How Profitable Will My New Orchard Investment Be? 1-day, hands-on skills class in Northern NY
February 9, 2023
Plattsburgh, NY
The Eastern NY Commercial Hort Team and the Lake Ontario Fruit Team are offering a 1-day, hands-on course for tree fruit farms on using farm financial information and other resources to make decisions about long-term investments or changes to their business. We will apply the techniques covered in the 8-part webinar series in December to scenarios using sample financial data from fruit farms in NYS. You will work with others in a group through a series of problems and leave with a better sense of how you can organize and interpret your own financial information to make better long-term investment decisions about your farm business. THIS SESSION IS AT THE CCE CLINTON COUNTY OFFICE
Announcements
Podcasts