Asparagus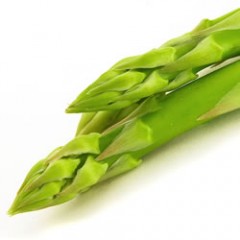 Asparagus is a popular early-season vegetable. There are approximately 200 acres grown on 129 New York farms annually (2007 Census of Ag). The majority is sold for fresh-market, but a small amount (18 acres) goes for processing. Asparagus is available from the beginning of May through mid-June in New York. It is a popular vegetable at farmer's markets, U-pick operations, retail stands and is also grown for wholesale markets.
Commercial asparagus fields are generally planted with one-year old crowns; however, transplants can also be used. Fields take two years to establish, but afterwards can remain in production for 10 to 20 years.
Most Recent Asparagus Content
Common Asparagus Beetle Management During Harvest Season
Ethan Grundberg, Vegetable Specialist
Eastern New York Commercial Horticulture
Last Modified: May 9, 2018

Asparagus beetle populations can build up quickly over the course of a couple of seasons. Fields with heavy infestations may require the use of an insecticide during harvest season to knock down the adult population. See what your labeled options are in New York and know that later season applications to target second and/or third beetle populations may also be necessary.
2018 Eastern New York Fruit & Vegetable Conference Vegetable Presentations
Last Modified: April 2, 2018


Presentations from the 2018 ENYCHP Eastern New York Fruit & Vegetable Conference held February 20th and 21st for the vegetable sections.
The Produce Pages, December 2013
Last Modified: December 12, 2013
More Asparagus Content


Upcoming Events
Pesticide Exam Certification Summer Trainings
July 2 - July 23, 2019
1:30pm - 4:30pm each day
Plattsburgh, NY
2019 Champlain Valley Pesticide Applicator Exam Intensive Training
CCE ENYCHP Horticulture Specialists Mike Basedow and Elisabeth Hodgdon will be offering four afternoons of training to review core concepts and commodity specific items in preparation for the exam.
CCE & Hudson Valley Research Lab Research & Extension Tour
July 26, 2019
12:30pm - 5:00pm
Highland, NY
The Eastern NY Commercial Horticultural Program and Hudson Valley Research Lab are hosting a 2019 Research and Extension Summer Tour on July 26th from 12:30 - 5:00 PM. Beginning at the Highland Research Station Conference Room.
Last Monday Grant Webinar for Fruit and Vegetable Growers - July
July 29, 2019
12:00-1:00
To help disseminate information on grants on a more consistent basis, we will be offering a "current grants" webinar on the last Monday of every month at noon
In order to help focus the program, the webinars will be limited to grants that are relevant to fruit and vegetable farmers in Eastern New York.
There is a possibility of webinars related to grants for experimental crops (i.e. hops and hemp) if it is likely that fruit and vegetable growers would be interested.
Announcements
Podcasts