Broccoli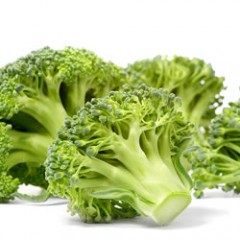 Broccoli is grown on an estimated 800 acres throughout New York State. Multiple plantings are typically grown along with other Cole crops such as cauliflower, cabbage and kale on small-scale diversified vegetable farms. Broccoli is predominantly grown from transplants set in April and May for a spring crop and in late June through August for a fall crop. Broccoli that is harvested in July and early August tends to have very high cull rates due to abnormalities caused by heat stress. Broccoli is cut during the cooler part of the day and sold as soon after harvest as possible, as it does not store well.
Fortunately, recent genetic breakthroughs have overcome broccoli's susceptibility to heat stress and broccoli growers in New York look forward to the availability of new varieties adapted to the hot and humid summers of the Northeastern United States. Cornell University is leading an ambitious effort to develop a $100 million broccoli industry in the Eastern United States. Below you will find educational information and results of our research trials.
Most Recent Broccoli Content
Brassica Project 2018
Amy Ivy, Vegetable Specialist
Eastern New York Commercial Horticulture
Last Modified: May 24, 2018
Our New England colleagues have launched a regional project related Brassicas, and New York growers and colleagues are welcome and encouraged to join in.
The Brassica Pest Collaborative is intended as a place where growers and extension folks can talk to each other and share observations and questions throughout the season so feel welcome to join and contribute all things Brassica! They are also looking for more growers to join that list and to sign up as collaborators who will implement a practice and collect some scouting records to help them assess efficacy of given practices on real farms. Growers can sign up by emailing brassicapest@umass.edu and include information about your farm, pest issue and what strategy you would like to try to implement.
Can it be True?
Chuck Bornt, Team Leader, Extension Vegetable Specialist
Eastern New York Commercial Horticulture
Last Modified: May 2, 2018
A product called LandSpring was labeled in NY back in July of 2017 and may help reduce transplant shock of certain crops. Learn more about what it is and how it works.
LandSpring NYS Label
Chuck Bornt, Team Leader, Extension Vegetable Specialist
Eastern New York Commercial Horticulture
Last Modified: May 1, 2018

Copy of the LandSpring NYS DEC approved label

More Broccoli Content


Upcoming Events
PSA Grower Training Course
February 19, 2019
8:00am- 5:15pm
Albany, NY
The course will provide a foundation of Good Agricultural Practices (GAPs) and co-management information, FSMA Produce Safety Rule requirements, and details on how to develop a farm food safety plan.

The Course is designed for fruit and vegetable growers and others interested in learning about produce safety, the Food Safety Modernization Act (FSMA) Produce Safety Rule, Good Agricultural Practices (GAPs), and co-management of natural resources and food safety. The PSA Grower Training Course is one way to satisfy the FSMA Produce Safety Rule requirement outlined in 112.22(c) that requires at least one supervisor or responsible party for your farm must have successfully completed food safety training at least equivalent to that received under standardized curriculum recognized as adequate by the Food and Drug Administration.

Registration is mandatory for this event.
Hosted by CCE Eastern NY Commercial Horticulture Program during our 2019 Fruit and Vegetable Conference. Note: You do NOT need to register for the Fruit and Vegetable Conference to attend this training.
2019 Eastern New York Fruit and Vegetable Conference
February 19, 2019 : Day 1: Tree Fruit, Small Fruit & Business Management
February 20, 2019 : Day 2: General, Vegetable, Tree Fruit
February 21, 2019 : Day 3: Fertility, CSA, Irrigation, Grapes
Join us for the 2nd Annual Eastern NY Fruit and Vegetable Conference! This year we will be expanding our conference to include a third day and many exciting new sessions. Preliminary agenda is now available. Mark your calendars, and don't miss this great line-up!
DEC credits have been awarded - see program for details.
Multi day discounts are available for two and three day registrations.
Last Monday Grant Webinar for Fruit and Vegetable Growers - February
February 25, 2019
12:00-1:00
To help disseminate information on grants on a more consistent basis, we will be offering a "current grants" webinar on the last Monday of every month at noon
In order to help focus the program, the webinars will be limited to grants that are relevant to fruit and vegetable farmers in Eastern New York.
There is a possibility of webinars related to grants for experimental crops (i.e. hops and hemp) if it is likely that fruit and vegetable growers would be interested.
Announcements
ENYCHP Fruit and Vegetable Conference Feb 19-21
Join us for the 2nd Annual Eastern NY Fruit and Vegetable Conference! This year we will be expanding our conference to include a third day and many exciting new sessions. Speakers, topic details, and registration information currently available. Mark your calendars, and don't miss this great line-up!

Tuesday February 19th- Thursday 21st, 2019
Desmond Conference Center
660 Albany Shaker Rd
Albany, NY 12211
NYSBGA & CCE Blueberry Intensive Workshop
The New York State Berry Growers Association (NYSBGA) has partnered with Cornell Cooperative Extension to bring growers a pair of winter Blueberry Intensive Workshops. An in-depth look at growing and management techniques, pest and diseases, profitability tools, and more, the Blueberry Intensive Workshops will feature 10 expert speakers from Cornell University, Cornell CCE, New York State IPM, Rutgers University, and Pennsylvania State University, as well as owners of successful area farms. The workshops will be held in Ellicottville, New York on March 5, 2019, and in Millbrook, New York on March 14, 2019. The cost to attend is $35 for current NYSBGA members and $45 for non-members. To register,
click here
.
Growers who attend the workshops will learn about:
• Choosing and preparing a site for blueberry production
• Blueberry diseases and management strategies
• Blueberry insect pest management
• Using the NEWA blueberry pest and disease models to best advantage
• Alternative options for markets
• Using a new berry crops profitability tool
• How area farms have ensured success in their blueberry growing program
• Nutrition for blueberries
• Post-harvest handling to reduce pest damage and improve fruit quality
• Correct pruning techniques, with a live, hands-on demonstration
• Pest scouting and weed management
Resources from CCE ENYCHP!
We are developing new ways to connect with the CCE ENYCHP team this year!
We have a Youtube page located at this link
. Check out videos on Table Grape Production, Pest Updates and the
20 Minute Ag Manager - in 4 Minutes series
.
We have a
Facebook Page here
as well as an
Instagram page
. We keep these places updated with current projects, events, and other interesting articles and deadlines.
There are also text alerts available.
Fruit and vegetable farmers in 17 Eastern NY counties can now receive real time alerts on high risk disease and pest outbreaks texted directly to their cell phone. The Eastern NY Commercial Horticulture program, which is supported by local Cornell Cooperative Extension associations, will now offer text alerts to those that enroll in our program in 2019.
The text alerts will be reserved for important crop alerts that could impact management decisions immediately. For instance, if there were an outbreak of Late Blight in the area, this would be transmitted to vegetable growers.
Farmers can choose the crop for which they wish to receive updates. Additionally they can request that Ag Business Alerts be sent to them. These alerts might include due dates for crop insurance deadlines, market opportunities etc.

If you have questions, please contact enychp@cornell.edu