Broccoli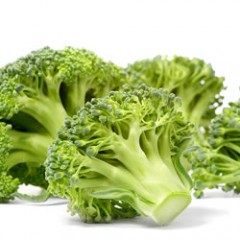 Broccoli is grown on an estimated 800 acres throughout New York State. Multiple plantings are typically grown along with other Cole crops such as cauliflower, cabbage and kale on small-scale diversified vegetable farms. Broccoli is predominantly grown from transplants set in April and May for a spring crop and in late June through August for a fall crop. Broccoli that is harvested in July and early August tends to have very high cull rates due to abnormalities caused by heat stress. Broccoli is cut during the cooler part of the day and sold as soon after harvest as possible, as it does not store well.
Fortunately, recent genetic breakthroughs have overcome broccoli's susceptibility to heat stress and broccoli growers in New York look forward to the availability of new varieties adapted to the hot and humid summers of the Northeastern United States. Cornell University is leading an ambitious effort to develop a $100 million broccoli industry in the Eastern United States. Below you will find educational information and results of our research trials.
Relevant Event
2018 Empire State Producers EXPO

January 16 - January 18, 2018
1.25 hr sessions throughout each day
Syracuse, NY
Most Recent Broccoli Content
Organic Production Guides
Robert Hadad, Extension Vegetable Specialist
Cornell Vegetable Program
Last Modified: July 17, 2017


Organic Production Guides for fruits, vegetables and dairy are available through the NYS Integrated Pest Management (IPM) program. They outline general practices for growing vegetable and fruit crops using organic integrated pest management techniques.
2010 Broccoli Variety Evaluation
Christy Hoepting, Extension Vegetable Specialist
Cornell Vegetable Program
Last Modified: January 7, 2013

The 2010 Broccoli Variety Trail consisted of 27 entries from 7 seed companies. Industry standards included Diplomat, Gypsy, Green Magic, Imperial and Windsor. Two varieties, Major and Bl 10, were included to evaluate heat tolerance.
See complete report below
O-zone Injury on Vegetables
Crystal Stewart, Extension Vegetable Specialist
Eastern New York Commercial Horticulture
Last Modified: August 22, 2012


Hot, humid weather with stagnant air masses may lead to ozone damage on crops. Ozone warnings were recently issued for much of New York. These warnings are intended for people with respiratory problems and let them know they should limit their outdoor activity and try to stay as much as possible in air-conditioned locations. These warning are also a good indicator that ozone damage may occur in plants.
More Broccoli Content


Upcoming Events
PSA Grower Training Course
December 18, 2017
8:30am-4:00pm
Troy, NY
The course will provide a foundation of Good Agricultural Practices (GAPs) and co-management information, FSMA Produce Safety Rule requirements, and details on how to develop a farm food safety plan.

The Course is designed for fruit and vegetable growers and others interested in learning about produce safety, the Food Safety Modernization Act (FSMA) Produce Safety Rule, Good Agricultural Practices (GAPs), and co-management of natural resources and food safety. The PSA Grower Training Course is one way to satisfy the FSMA Produce Safety Rule requirement outlined in 112.22(c) that requires at least one supervisor or responsible party for your farm must have successfully completed food safety training at least equivalent to that received under standardized curriculum recognized as adequate by the Food and Drug Administration.

Course is funded by The Local Economies project and CCE Orange County
Registration is Mandatory. Please register at: http://cceorangecounty.org/events/2017/12/18/fsma-produce-safety-alliance-grower-training-course
Register by phone: Richard Traverso - 845-344-1234


Marketing Your Farm as a Great Place to Work
January 4, 2018
9-12pm
Ballston Spa, NY
Do you have a lot of staff turnover? Do you want to improve your communication skills about your farm business with your employees? Do you need an employee handbook? This workshop is for you.
What is my job? Hiring, training and evaluating farm employees effectively
January 4, 2018
1-4 pm
Ballston Spa, NY
How well do your employees understand their jobs?

Everyone wants farm employees who know what to do without being told. Unfortunately most people you hire or manage can't read minds. This workshop will help you develop effective tools for training and evaluating new employees or employees moving into new positions.
Announcements
Welcome Jim Meyers: New Viticulture Specialist!
Jim has been working with wine grapes for 10 years, first as a Viticulture Ph.D. student at Cornell then as a Research Associate. Prior to coming to Cornell, Jim studied Chemistry and Biology (B.S. West Chester University of Pennsylvania), Computer Science (M.S. Brown University), and had a successful career as software technology entrepreneur. This background is reflected in his viticultural research which has focused on computational tools for mapping canopy and vineyard variability, quantifying relationships between variability and fruit chemistry, and optimizing efficiency of vineyard operations. As an Extension Associate, Jim will continue some of these research activities while also looking for new projects that provide targeted benefits to appellations in Eastern New York. Jim will kick off his new appointment by visiting growers at their vineyards to gather first hand knowledge of the sites and to discuss vineyard operations, goals, and challenges. Building a complete catalog of vineyards in a territory that runs 300 miles along the Route 9 corridor may take a little while, but Jim feels that the effort will lay a solid foundation for future program activities while also clearly differentiating the needs of each appellation.
White Rot Update
Earlier in June I sent a garlic sample to the diagnostic lab hoping that I was wrong. The sample was covered in small black sclerotia, the size of poppy seeds, and white fungal hyphae crept up the stem. The results, unfortunately, matched the field diagnosis: White Rot. Within a couple days additional calls came from up and down the Hudson Valley as well as one in Western NY with similar suspicions. These samples have also gone to the lab for verification, but it looks like the latest pest to move back into the state is this nasty fungus.

White Rot, Sclerotinia cepivorum, decimated the onion industry in New York in the 1930's before being eradicated through careful management. More recently, in 2003, it infected 10,000 acres of garlic in California, leading to the abandonment of some garlic fields and adoption of strict containment rules. White rot has been confirmed in Northeastern states over the last decade as well, with New York being one of the last to discover the disease.

The primary reason that White Rot is such a concern is because the sclerotia, or reproductive structures, can remain dormant in the soil for up to 40 years, attacking any allium crop planted into the soil under favorable conditions. This spring was ideal for infection due to the period of cool, moist weather we had. Optimal temperature for infection is 60-65 degrees F, but infection can occur anywhere from 50-75 degrees F.
Once garlic has white rot, it generally declines rapidly. Leaves will yellow and the plant will wilt, not unlike a severe fusarium infection. However, unlike with fusarium, white rot infected bulbs are covered in black sclerotia and white fungus. To add to the confusion, another disease CAN look similar. Botrytis also causes black sclerotia and white fungal growth. However, Botrytis sclerotia are quite large, often larger than a pencil eraser.

So, what do we do now? We're still working on long-term management strategies, but the most important steps to take now are vigilance when culling (look at the plants you are pulling for symptoms like you see in this article, and if they are present, call us to take a sample and have the disease verified) and, if you see anything suspicious, reduction of movement of inoculum. The main ways diseases get moved around are by dumping culls (compost, field edges, etc) and my moving soil on equipment. Throw away your culls, and wash equipment that may have come in contact with suspicious garlic or the soil it is growing in. Everything from cultivation equipment to harvest bins should be cleaned.

We will keep learning about this disease and will keep sending out information, particularly to help you make decisions about what to sell and buy. For now, remember that the west coast has learned to manage the disease, and we will too. -Crystal Stewart, ENYCHP

Eastern New York Commercial Horticulture - Cornell Cooperative Extension
Your Trusted Source for Research-Based Knowledge