Peppers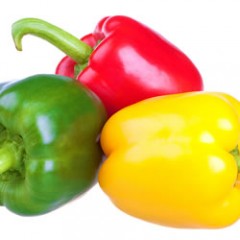 Bell, or sweet, peppers are an important crop on New York fresh market vegetable farms, worth in aggregate close to $10 million according to the most recent data (2011 Vegetable Summary). Hot peppers, such as jalapenos and habaneros, can be important specialty items for direct sales. Peppers are grown in commercial fields with floating row covers, plastic mulch and drip irrigation. For colored peppers early maturing varieties are a good choice for NY growers. Resistance to the soil-borne pathogen Phytothphora capsici is another important attribute. Greenhouse and high tunnel production of peppers is on the rise among CSA, produce auction and market farmers. The Cornell Vegetable Program conducts a number of research projects on peppers such as variety trials and organic fertility.
Most Recent Peppers Content
Recording of High Tunnel Veg Research Webinar 11/29/18
Amy Ivy, Vegetable Specialist
Eastern New York Commercial Horticulture
Last Modified: November 29, 2018

This is a recording of an hour long webinar held by Amy Ivy of the Eastern NY Commercial Horticulture Program, Judson Reid of the Cornell Vegetable Program and Mike Davis of the Cornell University Willsboro Research Farm on Nov 29, 2018.
A copy of the PowerPoint is included in the 'read details' section below. With funding from the Northern NY Agricultural Development Program.
High Tunnel Crop Study - cherry tomatoes, peppers and winter spinach fertility
Amy Ivy, Vegetable Specialist
Eastern New York Commercial Horticulture
Last Modified: August 28, 2018

Here is the final report on our 2017 research in high tunnel production of cherry tomatoes, red bell peppers and a winter spinach fertility study at the Cornell Willsboro Research Farm with funding from NNYADP (Northern NY Ag Development Program).

Advancing Vegetable Production in NNY 2017
Amy Ivy, Vegetable Specialist
Eastern New York Commercial Horticulture
Last Modified: July 13, 2018
Fresh market vegetable production is on the rise throughout Northern NY. In past years Northern New York Agricultural Development Program-funded vegetable research has addressed various topics and issues related to growing vegetables at a profit, but new information, better methods, and new varieties continue to be developed and are of interest to regional growers.
In 2017, the project team focused on three areas of high tunnel vegetable production:
1) Increasing production and profitability of colored peppers in high tunnels
2) Extending last year's cherry tomato training and pruning trial, tracking labor and yield.
3) Assessing nitrogen availability in cold soils for late fall-winter spinach and its effect on
yield.
More Peppers Content


Upcoming Events
Pesticide Exam Certification Summer Trainings
July 2 - July 23, 2019
1:30pm - 4:30pm each day
Plattsburgh, NY
2019 Champlain Valley Pesticide Applicator Exam Intensive Training
CCE ENYCHP Horticulture Specialists Mike Basedow and Elisabeth Hodgdon will be offering four afternoons of training to review core concepts and commodity specific items in preparation for the exam.
CCE & Hudson Valley Research Lab Research & Extension Tour
July 26, 2019
12:30pm - 5:00pm
Highland, NY
The Eastern NY Commercial Horticultural Program and Hudson Valley Research Lab are hosting a 2019 Research and Extension Summer Tour on July 26th from 12:30 - 5:00 PM. Beginning at the Highland Research Station Conference Room.
Last Monday Grant Webinar for Fruit and Vegetable Growers - July
July 29, 2019
12:00-1:00
To help disseminate information on grants on a more consistent basis, we will be offering a "current grants" webinar on the last Monday of every month at noon
In order to help focus the program, the webinars will be limited to grants that are relevant to fruit and vegetable farmers in Eastern New York.
There is a possibility of webinars related to grants for experimental crops (i.e. hops and hemp) if it is likely that fruit and vegetable growers would be interested.
Announcements
Podcasts