Peppers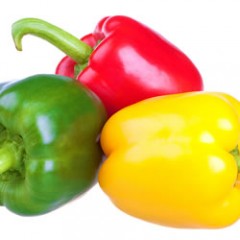 Bell, or sweet, peppers are an important crop on New York fresh market vegetable farms, worth in aggregate close to $10 million according to the most recent data (2011 Vegetable Summary). Hot peppers, such as jalapenos and habaneros, can be important specialty items for direct sales. Peppers are grown in commercial fields with floating row covers, plastic mulch and drip irrigation. For colored peppers early maturing varieties are a good choice for NY growers. Resistance to the soil-borne pathogen Phytothphora capsici is another important attribute. Greenhouse and high tunnel production of peppers is on the rise among CSA, produce auction and market farmers. The Cornell Vegetable Program conducts a number of research projects on peppers such as variety trials and organic fertility.
Most Recent Peppers Content
Phytophthora Webinar 3: Management practices to reduce P-Cap on the farm
Last Modified: May 13, 2013


This recorded webinar features Dr. Meg McGrath for a discussion of fungicides for P-Cap, crop rotation strategies, and the use of biofumigants to control P-Cap in infected fields.
Webinar: Farming with P-Cap: Managing Your Crops and Minimizing Spread
Laura McDermott, Team Leader, Small Fruit and Vegetable Specialist
Eastern New York Commercial Horticulture
Last Modified: November 8, 2012


In this pre-recorded webinar, Dr. Michael Mazourek, plant breeder at Cornell University, and Dr. Chris Smart, plant pathologist at Cornell University Geneva Experiment Station lead a discussion about how to minimize the impact of Phytophthora capsici on your farm.
Managing Phytophthora Blight in 2012
Last Modified: August 7, 2012

Phytophthora blight was more severe in 2011 than it has been for many years, which raises concern that 2012 could be another bad year for this very destructive disease because of the quantity of pathogen spores left in fields at the end of last season to survive over winter. Blight was severe in areas where there were intensive rainfall events, which created unusually favorable conditions. A key to successfully managing this disease is managing soil moisture to avoid saturated conditions that favor pathogen development and infection. Achieving this is difficult when rainfall amounts are large. Another key has been fungicides registered recently with targeted activity for pathogens in this biological group (Oomycetes). Rain events in 2011 challenged maintaining a good spray schedule and thus achieving effective control. Once blight starts to develop in a crop, it can be difficult to stop, thus a management program will be most successful when initiated before symptoms begin to develop. This includes fungicide applications. An integrated program with cultural practices and fungicides is considered essential.
More Peppers Content


Upcoming Events
Hudson Valley Pesticide Applicator Pre-Exam Training
March 19 - March 21, 2018
9:00am-12:00pm
Highland, NY
CCE ENYCHP Agriculture Specialists will be offering a training to review core concepts and commodity specific items in preparation for the exam.
Registration Fee covers two days of review: Monday 3/19 and Wednesday 3/21, 9am-12noon

Exam: Tuesday 3/27, 9AM-1PM

Are you managing your risks as a farm employer? The compliance and safety workshop
March 22, 2018
1:00-4:00pm
Highlnd, NY
This is the workshop that covers the nuts and bolts of risk management as a farm employer. Hear presentations from NYS DOL and NYCAMH on employer regulations and safety.
NEWA "Hands-On" Workshop: Grapes and Small Fruits
March 28, 2018
9:30 to 11:45am
Voorheesville, NY
At this workshop, growers will learn the ins-and-outs of the NEWA system (Network for Environment and Weather Applications). NEWA is an online system that provides hourly and daily weather data, pest forecasting models, and crop production models, to help implement IPM practices on farms across the Northeast. Attendees will learn how to efficiently navigate the NEWA interface, including how to get weather data, access station specific pages, and effectively utilize models for grape berry moth, black rot, downy mildew, powdery mildew and Phomopsis. New models currently being developed for small fruits will also be discussed.
Announcements
Confused by the WPS (Worker Protection Standard)?
Please take note: WPS pertains to all farms-organic and conventional! To be sure that you are complying with these regulations, please view the EPA link below:
https://www.epa.gov/sites/production/files/2015-09/documents/comparison-chart-wps.pdf
Growing for Wholesale: Grading and Packing Guides
Grading and packing guidelines are now available for 16 commonly grown specialty crops in NYS: broccoli crowns, Brussels sprouts, corn, green peppers, cucumbers, green cabbage, red cabbage, savory cabbage, cauliflower, eggplant, green beans, jalapenos, poblanos, Hungarian hot peppers, summer squash, and zucchini. Find all 24 sheets online at:
https://rvpadmin.cce.cornell.edu/uploads/doc_612.pdf
This resource was developed through the support of Cheryl Thayer of CCE Harvest NY, Dave Walczak of Eden Valley Growers, Angela Parr and Robert Hadad of the CCE Cornell Vegetable Program, and Jim Monahan of Cornell Cooperative Extension. Further, development of this resource was made possible through grant funding from the USDA Local Food Promotion Program.
Eastern New York Commercial Horticulture - Cornell Cooperative Extension
Your Trusted Source for Research-Based Knowledge