Cauliflower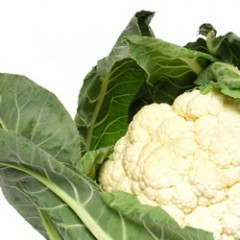 About 480 acres of cauliflower are planted in New York annually. Cauliflower is a member of the Brassicaceae family which includes cabbage, broccoli and Brussels sprouts. All of these crops do well in the climate of New York, but cauliflower is produced as a fall crop to avoid summer heat which can cause heads to become soft and over-mature quickly. Heads maturing in hot weather (over 80 degrees F) can exhibit riciness, leafy heads, off color, loose heads or poor wrapper leaf development. Cauliflower is typically harvested from August through November in New York. Most cruciferous crops have similar cultural requirements and are susceptible to a common set of insects and diseases.

Recently, orange and purple varieties are becoming more common along with the traditional white forms.

Most Recent Cauliflower Content
Brassica Project 2018
Amy Ivy, Vegetable Specialist
Eastern New York Commercial Horticulture
Last Modified: May 24, 2018
Our New England colleagues have launched a regional project related Brassicas, and New York growers and colleagues are welcome and encouraged to join in.
The Brassica Pest Collaborative is intended as a place where growers and extension folks can talk to each other and share observations and questions throughout the season so feel welcome to join and contribute all things Brassica! They are also looking for more growers to join that list and to sign up as collaborators who will implement a practice and collect some scouting records to help them assess efficacy of given practices on real farms. Growers can sign up by emailing brassicapest@umass.edu and include information about your farm, pest issue and what strategy you would like to try to implement.
Can it be True?
Chuck Bornt, Team Leader, Extension Vegetable Specialist
Eastern New York Commercial Horticulture
Last Modified: May 2, 2018
A product called LandSpring was labeled in NY back in July of 2017 and may help reduce transplant shock of certain crops. Learn more about what it is and how it works.
2018 Eastern New York Fruit & Vegetable Conference Vegetable Presentations
Last Modified: April 2, 2018


Presentations from the 2018 ENYCHP Eastern New York Fruit & Vegetable Conference held February 20th and 21st for the vegetable sections.
More Cauliflower Content


Upcoming Events
Pesticide Exam Certification Summer Trainings
July 2 - July 23, 2019
1:30pm - 4:30pm each day
Plattsburgh, NY
2019 Champlain Valley Pesticide Applicator Exam Intensive Training
CCE ENYCHP Horticulture Specialists Mike Basedow and Elisabeth Hodgdon will be offering four afternoons of training to review core concepts and commodity specific items in preparation for the exam.
CCE & Hudson Valley Research Lab Research & Extension Tour
July 26, 2019
12:30pm - 5:00pm
Highland, NY
The Eastern NY Commercial Horticultural Program and Hudson Valley Research Lab are hosting a 2019 Research and Extension Summer Tour on July 26th from 12:30 - 5:00 PM. Beginning at the Highland Research Station Conference Room.
Last Monday Grant Webinar for Fruit and Vegetable Growers - July
July 29, 2019
12:00-1:00
To help disseminate information on grants on a more consistent basis, we will be offering a "current grants" webinar on the last Monday of every month at noon
In order to help focus the program, the webinars will be limited to grants that are relevant to fruit and vegetable farmers in Eastern New York.
There is a possibility of webinars related to grants for experimental crops (i.e. hops and hemp) if it is likely that fruit and vegetable growers would be interested.
Announcements
Podcasts