Pumpkins / Gourds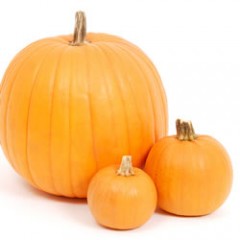 New York State ranks amongst the top 3 states (Illinois and Pennsylvania are the other two) in pumpkin production in the country with over 6,800 acres of production with an estimated value of $24 million each year. Nearly all of these are for fresh market use for either decorating or eating. The pumpkin industry is highly variable with fruit ranging from quarter pound to several hundred pounds each. Pumpkins are grown throughout NYS and are marketed through roadside stands, nursery centers and farmers markets and are also important in areas that have lots of agri-tourism. Included in this group are also other fall ornamentals such as gourds and ornamental squash. Pumpkins are susceptible to many different diseases, the most prevalent of those being Powdery Mildew, Downy Mildew and Phytophthora blight. In the last eight years, plant breeders and seed companies have released a multitude of varieties resistant to Powdery Mildew and are widely used by growers. Another concern for growers are several different viruses which can cause plants to not produce fruit at all or results in poor fruit quality (size, color etc.). Striped Cucumber Beetles and Squash bugs remain the main insect pests. Aphids are also important because they are the primary vectors of those viruses mentioned above.
Most Recent Pumpkins / Gourds Content
Winter Squash and Pumpkin Harvest
Chuck Bornt, Team Leader, Extension Vegetable Specialist
Eastern New York Commercial Horticulture
Last Modified: September 12, 2019
Much of the winter squash in the region is matured and ready to go. This article will give you some tips on how to ensure harvesting, handling and storing the highest quality squash and pumpkins for your farm.

2018 Pumpkin Variety Trial Article
Chuck Bornt, Team Leader, Extension Vegetable Specialist
Eastern New York Commercial Horticulture
Last Modified: January 17, 2019

The search for the perfect pumpkin variety continued in eastern NY during the 2018 season with CCE ENYCHP conducting 2 pumpkin variety trials; one at Wertman's Farm and Greenhouses in Melrose, NY (Rensselaer County) and at Robert O. Davenport and Sons Farm in Kingston, NY (Ulster County). Despite the roller coaster weather, the Wertman location turned out good and is the trial in which all data is based on. Unfortunately, the Davenport site suffered some poor stand issues and was used for observational data only.
2018 Pumpkin Variety Trial Results Report and Slideshow
Chuck Bornt, Team Leader, Extension Vegetable Specialist
Eastern New York Commercial Horticulture
Last Modified: November 5, 2018

Final report and slideshow of the varieties grown in the 2018 pumpkin variety trial.
More Pumpkins / Gourds Content


Upcoming Events
Tarping for Reduced Tillage Workshop
November 2 - November 19, 2019

Are you a vegetable farmer already using tarps? Or are you wondering if and how tarps could work best on your farm?

The Cornell Small Farms Program is excited to announce a series of workshops on tarping for reduced tillage in small-scale vegetable systems, to be held in Maine and New York this fall. The Reduced Tillage (RT) project of the Cornell Small Farms Program supports farmers in adopting scale-appropriate RT practices that can lead to healthy, productive soils and greater profitability. Through the evaluation of novel tools and methods using systems-based field research and on-farm trials, the project helps farmers learn about the approaches that can work for their farm. This work is accomplished in collaboration with the University of Maine, and with support from Northeast SARE.

Winter Greens High Tunnel Tour
November 13, 2019
9:30am - 4:00pm
Willsboro, NY
Join us for a tour of overwintered high tunnel greens. Our first stop will be the Willsboro Research Farm, where we will visit our spinach nitrogen fertility experiment, discuss research results, and view a sous vide hot water seed treatment demonstration. Following an early lunch, we will carpool across the lake via the ferry to the Intervale Community Farm in Burlington, Vermont. The Intervale has been providing organic vegetables to the greater Burlington area for 30 years and has a 600 member CSA. Farm manager Andy Jones will discuss their evolving winter greens production practices, including variety selection, soil fertility, irrigation, and food safety practices. After touring their high tunnels and new wash/pack shed, we will return to Willsboro.
Learn About Using the H-2A Program on Small Farms
November 18, 2019
1:30pm - 4:00pm
Schenectady, NY
Are you worried about labor next season on your farm?
Are you wondering if the H-2A program will make sense on your farm?
The H-2A program allows US employers who meet specific regulatory requirements to bring foreign nationals to the US to fill temporary agricultural jobs. Join us to learn about how to use the H-2A program on small farms. Learn from US DOL H-2A staff and a CSA vegetable farmer, with experience using H-2A, about what it takes to use the program.
Announcements
Podcasts