Pumpkins / Gourds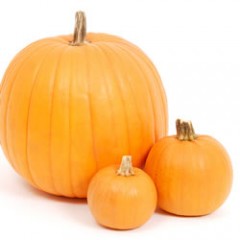 New York State ranks amongst the top 3 states (Illinois and Pennsylvania are the other two) in pumpkin production in the country with over 6,800 acres of production with an estimated value of $24 million each year. Nearly all of these are for fresh market use for either decorating or eating. The pumpkin industry is highly variable with fruit ranging from quarter pound to several hundred pounds each. Pumpkins are grown throughout NYS and are marketed through roadside stands, nursery centers and farmers markets and are also important in areas that have lots of agri-tourism. Included in this group are also other fall ornamentals such as gourds and ornamental squash. Pumpkins are susceptible to many different diseases, the most prevalent of those being Powdery Mildew, Downy Mildew and Phytophthora blight. In the last eight years, plant breeders and seed companies have released a multitude of varieties resistant to Powdery Mildew and are widely used by growers. Another concern for growers are several different viruses which can cause plants to not produce fruit at all or results in poor fruit quality (size, color etc.). Striped Cucumber Beetles and Squash bugs remain the main insect pests. Aphids are also important because they are the primary vectors of those viruses mentioned above.
Most Recent Pumpkins / Gourds Content
Herbicide Options for Pumpkins and Squash
Chuck Bornt, Team Leader, Extension Vegetable Specialist
Eastern New York Commercial Horticulture
Last Modified: May 17, 2018

Weeds - I really, really dislike weeds and so should you! Not only do they reduce yields and quality of fruit, but they can reduce insecticide and fungicides applications and take more time to harvest if your crew has to employ the "stumble" method of locating the fruit! Most herbicide programs are best employed right after planting, before the crop emerges

LandSpring NYS Label
Chuck Bornt, Team Leader, Extension Vegetable Specialist
Eastern New York Commercial Horticulture
Last Modified: May 1, 2018

Copy of the LandSpring NYS DEC approved label

2018 Eastern New York Fruit & Vegetable Conference Vegetable Presentations
Last Modified: April 2, 2018


Presentations from the 2018 ENYCHP Eastern New York Fruit & Vegetable Conference held February 20th and 21st for the vegetable sections.
More Pumpkins / Gourds Content


Upcoming Events
20 Minute Ag Manager Webinars: Crop Insurance for Diverse Farms
August 14, 2018
12-12:30 PM
20 minute lunchtime webinars will be held on Tuesdays this summer covering farm business management topics.

20 Minute Ag Manager Webinars: Flood Insurance and Other Disaster Programs
August 21, 2018
12-12:30 PM
20 minute lunchtime webinars will be held on Tuesdays this summer covering farm business management topics.

Fresh Market Vegetable Grading & Packing Workshop
August 21, 2018
2:00 PM - 5:00 PM
Deposit, NY
Are you interested in farm to school or selling to institutional markets? Maybe you'd like to know more about grading and packing your fresh market produce right in the field? CCE Broome County, in partnership with the CCE Cornell Vegetable Program and the Cornell Baskets to Pallets program, is offering a hands-on, on-farm experience designed to prepare farms in NY, both beginning and experienced, to enter new markets.

Announcements
Check out the Updated Labeled Insecticides for SWD
Labeled Insecticides for Control of Spotted Wing Drosophila in New York Berry Crops - Quick Guide Compiled by Greg Loeb, Laura McDermott, Peter Jentsch & Juliet Carroll, Cornell University. Updated regularly. Check it out at this link!
New Resources from CCE ENYCHP!
We are developing new ways to connect with the CCE ENYCHP team this year!
We have a Youtube page located at this link
. Check out videos on Table Grape Production, Pest Updates and the 20 Minute Ag Manager - in 4 Minutes series.
There are also text alerts available.
Fruit and vegetable farmers in 17 Eastern NY counties can now receive real time alerts on high risk disease and pest outbreaks texted directly to their cell phone. The Eastern NY Commercial Horticulture program, which is supported by local Cornell Cooperative Extension associations, will now offer text alerts to those that sign up.
The text alerts will be reserved for important crop alerts that could impact management decisions immediately. For instance, if there were an outbreak of Late Blight in the area, this would be transmitted to vegetable growers.
Farmers can choose the crop for which they wish to receive updates. Additionally they can request that Ag Business Alerts be sent to them. These alerts might include due dates for crop insurance deadlines, market opportunities etc.
Text alerts are easy to access. Just click on the link below and fill out a very short registration form. It takes just seconds to do - access to important information has never been so easy!!

If you have questions, please contact Abby Henderson at 518-746-2553 or email her at aef225@cornell.edu.

Confused by the WPS (Worker Protection Standard)?
Please take note: WPS pertains to all farms-organic and conventional! To be sure that you are complying with these regulations, please view the EPA link below:
https://www.epa.gov/sites/production/files/2015-09/documents/comparison-chart-wps.pdf
Eastern New York Commercial Horticulture - Cornell Cooperative Extension
Your Trusted Source for Research-Based Knowledge