Pumpkins / Gourds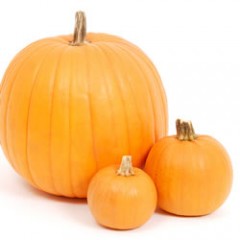 New York State ranks amongst the top 3 states (Illinois and Pennsylvania are the other two) in pumpkin production in the country with over 6,800 acres of production with an estimated value of $24 million each year. Nearly all of these are for fresh market use for either decorating or eating. The pumpkin industry is highly variable with fruit ranging from quarter pound to several hundred pounds each. Pumpkins are grown throughout NYS and are marketed through roadside stands, nursery centers and farmers markets and are also important in areas that have lots of agri-tourism. Included in this group are also other fall ornamentals such as gourds and ornamental squash. Pumpkins are susceptible to many different diseases, the most prevalent of those being Powdery Mildew, Downy Mildew and Phytophthora blight. In the last eight years, plant breeders and seed companies have released a multitude of varieties resistant to Powdery Mildew and are widely used by growers. Another concern for growers are several different viruses which can cause plants to not produce fruit at all or results in poor fruit quality (size, color etc.). Striped Cucumber Beetles and Squash bugs remain the main insect pests. Aphids are also important because they are the primary vectors of those viruses mentioned above.
Most Recent Pumpkins / Gourds Content
2018 Pumpkin Variety Trial Article
Chuck Bornt, Team Leader, Extension Vegetable Specialist
Eastern New York Commercial Horticulture
Last Modified: January 17, 2019

The search for the perfect pumpkin variety continued in eastern NY during the 2018 season with CCE ENYCHP conducting 2 pumpkin variety trials; one at Wertman's Farm and Greenhouses in Melrose, NY (Rensselaer County) and at Robert O. Davenport and Sons Farm in Kingston, NY (Ulster County). Despite the roller coaster weather, the Wertman location turned out good and is the trial in which all data is based on. Unfortunately, the Davenport site suffered some poor stand issues and was used for observational data only.
2018 Pumpkin Variety Trial Results Report and Slideshow
Chuck Bornt, Team Leader, Extension Vegetable Specialist
Eastern New York Commercial Horticulture
Last Modified: November 5, 2018

Final report and slideshow of the varieties grown in the 2018 pumpkin variety trial.
Herbicide Options for Pumpkins and Squash
Chuck Bornt, Team Leader, Extension Vegetable Specialist
Eastern New York Commercial Horticulture
Last Modified: May 17, 2018

Weeds - I really, really dislike weeds and so should you! Not only do they reduce yields and quality of fruit, but they can reduce insecticide and fungicides applications and take more time to harvest if your crew has to employ the "stumble" method of locating the fruit! Most herbicide programs are best employed right after planting, before the crop emerges

More Pumpkins / Gourds Content


Upcoming Events
Pesticide Exam Certification Summer Trainings
July 2 - July 23, 2019
1:30pm - 4:30pm each day
Plattsburgh, NY
2019 Champlain Valley Pesticide Applicator Exam Intensive Training
CCE ENYCHP Horticulture Specialists Mike Basedow and Elisabeth Hodgdon will be offering four afternoons of training to review core concepts and commodity specific items in preparation for the exam.
CCE & Hudson Valley Research Lab Research & Extension Tour
July 26, 2019
12:30pm - 5:00pm
Highland, NY
The Eastern NY Commercial Horticultural Program and Hudson Valley Research Lab are hosting a 2019 Research and Extension Summer Tour on July 26th from 12:30 - 5:00 PM. Beginning at the Highland Research Station Conference Room.
Last Monday Grant Webinar for Fruit and Vegetable Growers - July
July 29, 2019
12:00-1:00
To help disseminate information on grants on a more consistent basis, we will be offering a "current grants" webinar on the last Monday of every month at noon
In order to help focus the program, the webinars will be limited to grants that are relevant to fruit and vegetable farmers in Eastern New York.
There is a possibility of webinars related to grants for experimental crops (i.e. hops and hemp) if it is likely that fruit and vegetable growers would be interested.
Announcements
Podcasts