Pumpkins / Gourds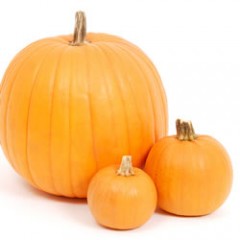 New York State ranks amongst the top 3 states (Illinois and Pennsylvania are the other two) in pumpkin production in the country with over 6,800 acres of production with an estimated value of $24 million each year. Nearly all of these are for fresh market use for either decorating or eating. The pumpkin industry is highly variable with fruit ranging from quarter pound to several hundred pounds each. Pumpkins are grown throughout NYS and are marketed through roadside stands, nursery centers and farmers markets and are also important in areas that have lots of agri-tourism. Included in this group are also other fall ornamentals such as gourds and ornamental squash. Pumpkins are susceptible to many different diseases, the most prevalent of those being Powdery Mildew, Downy Mildew and Phytophthora blight. In the last eight years, plant breeders and seed companies have released a multitude of varieties resistant to Powdery Mildew and are widely used by growers. Another concern for growers are several different viruses which can cause plants to not produce fruit at all or results in poor fruit quality (size, color etc.). Striped Cucumber Beetles and Squash bugs remain the main insect pests. Aphids are also important because they are the primary vectors of those viruses mentioned above.
Most Recent Pumpkins / Gourds Content
2015 CCE ENYCHP Pumpkin Variety Trial
Chuck Bornt, Team Leader, Extension Vegetable Specialist
Eastern New York Commercial Horticulture
Last Modified: March 17, 2016


In 2015, the ENYCHP evaluated 20 pumpkin varieties including novelty, pie, medium and large Jack-O-Lantern types.

Phytophthora Webinar 3: Management practices to reduce P-Cap on the farm
Last Modified: May 13, 2013


This recorded webinar features Dr. Meg McGrath for a discussion of fungicides for P-Cap, crop rotation strategies, and the use of biofumigants to control P-Cap in infected fields.
Webinar: How do I know if I have P-Cap in my Fields?
Laura McDermott, Team Leader, Small Fruit and Vegetable Specialist
Eastern New York Commercial Horticulture
Last Modified: November 27, 2012
The first in a 3-part series, this pre-recorded webinaris presented by Dr. Chris Smart, Cornell University.
Flooding in 2011 spread Phytophthora capsici into fields with no history of the disease. Growers who have not managed P. capsici previously could inadvertently and permanently spread the disease to additional fields and could experience high rates of crop loss due to improper management of the disease. Understanding of P. cap will reduce the probability of these negative outcomes on eastern NY farms.
More Pumpkins / Gourds Content


Upcoming Events
Effective Orchard Spraying & Navigating NEWA Workshop- Champlain Valley
March 28, 2017
8:00am- 4:00pm
Chazy, NY
Effective Orchard Spraying - Morning
Understand how to improve your timeliness and therefore apply sprays when needed and not be forever chasing the calendar. Correct application at the correct time will allow you to make better use of your time and materials over the season.
Navigating NEWA - Afternoon
Learn the ins-and-outs of the NEWA system (Network for Environment and Weather Applications). Learn how to efficiently navigate the NEWA interface, including how to get weather data, access station specific pages, and effectively utilize models for insects, diseases, crop thinning, and irrigation.
Bring your Laptop or Smart Device!!
***PRE-REGISTRATION IS REQUIRED! ***
Hudson Valley Orchard Scouting & NEWA Orchard Models Workshop
March 30, 2017
10:00am-3:00pm
Highland, NY
Interested in learning how utilize the NEWA orchard models and learn pest scouting techniques to improve your orchard pest management? NEWA Coordinator Dan Olmstead, HVRL entomologist Peter Jentsch, HVRL plant pathologist Dr. Srdjan Acimovic, and ENYCHP tree fruit specialist Dan Donahue will be presenting a workshop at the Cornell Hudson Valley Research Lab on March 30th from 10 am to 3:00 pm.
Pruning Demonstration Day
March 30, 2017
2pm-5pm
Red Hook, NY
You are invited to join Laura McDermott and Jim O'Connell, Berry Educators for Cornell Cooperative Extension of Eastern NY, for a pruning demonstration on mature blueberries on Thursday, March 30th.
This workshop is free, but please preregister with Jim O'Connell no later than March 28th, 2017 by email (jmo98@cornell.edu) or phone (845-943-9814) so we know how many people to expect.
Announcements
White Rot Update
Earlier in June I sent a garlic sample to the diagnostic lab hoping that I was wrong. The sample was covered in small black sclerotia, the size of poppy seeds, and white fungal hyphae crept up the stem. The results, unfortunately, matched the field diagnosis: White Rot. Within a couple days additional calls came from up and down the Hudson Valley as well as one in Western NY with similar suspicions. These samples have also gone to the lab for verification, but it looks like the latest pest to move back into the state is this nasty fungus.

White Rot, Sclerotinia cepivorum, decimated the onion industry in New York in the 1930's before being eradicated through careful management. More recently, in 2003, it infected 10,000 acres of garlic in California, leading to the abandonment of some garlic fields and adoption of strict containment rules. White rot has been confirmed in Northeastern states over the last decade as well, with New York being one of the last to discover the disease.

The primary reason that White Rot is such a concern is because the sclerotia, or reproductive structures, can remain dormant in the soil for up to 40 years, attacking any allium crop planted into the soil under favorable conditions. This spring was ideal for infection due to the period of cool, moist weather we had. Optimal temperature for infection is 60-65 degrees F, but infection can occur anywhere from 50-75 degrees F.
Once garlic has white rot, it generally declines rapidly. Leaves will yellow and the plant will wilt, not unlike a severe fusarium infection. However, unlike with fusarium, white rot infected bulbs are covered in black sclerotia and white fungus. To add to the confusion, another disease CAN look similar. Botrytis also causes black sclerotia and white fungal growth. However, Botrytis sclerotia are quite large, often larger than a pencil eraser.

So, what do we do now? We're still working on long-term management strategies, but the most important steps to take now are vigilance when culling (look at the plants you are pulling for symptoms like you see in this article, and if they are present, call us to take a sample and have the disease verified) and, if you see anything suspicious, reduction of movement of inoculum. The main ways diseases get moved around are by dumping culls (compost, field edges, etc) and my moving soil on equipment. Throw away your culls, and wash equipment that may have come in contact with suspicious garlic or the soil it is growing in. Everything from cultivation equipment to harvest bins should be cleaned.

We will keep learning about this disease and will keep sending out information, particularly to help you make decisions about what to sell and buy. For now, remember that the west coast has learned to manage the disease, and we will too. -Crystal Stewart, ENYCHP

Eastern New York Commercial Horticulture - Cornell Cooperative Extension
Your Trusted Source for Research-Based Knowledge