Nectarines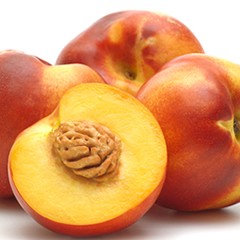 Nectarines are, in fact, fuzz-less peaches. Nectarine acreage in NYS is small – only about 66 acres of which 26 are located in eastern NY. Like other stone fruits, nectarines thrive in a Mediterranean climate of long, hot summers and cool, wet winters.
For more information about tree fruit production, please visit the Cornell Tree Fruit website at
http://www.fruit.cornell.edu/tree_fruit/index.htm
.
Most Recent Nectarines Content
Presentations - 2016 Winter Tree Fruit Schools
Sarah Elone, Field Technician
Eastern New York Commercial Horticulture
Last Modified: February 22, 2016

Presentations given at the 2016 Commercial Tree Fruit Schools in Lake George (LG) and Kingston in the Hudson Valley (HV) are available by clicking on the following links.

New fungicides labeled for use in tree fruit - all Special Local Needs Labels
Deborah Breth, Integrated Pest Management
Lake Ontario Fruit Program
Last Modified: April 9, 2014

The new class of fungicides, SDHI's, are now registered for use in tree fruit. Fontelis was registered last season, and Luna Tranquility and Merivon were registered this spring. They are all registered in NY as "Restricted Use" fungicides. Due to the special restrictions for use in NY, they also are Special Local Need registrations. In order to apply these materials you must have a copy of the label and the SLN label in your possession. You can access these SLN and label to study or print at these links.

The Commercial Storage of Fruits, Vegetables, and Florist and Nursery Stocks
Craig Kahlke, Team Leader, Fruit Quality Management
Lake Ontario Fruit Program
Last Modified: January 13, 2014

The information contained in this preliminary version of HB-66 has been assembled from information prepared by nearly 100 authors from around the world. The version posted here is a revised copy of a Draft made available online in November 2002 for author and public review and comment.
More Nectarines Content


Upcoming Events
Biocontrol Trial and IPM Field Meeting
August 20, 2019
4pm-6pm
Fort Plain, NY
4-5 pm: Dr's Amara Dunn and Meg McGrath will discuss powdery mildew control using biocontrols and organic and conventional fungicides. Crystal Stewart from the ENYCHP will provide a tour of the biocontrol trial and additional squash and pumpkin mini-variety trial.
5-6pm: Walk the farm fields with Dr's Dunn and McGrath and with CVP specialist Elizabeth Buck to talk about integrated strategies to control pests, diseases, and weeds on the vegetables farm. Bring samples and questions!
6-?pm: Discussion and light refreshments
*Look for the CCE sign to park on a cross street right before the farm.
Ag Manager Webinar Series: Ag Tax Topics - Sales Tax and Property Tax Issues for Ag in NYS
August 27, 2019
12:30 - 12:50pm
Join Liz Higgins from the CCE ENYCHP every other Tuesday at 12:30pm throughout the summer as she discusses pertinent business topics for busy farm managers.
Willsboro Farm High Tunnel Twilight Meeting
August 27, 2019
5:00pm - 7:00pm
Willsboro, NY
Join vegetable specialists Elisabeth Hodgdon, Jud Reid, and farm manager Mike Davis for a high tunnel and field tour at Cornell's Willsboro Research Farm, where they will share research results for the following projects:
Striped cucumber beetle management suing netting and row cover
Varietal differences in cucumber susceptibility to striped cucumber beetle
Ground cherry and goldenberry production in field and high tunnel environments
Overwintered high tunnel spinach nitrogen fertility
Announcements
Podcasts