Nectarines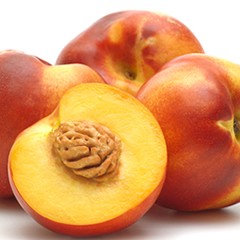 Nectarines are, in fact, fuzz-less peaches. Nectarine acreage in NYS is small – only about 66 acres of which 26 are located in eastern NY. Like other stone fruits, nectarines thrive in a Mediterranean climate of long, hot summers and cool, wet winters.
For more information about tree fruit production, please visit the Cornell Tree Fruit website at
http://www.fruit.cornell.edu/tree_fruit/index.htm
.
Most Recent Nectarines Content
Presentations - 2016 Winter Tree Fruit Schools
Sarah Elone, Field Technician
Eastern New York Commercial Horticulture
Last Modified: February 22, 2016

Presentations given at the 2016 Commercial Tree Fruit Schools in Lake George (LG) and Kingston in the Hudson Valley (HV) are available by clicking on the following links.

New fungicides labeled for use in tree fruit - all Special Local Needs Labels
Deborah Breth, Integrated Pest Management
Lake Ontario Fruit Program
Last Modified: April 9, 2014

The new class of fungicides, SDHI's, are now registered for use in tree fruit. Fontelis was registered last season, and Luna Tranquility and Merivon were registered this spring. They are all registered in NY as "Restricted Use" fungicides. Due to the special restrictions for use in NY, they also are Special Local Need registrations. In order to apply these materials you must have a copy of the label and the SLN label in your possession. You can access these SLN and label to study or print at these links.

The Commercial Storage of Fruits, Vegetables, and Florist and Nursery Stocks
Craig Kahlke, Team Leader, Fruit Quality Management
Lake Ontario Fruit Program
Last Modified: January 13, 2014

The information contained in this preliminary version of HB-66 has been assembled from information prepared by nearly 100 authors from around the world. The version posted here is a revised copy of a Draft made available online in November 2002 for author and public review and comment.
More Nectarines Content


Upcoming Events
October Last Monday Grant Webinar for Fruit and Vegetable Growers
October 28, 2019
4:00 pm
Are you curious about what grants are available to help your farm business?
To help disseminate information on grants on a consistent basis, ENYCH is offering a "current grants" webinar on the last Monday of every month at 4:00pm
Each month's webinar focuses on 1 grant. The October webinar topic is TBD but might feature Ag Labor Housing Grants.
Produce Safety Alliance FSMA Grower Training Course
October 30, 2019
8am - 5pm
Canajoharie, NY
A grower training course developed by the Produce Safety Alliance (PSA) that meets the regulatory requirements of the Food Safety Modernization Act (FSMA) Produce Safety Rule. At least one person per farm producing more than $25,000 worth of fruits and vegetables must attend this course once. Participants will receive a certificate of course completion by the Association of Food and Drug Officials.
Tarping for Reduced Tillage Workshop
November 2 - November 19, 2019

Are you a vegetable farmer already using tarps? Or are you wondering if and how tarps could work best on your farm?

The Cornell Small Farms Program is excited to announce a series of workshops on tarping for reduced tillage in small-scale vegetable systems, to be held in Maine and New York this fall. The Reduced Tillage (RT) project of the Cornell Small Farms Program supports farmers in adopting scale-appropriate RT practices that can lead to healthy, productive soils and greater profitability. Through the evaluation of novel tools and methods using systems-based field research and on-farm trials, the project helps farmers learn about the approaches that can work for their farm. This work is accomplished in collaboration with the University of Maine, and with support from Northeast SARE.

Announcements
Podcasts