Sweet Potatoes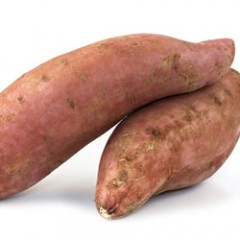 Although sweet potatoes have been grown in New York, they have received much more attention in the last couple of years due to the value of the health benefits it offers. Even though acreage is not normally recorded, we estimate that there are over 200 acres of sweet potatoes being grown throughout NYS. However, due to the long growing season that is required (100 days plus), they are generally produced on raised beds mulched with black plastic. Orange skinned, orange fleshed types are the dominant types grown here, but there are also white skinned, white fleshed and orange skinned, white fleshed varieties grown in the state. Sweet potatoes have also gained popularity with organic producers to replace winter squash production due to the fact that they have almost no disease or insect problems when grown here and can be stored longer then winter squash in many cases. The increase in winter farmer's markets or winter CSA shares has also increased sweet potato production in NY. However, deer and mice can be major vertebrate pests of sweet potatoes. Variety trials, plant density research and the use of floating rowcovers for increased production are being evaluated in the Capital District region of NY.
Most Recent Sweet Potatoes Content
Considerations When Planting Sweet Potatoes
Chuck Bornt, Team Leader, Extension Vegetable Specialist
Eastern New York Commercial Horticulture
Last Modified: May 24, 2018
2018 Eastern New York Fruit & Vegetable Conference Vegetable Presentations
Last Modified: April 2, 2018


Presentations from the 2018 ENYCHP Eastern New York Fruit & Vegetable Conference held February 20th and 21st for the vegetable sections.
Winter Storage Keys to Success - Vegetable Crops
Last Modified: November 29, 2017


Key topics covered:

- Growing a healthy Crop and keeping it that way in storage
- Storage conditions
- Construction of coolers
- Controls and Thermostats
- Monitoring and more advanced controls
More Sweet Potatoes Content


Upcoming Events
Pesticide Exam Certification Summer Trainings
July 2 - July 23, 2019
1:30pm - 4:30pm each day
Plattsburgh, NY
2019 Champlain Valley Pesticide Applicator Exam Intensive Training
CCE ENYCHP Horticulture Specialists Mike Basedow and Elisabeth Hodgdon will be offering four afternoons of training to review core concepts and commodity specific items in preparation for the exam.
CCE & Hudson Valley Research Lab Research & Extension Tour
July 26, 2019
12:30pm - 5:00pm
Highland, NY
The Eastern NY Commercial Horticultural Program and Hudson Valley Research Lab are hosting a 2019 Research and Extension Summer Tour on July 26th from 12:30 - 5:00 PM. Beginning at the Highland Research Station Conference Room.
Last Monday Grant Webinar for Fruit and Vegetable Growers - July
July 29, 2019
12:00-1:00
To help disseminate information on grants on a more consistent basis, we will be offering a "current grants" webinar on the last Monday of every month at noon
In order to help focus the program, the webinars will be limited to grants that are relevant to fruit and vegetable farmers in Eastern New York.
There is a possibility of webinars related to grants for experimental crops (i.e. hops and hemp) if it is likely that fruit and vegetable growers would be interested.
Announcements
Podcasts