Cherries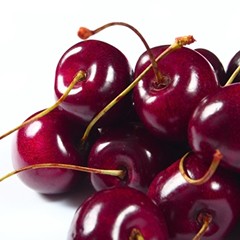 Two main types of cherries are produced in the United States: sweet cherries and tart or "sour" cherries, the latter being used primarily for processing. Sweet cherries are produced mainly in the Pacific Northwest and California while Michigan is the leader in tart cherry production. New York grows just less than 900 acres of cherries, 150 of which are located in eastern NY. The United States is the third-largest producer of cherries in the world. The European Union-27 is the leading cherry producer, followed by Turkey.
Cherry consumption has always been good but recent information about the antioxidant health benefits has improved domestic consumption. Per person consumption is approximately 2 pounds per year.
Over the last 20 years, Cornell research and extension projects have helped growers increase yields and fruit quality by increasing tree densities and improving labor efficiency. We estimate that profitability of new high density orchards is 100 to 300% greater than the traditional low-density orchards. For more information about tree fruit production, please visit the Cornell Tree Fruit website at
http://www.fruit.cornell.edu/tree_fruit/index.htm.
Most Recent Cherries Content
New fungicides labeled for use in tree fruit - all Special Local Needs Labels
Deborah Breth, Integrated Pest Management
Lake Ontario Fruit Program
Last Modified: April 9, 2014

The new class of fungicides, SDHI's, are now registered for use in tree fruit. Fontelis was registered last season, and Luna Tranquility and Merivon were registered this spring. They are all registered in NY as "Restricted Use" fungicides. Due to the special restrictions for use in NY, they also are Special Local Need registrations. In order to apply these materials you must have a copy of the label and the SLN label in your possession. You can access these SLN and label to study or print at these links.

The Commercial Storage of Fruits, Vegetables, and Florist and Nursery Stocks
Craig Kahlke, Team Leader, Fruit Quality Management
Lake Ontario Fruit Program
Last Modified: January 13, 2014

The information contained in this preliminary version of HB-66 has been assembled from information prepared by nearly 100 authors from around the world. The version posted here is a revised copy of a Draft made available online in November 2002 for author and public review and comment.
Cranberry and Cherry Fruit Worm
Last Modified: August 22, 2012

A number of growers have been calling with a question about blueberry clusters strung together with webbing or frass or both. Most people cannot find a larvae (although they are there!), but are alarmed with picker complaints. The pest in question is fruit worm either cranberry or cherry. Both insects have very similar life cycles and the damage is similar, but the chemical control materials differ slightly, so it will be important to be able to differentiate.

The adult moths lay their eggs in late May and early June at the base of the newly set fruit. Larvae of both
species attack green fruit. There are sex pheromones available for both pests and monitoring should begin in late April to optimize spray timing. Usually two sprays are necessary the first at petal fall and the second 10 days later. Organically approved materials include Entrust and Dipel DF. Other materials include Azasol, or Molt-X, Sevin, Malathion, Imidan, Esteem and Delegate, among others.
Check the Guidelines for more control information and visit this site for fact sheets about fruitworms: http://www.fruit.cornell.edu/berry/ipm/ipmpdfs/bbfruitworm.pdf



More Cherries Content


Upcoming Events
Hands-on Tomato Pruning Workshop
May 3, 2017
4-6pm
Fort Plain, NY
Join High Tunnel Specialist Amy Ivy and Crystal Stewart for a hands-on tomato pruning demonstration in the high tunnel. We'll talk about when to prune, how to prune for earliness and yield, and how to prune both determinate and indeterminate varieties
*DEC credit has been applied for
Bramble Pruning Workshop - Rulf's Orchard
May 4, 2017
3:00pm-5pm
Peru, NY
Focus will be on pruning to increase production and help control Spotted Wing Drosophila. General pest management and culture will also be discussed. There is no charge for these workshops, but we would like folks to register so that we know how to contact you. Please register here or call Marcie at 518-272-4210.
Bramble Pruning Workshop - Cashin's Farm
May 9, 2017
3:00pm-5pm
Fultonville, NY
Focus will be on pruning to increase production and help control Spotted Wing Drosophila. General pest management and culture will also be discussed. There is no charge for these workshops, but we would like folks to register so that we know how to contact you. Please register here or call Marcie at 518-272-4210.
Announcements
Grape Specialist Hiring in Eastern New York
Eastern NY Grape Industry Growth Prompts Marketing Initiatives, Specialist Hiring

Eastern New York grape and wine industry growth is sparking innovative marketing initiatives and the hiring of a new regional grape specialist.

The "October 2016 Grape Production in the Eastern New York Commercial Horticulture Region" report by Elizabeth Higgins, business management specialist, Hudson Valley Lab, Highland, NY, quantifies industry growth as:
. a 34 percent increase in the number of grape-growing operations 2007-2012 with a 50 percent increase in grape acres,
. the 2001-2012 doubling of grape production acres in Ulster, Columbia, Dutchess and Orange counties,
. 2001-2012 growth from nearly zero to 100-plus grape acres in Clinton, Essex, Saratoga and Washington counties, and
. 108 wineries affiliated with local grape production; with new wineries expected.
White Rot Update
Earlier in June I sent a garlic sample to the diagnostic lab hoping that I was wrong. The sample was covered in small black sclerotia, the size of poppy seeds, and white fungal hyphae crept up the stem. The results, unfortunately, matched the field diagnosis: White Rot. Within a couple days additional calls came from up and down the Hudson Valley as well as one in Western NY with similar suspicions. These samples have also gone to the lab for verification, but it looks like the latest pest to move back into the state is this nasty fungus.

White Rot, Sclerotinia cepivorum, decimated the onion industry in New York in the 1930's before being eradicated through careful management. More recently, in 2003, it infected 10,000 acres of garlic in California, leading to the abandonment of some garlic fields and adoption of strict containment rules. White rot has been confirmed in Northeastern states over the last decade as well, with New York being one of the last to discover the disease.

The primary reason that White Rot is such a concern is because the sclerotia, or reproductive structures, can remain dormant in the soil for up to 40 years, attacking any allium crop planted into the soil under favorable conditions. This spring was ideal for infection due to the period of cool, moist weather we had. Optimal temperature for infection is 60-65 degrees F, but infection can occur anywhere from 50-75 degrees F.
Once garlic has white rot, it generally declines rapidly. Leaves will yellow and the plant will wilt, not unlike a severe fusarium infection. However, unlike with fusarium, white rot infected bulbs are covered in black sclerotia and white fungus. To add to the confusion, another disease CAN look similar. Botrytis also causes black sclerotia and white fungal growth. However, Botrytis sclerotia are quite large, often larger than a pencil eraser.

So, what do we do now? We're still working on long-term management strategies, but the most important steps to take now are vigilance when culling (look at the plants you are pulling for symptoms like you see in this article, and if they are present, call us to take a sample and have the disease verified) and, if you see anything suspicious, reduction of movement of inoculum. The main ways diseases get moved around are by dumping culls (compost, field edges, etc) and my moving soil on equipment. Throw away your culls, and wash equipment that may have come in contact with suspicious garlic or the soil it is growing in. Everything from cultivation equipment to harvest bins should be cleaned.

We will keep learning about this disease and will keep sending out information, particularly to help you make decisions about what to sell and buy. For now, remember that the west coast has learned to manage the disease, and we will too. -Crystal Stewart, ENYCHP

Eastern New York Commercial Horticulture - Cornell Cooperative Extension
Your Trusted Source for Research-Based Knowledge